AMAZING!!! The day we got into our car with the caravan attached, and drove away from our 'forever home', was exhilarating. Everything packed up. House (almost clean and) empty. Kids bursting with excitement. We put the car into gear and drove… 14-minutes away?!
What the?
Yes, our first leg wasn't a road trip from Adelaide-to-Melbourne.  That's crazy talk. The whole point of doing a lap was to take it slow.
With such a massive change to our life, we thought staying close to home was a nice way to make a smooth transition. Other than actually committing to do our trip, this would have to be a close second for the best decision we made.
We quickly realised that living in a caravan is very different than holidaying in one. What you do and don't need is like chalk and cheese. In this first week, every single day we were getting things from our house, taking things back to our house, doing some last minute cleaning, donating things to Goodwill, or stopping by BCF and Bunnings for things we didn't realise we truly did need.
"Are you crazy, living in a caravan with 3 kids?" This is a question we get asked a lot. We think we'd be crazy not to. Parenting is actually easier when we're both around, and we are more present. Way less housework, no yard to take care of. It's less hectic than being "home".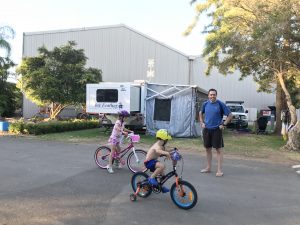 The things that we did that really helped us settle into our gypsy travelling lifestyle:
1. Do a travelling stress-prevention week. Staying close to home to transition into it was the best thing we could have done. If we went all in and tried the sink-or-swim approach… we would have sunk.
2. Make a list of minor annoyances. Every time there was something that was slightly annoying, we made a list. We then thought about the little things that make a big difference (we're now in love with velcro!)
3. Facebook Groups. These were a massive help. There are so many families out there who have done it already, and learned from their experiences. Families on the Road- Travelling Australia would be our top pick.
Last but not least… accept that it will be an ongoing process, and what you think you'll use, you won't. Don't spend a fortune on storage solutions as what you have will probably change. There's a lot of trial and error, and every family is different.