Disclosure: When you click on links to various merchants on this site and make a purchase, this can result in this site earning a commission. Affiliate programs and affiliations include, but are not limited to, the eBay Partner Network
The next state we're visiting is WA, so it got me wondering: what is the speed limit for towing a caravan in Australia state by state?
So I did some research, and here' what I found:
You can tow a caravan by car at the posted speed limit in every state except Western Australia, where the maximum towing speed for all vehicles towing a caravan is 100 km/h. If the combined weight of your car and van is above 4.5 t you're limited in NSW. Some vehicle manufacturers place limits on how fast you can tow their vehicles, so you need to also check your owner's manual.
What do the road rules say about speed limits while towing a caravan?
You can tow a caravan with a car at the posted speed limit in:
Australian Capital Territory
New South Wales (if you're less than 4.5 t)
Northern Territory
Queensland
South Australia
Tasmania
Victoria
Note:
Most states have a caveat where there's wording to the effect of:
"Drive to conditions"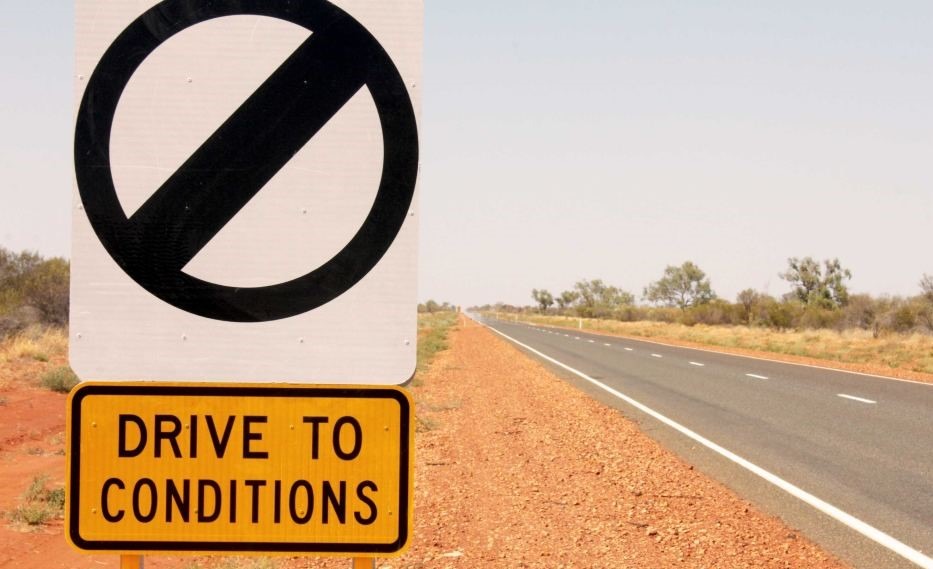 or
"Safe speed for prevailing conditions on the open road"
In other words:
Just because that's the LIMIT, it doesn't mean you should always drive that fast.
What's the speed limit for towing a caravan in Western Australia?
In Western Australia, the Road Safety Commission's Securing Loads & Towing page states:
"The legal speed limit outside a built-up area, unless otherwise signposted, for a vehicle towing a trailer or caravan is 100 km/h."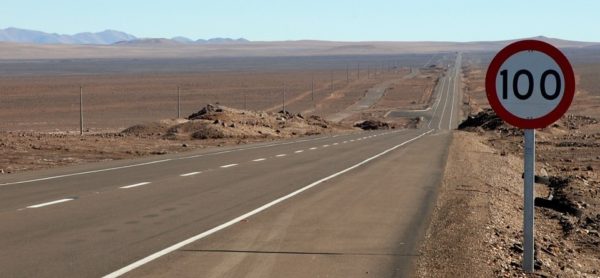 But wait:
I thought there were 2 states that had different speed limits for towing a caravan…
What is speed limit for towing a caravan in NSW?
When I was researching this topic I found quite a few conflicting articles, forums, and Facebook posts about speed limits in NSW… and an article that said:
"In NSW, if your vehicle and caravan weigh up to 4.5 tonnes combined, you can drive at the prevailing speed limit (that is, up to 110km/h), but if the rig weighs more than 4.5 tonnes in total, the speed limit is capped at 100km/h."

So I checked the New South Wales Roads and Maritime Services' Towing Page…
If you read this in isolation, then you'd think that these are the towing rules:
Who do these apply to?

"The information on this page applies to vehicles not exceeding 4.5 tonne gross vehicle mass (GVM)."
and
"Vehicles with a manufacturer's gross combination mass (GCM) more than 4.5 tonne may tow in accordance with the above requirements."
[The GCM is the combination of the car and loaded trailer]
So I double checked the Speed Limits for Heavy Vehicles page:
"In NSW the maximum speed limit for a vehicle more than 4.5 tonnes Gross Vehicle Mass (GVM) is 100 km/h."
I think somewhere along the line:
GVM was confused with GCM
Because if you check the New South Wales Consolidated Regulations it clearly states:
"A vehicle and trailer combination with a Gross Combined Mass over 4.5 tonnes, the speed limit applying to the driver for the length of road is 100 kilometres per hour"
So to clarify…
In NSW you CAN tow a caravan at the posted speed limit if your car and caravan weigh less than 4.5 tonne… but if it's more than this than the limit is 100 km/h
[Good thing to know, because nearly every car and van combo are over this weight]
Towing limits can vary depending on your car AND what you're driving
Some vehicle manufacturers put limits on how fast you can tow their vehicles. So you need to also check your owner's manual.
Subaru's owner's manuals state:
"Never exceed 80 km/h or the legal speed limit, whichever is lower. Exceeding the speed limit could cause loss of vehicle stability and/or could lead to an accident."
The Aussie favourite:
Ford Territory has speed restrictions depending on what you're towing… for most caravans your towing speed would be limited to 80-85 km/h
Check out this graph showing the Territory's towing restrictions: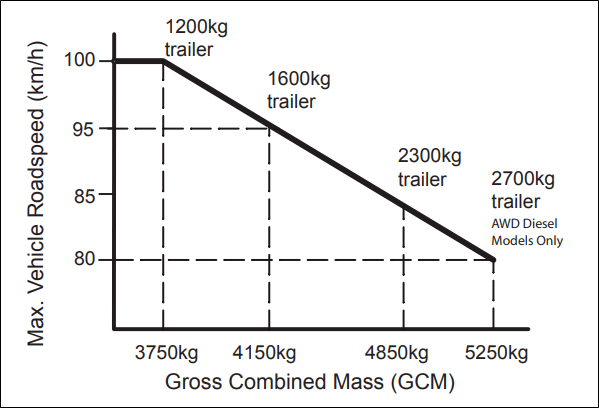 And there's this:
The Ford Ranger has a 3,500 kg towing capacity… but it also has this warning in the user manual showing it's towing restrictions to 100 km/h:

Summary:
If you want to know what's the speed limit for towing a caravan in Australia, the first place to check is your owner's manual.
Then, except for WA, it's the posted speed limit.
If towing safely is something you're interest in, then you might like this article we recently put together: Should You Tow a Caravan With Full Water Tanks?
Comment below:
What vehicle do you drive… does it have a towing limit too?