Disclosure: When you click on links to various merchants on this site and make a purchase, this can result in this site earning a commission. Affiliate programs and affiliations include, but are not limited to, the eBay Partner Network
Here you'll find our caravan towing checklist:
It's the list of safety checks we do EVERY time we're about to take off.
Now, it's not like we have these printed off and tick them off with a pen.
Quite the opposite.
So here we'll cover:
HOW we use our caravan towing checklist
WHAT is on our checklist, and, most importantly..
WHY we use one
[And why you should consider one too]
Let's get started:
The 2 Best Ways To Use A Caravan Towing Checklist
There's 2 ways you can use a checklist:
Check-Do, or
Do-Check
We use ours as a 'Do-Check' checklist.
What does this mean?
Well, we just go about our business, and pack up as normal.
Then, before we're about to drive off, we quickly read through it.
We 'Do'… then 'Check' after
We ask ourselves:
Did we do everything on the list?
The answer is often 'NO'.
[45 caravan parks in… and quite often we'd find something on our checklist we'd forgotten]
Lucky we checked…
…because all it takes is forgetting to put the aerial down once!
How We Use Our Caravan Towing Checklist
We've taken a pretty simple approach:
We have our checklist in a note on our phone.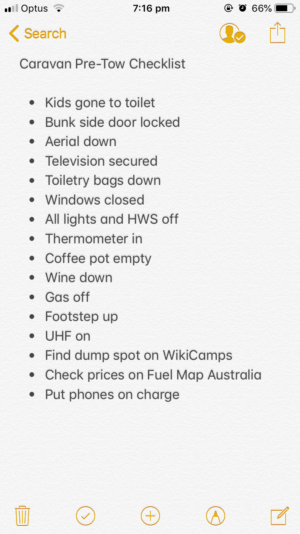 After we started we just added to it when we found something that we either:
Forgot and didn't have a good time (like leaving coffee in the pot)
Had a near miss (like having a random person shout at us that the antenna was up), or
It was something that we knew wouldn't be a good thing in the long run (like leaving gas on)
Beacause it was on our phone there was:
No printing, no losing it.
And:
We can update it easily as our needs change.
[Some things become 2nd nature after a while, and can come off the list]
Bonus:
Using the 'Note' app on your phone, you can invite your better half.
So this way the most up-to-date version is on their phone too.
What's On Our Caravan Towing Checklist?
Our checklist isn't just about safety.
We've added things to our checklist things that relate to:
Not having to stop 5 minutes down the road at a public toilet.
Not having messes to clean up.
Saving money.
And,
Not losing or breaking things.
[Yours may be different… but copy-paste-from ours to use it as a template]
Caravan Towing Checklist
Here's the 16 things we check EVERY time we're about to take off:
Kids gone to toilet
Bunk side door locked
Aerial down
Television secured
Toiletry bags down
Windows closed
All lights and hot water system off
Thermometer in
Coffee pot empty
Wine down
Gas off
Footstep up
UHF on
Find dump spot on WikiCamps
Check prices on Fuel Map Australia
Put phones on charge
[There's a funny story behind how most of those ended up on the list]
Why Have a Caravan Towing Checklist?
No one is perfect.
Everyone forgets things.
The point of a checklist ISN'T to list everything under the sun:
The point of a caravan towing checklist is to jog your memory to check the important things that you are likely to forget…

…the things that, if you did forget, would ruin your day.
I mean, even pilots and surgeons use checklists
[and they're much smarter than I am].
If it's good for them, it's good for me.
If you never miss anything off your checklist, good for you.
But that one time…
Summary:
A caravan towing checklist is a good way to double-check that you've done the things that will keep you safe, keep your van clean, stop breakages… and make your trip more enjoyable. It doesn't need to be elaborate. Don't include the simple things you know you'll never forget. And, you can just check it after you've done it. It only takes a few seconds!
Comment below:
Have you every broken or lost something… and a checklist could've stopped it?