Disclosure: When you click on links to various merchants on this site and make a purchase, this can result in this site earning a commission. Affiliate programs and affiliations include, but are not limited to, the eBay Partner Network
Setting out with your first caravan is an exciting time. But if it's your first time caravanning, you need to be aware of some of the common mistakes made by caravanners. It's not uncommon for beginners to come unstuck because they haven't properly prepared.
Avoiding these mistakes will make your caravan adventure much smoother, safer and more enjoyable. With that said, here are some of the most common mistakes made by beginner caravanners and sometimes even experienced ones: 
1. Not Buying The Right Caravan
In 2021 the caravan industry going through extraordinary times. Low stock and long lead times on delivery is proving to be one of the reasons why people are buying what's available rather than what they really want.
The unfortunate outcome of this is a lot of people with caravans that aren't right for them.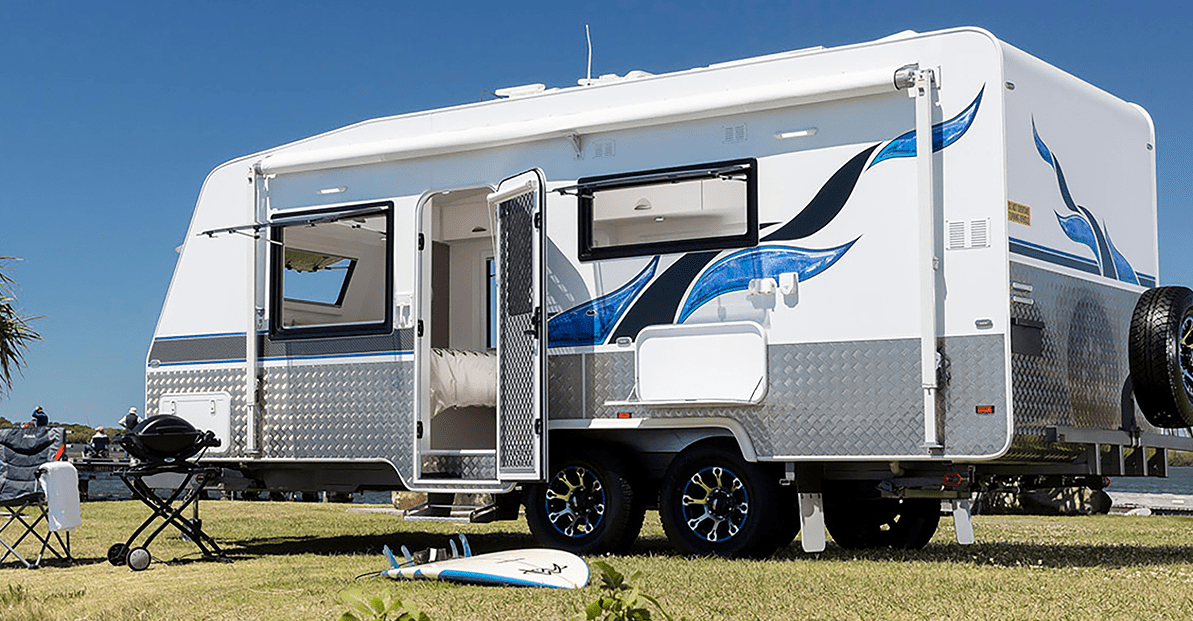 Careful considerations should go into the type, style and build of van you should be looking to purchase. Here are a few things to consider…
 The type of tow vehicle you have
Number of beds required.
Where you are going to take it, from on road to totally off grid.
Do you require an ensuite
Creature comforts
Technology
Storage
You should also consider the features that are important to you. Just to name a few..
External cooking facilities
Solar panels
Extra batteries
Off road suspension
Added water carrying capacity
Doing your research and having a little patience will help you get the caravan, camper trailer or motorhome of your dreams
2. Overloading Your Caravan
Overloading caravans is one of the biggest issues plaguing the caravan industry. The first thing you must understand is the load capacity of the caravan.
The difference between the Tare and the ATM will be how much you are legally allowed to load into the unit. Remembering in most cases the load capacity does not include the water weight in the tanks or the gas bottles which in some instances can really affect how much you can take with you.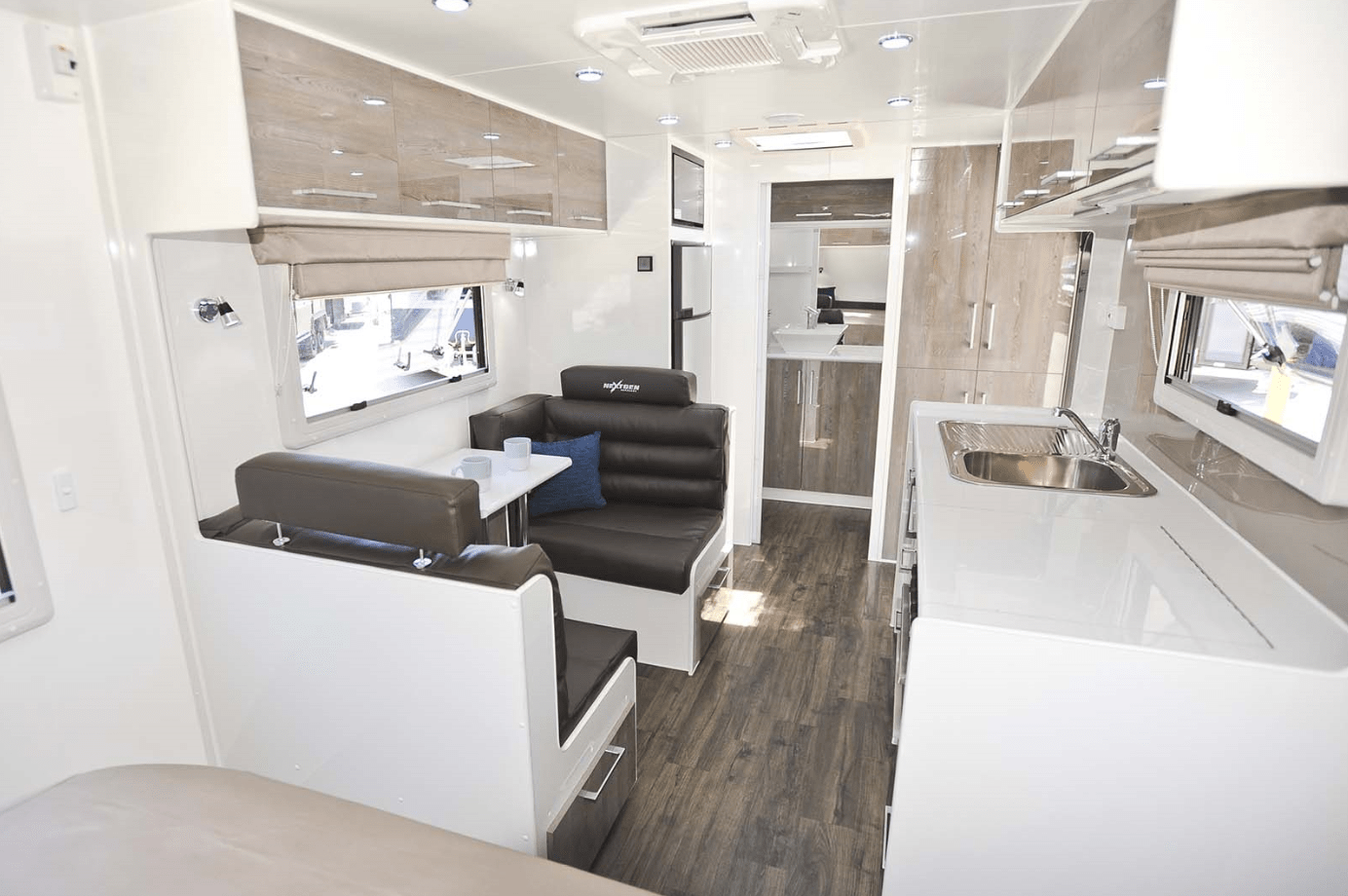 If there is a cupboard or storage space it does not need to be completely filled. You will be amazed how little you need when traveling. Just think smarter when it comes to the items you pack. Remember even the smallest items will contribute to overloading.
3. Not Taking The Unit For A Test Run
All excitedly you arrive home with your newly purchased unit. You stand back with proud wide open eyes and a big smile on your face about what adventures lay ahead. As it sits in the driveway you start to load the caravan with all the essentials. You have even booked your first long haul trip in anticipation.
As a caravanner it is always fun watching the newbies for the very first time roll into a caravan park or onto a site. Everything from the initial reversing to the final setup can be a challenge.
It is best to take the time and take a couple of small trips, even to the local caravan park to just practise the setup and become familiar with everything that opens and closes.
This will also give you the chance to check everything is operational and in working order. Let's be realistic, even a brand new van could have some teething issues which you would prefer to find out before the big trip.
4. Load Distribution and Vehicle Weights
Load distribution in any towable unit can be critical, especially when placing heavier items into the van. If the load is not well distributed it can lead to serious consequences.
It's a case of only taking what is really necessary considering how and where you are taking the caravan or camper trailer.
You also need to think about the load in the car. Far too often people think instead of placing an item in the van they will instead put it in the boot of the car to avoid overloading the van. Cars have their own load limits and when combined with a towable unit the GCM (Gross Combined Mass) comes into play.
This is the total weight of the car, towable and its combined cargo including passengers. You really need to understand the whole picture, understand your cars capabilities and then match that with the very best unit for yourself. There are some new cars that have a great towing capacity but have a low GCM which will restrict which units you can look at.
5. Not Carrying Out Regular Servicing
Regular caravan servicing is something that most caravaners seem to forget about. We get our car serviced without even thinking twice about it but neglect the caravan service.
So often we will see a caravan or camper trailer on the side of the road all loaded up and stranded on its way to the destination. This could easily have been avoided by having a service completed.
The service can be carried out by many of the dealerships or even the dealer you purchased the unit from.
During a routine service they will check your bearings, tyres, battery quality, hitch etc.
Always schedule regular services of your caravan so you can relax on your trip, rather than worrying about being the one stranded on the side of the road.
6. Incorrect Use Of Weight Distribution Hitches (WDH)
When purchasing your caravan, check to see whether a WDH will be of value to you and your unit. It is not recommended for all vehicle types and some caravan manufacturers don't recommend them at all. But in saying all that they do and have offer some great features.
One of the biggest mistakes many caravanners make is not disconnecting them when reversing up driveways or spoon drains.
The manufacturers guidelines must be adhered to otherwise you risk towbar and vehicle structural damage.
Summary: Caravanning mistakes
Now you can jump into your first caravanning adventure with confidence, knowing the big mistakes to avoid.
You will be able to enjoy your caravan trip with must less stress and worries. And you won't need to worry about embarrassing yourself in front of more experienced caravanners at the caravan park!