Disclosure: When you click on links to various merchants on this site and make a purchase, this can result in this site earning a commission. Affiliate programs and affiliations include, but are not limited to, the eBay Partner Network
We interviewed a roadside assistance mechanic to find out: what are the essential caravan toolkit 'must have' items.
We asked the question:
What are the most common reasons you're called out that could have been easily prevented?
Some of the answers surprised us.
Becuase if you're like me and already have a toolkit you've probably got most of these things…
…but there's a few items that are specific to a caravan.
And worse:
There's a few things that you have that may not actually work.
Here's what he said:
Caravan Tool Kit: 11 Essential Items
Firstly, he made a point:
You could take EVERYTHING, but you have to strike a balance because of weight.
But if you want to avoid being stuck on the side of the road in the heat waiting for roadside assistance?
These are the essential tools you should carry as a minimum:
Breaker bar
Cable ties
Duct tape
Hydraulic jack
Screwdriver set
Socket set
Spanners (8-19mm)
Tow ball spanner
Tyre sealant in a can
Wheel bearings
Wheel brace
Let's talk about the items in red a bit more:
Why is a hydraulic jack on the list when one comes with the standard caravan toolkit?
Here's something interesting we found out when we interviewed an RAA mechanic:
"A really common reason for roadside assistance call outs is that factory-standard jacks don't give enough clearance to get your wheel off"
Wow.
Imagine that:
You get a flat. Get everything out. Jack up the van…
…and it doesn't get high enough to get your wheel off!
[Applies to cars too]
So if you've never used yours, you NEED to go and check to make sure yours do the job.
Otherwise, the only caravan jack I recommend is the Trail-A-Mate (here on eBay): the jockey wheel that doubles as a hydraulic jack
[better than having a jockey wheel, and then a separate hydraulic jack in your caravan tool bos]

I already have a wheel brace in my car toolkit, won't this work for my caravan too?
This one's another common reason for roadside assistance call outs:
You get a flat tire and your car's wheel brace doesn't fit your caravan's wheel nuts.
Wheel nuts come in 4 sizes… 17 mm, 19 mm, 21 mm, and 23 mm.
What size are your car's wheelnuts? What about your caravan's?
If you have a wheelbrace specifically for your car, does it fit the caravan too?
That could be embarrassing… you're carrying every tool under the sun in your caravan tool kit (even an angle grinder), but you don't even have a wheel brace to loosen up the wheelnuts on your caravan.
If you're lucky, it already fits. Awesome.
If not? The one of these 4 Way Wheel Brace's are less than $20 off eBay. A perfect addition for your caravan tool kit.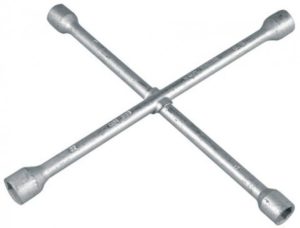 What is "tyre sealant in a can"… and why should it be in my caravan toolkit?
Another common problem: flat tyres.
You've done your checks, your jack and wheelbrace do the job (well done)
You change the flat… and get a second flat tyre before you can have the first one fixed.
It's more common than you think.
The ideal solution is to have a tyre repair kit and a compressor
(more on that later)
But for a quick fix:
Tyre sealant in a can is like having a second spare tyre in your caravan toolkit.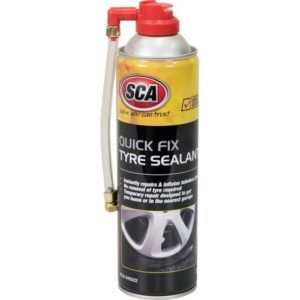 But hey, it's not just about have a second spare…
Imagine this:
You get a flat tyre. It's really hot outside. Or raining. To change the tyre you'd have to empty the boot to get everything you need out. The kids would all have to get out of the car while you jack the car up.
Doesn't sound like much fun does it?
This is EXACTLY what happened to us at Lawn Hill National Park (QLD, Australia). It was 36 degrees.
Feeling lazy, I pulled a can of this stuff out of our caravan tool kit.  
It sealed the puncture, got the tyre up to 25psi, and got us all the way back to Gregory where we changed to the spare.
That's 90km on rough, corrugated road.
The true test was when we took the punctured tyre in to get repaired, and the guy was "no problems, we just clean it out"
I was so glad I heard about this stuff:
This isn't just for your caravan tool kit, I recommend one for every vehicle
What else should be in my caravan tool kit?
Now you've got the must have items out of the way:
The rest is up to:
How handy you are
The amount of space and weight you have to play with
How far you'll be travelling from a Supercheap Auto, and
Your imagination
But, before you pack EVERYTHING, stop and think:
What problems am I really likely to encounter on the road… and what tools am I really likely to need?
I've literally bumped into people who've been carrying an angle grinder and jigsaw for 2 years without using them once.
Just in case.
You might want more than what's on this list…
or less.
Here's the rest of the caravan tool kit checklist with the other items you are likely to need:
Compressor
Cordless Drill
Fuses
Hammer
Measuring tape
Multi-grips
Multi-meter
Pliers
Ratchet straps
Rope
Side cutters
Silicon and caulking gun
Superglue
Tap washers
Test light
Tyre repair kit
Tyre pressure monitor system
Wire strippers/crimpers
HINT: Even though you may not know how to use things like a multi-meter now… it pays to get one. Some roadkill pulled apart our caravan wiring loom just outside of Karamba, QLD. It was easier to watch on YouTube how to use it properly than it would have been to get one there!
Summary: Caravan toolkits
There's some essential must have items that should be in every caravan tool kit… and a lot more that you should probably take as well.
Some of the items are things that you've probably already got, others you should get before you hit the road.
Others you might already have for your car or caravan, but you must check that they actually work.
You can listen to this episode of  The Family Travel Podcast where we interviewed Eddie Barr, the roadside assistance mechanic.
Comment below:
Anything not listed here that you think should be in a caravan tool kit? Let us know…
…just don't go crazy listing the "just in case" things!