Disclosure: When you click on links to various merchants on this site and make a purchase, this can result in this site earning a commission. Affiliate programs and affiliations include, but are not limited to, the eBay Partner Network
I was reading about a caravan causing a house fire last week, so I was thinking how do I connect my caravan to the mains?
Am I doing it safely and legally? So I did some research, and here's what I found:
To start with you need a heavy duty extension cord that's rated to 15 amps. Then you have 2 options: either get a qualified electrician to install a 15A power point to plug into, or purchase an approved 15A to 10A adaptor (which is handy for travel anyway).
Want to find out why? Here's some more:
Why do I need a heavy duty 15A extension cord to power my caravan?
Your home runs on a 10A power supply… and this is what a standard power extension cord is rated to supply. Caravans, camper trailers and RVs run on 15A power supply.
What does this mean?
It means that if you're using a 'normal' extension cord you can be drawing up to 1.5 times the amount of power through it than it's rated to.
In other words: your extension cord can heat up, melt, and catch on fire.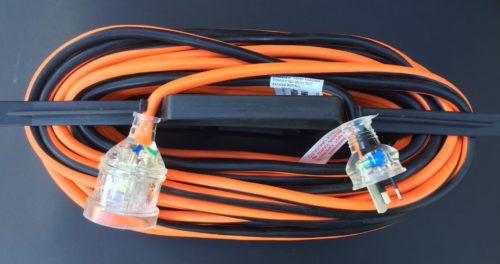 This is why you need a heavy duty 15A cable. It's designed to handle the extra current… they're pretty cheap here on eBay
Also, "heavy duty 10A cables" are not designed to withstand 15A. They're just more durable.
So get the right power extension cord… unless you want to risk a fire and voiding your insurance. They're one of the 15 Things To Buy For A New Caravan [Essential Caravan Accessories]
Can I plug my caravan's heavy duty 15A extension cord into my home's 10A mains power point?
No, because a standard power point is rated to only giving out 10A amps. If you plug your 15A power extension cord into your mains power point it can heat up if you draw more power than the socket is rated to supply.
Doing this will mean melting down both the power point and the extension cord. That's not a good thing.

Now you might be thinking:
"What about my home's circuit breaker?"
Digging around, I found that homes are usually protected by a circuit breaker (RCBO) that're usually rated higher than 10A. That means you could still be drawing too much power without it cutting out.
The other reason you can't plug your 15A heavy duty power cord into your home power point?
It's more of a practical thing:

15A power leads sockets and leads have a larger earth pin. They won't fit in a standard home 10A power point.
The bigger pin isn't there because a greater earth is needed. It's literally there to stop you plugging it in to a standard 10A power point!
So no: you can't grind it down to make the plug fit. This is illegal… and plugs like this are called "death leads" for a reason.
The same goes if you get a 15A lead and replace the end of it with the smaller 10A plug… it's illegal.
You're still risking fire and voiding your insurance if you get one of these:

So the best answer to the question of how do I connect my caravan to the mains AT HOME is to:
Use the right extension cord, and
Get an electrician to put in a 15A power point
What does a 15A to 10A caravan power adaptor do?
One of the most popular adaptors is the Ampfibian. These safely (and legally) connect your 15A caravan to a normal 10A power point.
If the circuit gets loaded over 10A? It will cut out before your home power point gets a chance to fail.
Ampfibians are one of 33 the most popular caravan accessories… because they're approved and won't affect your insurance.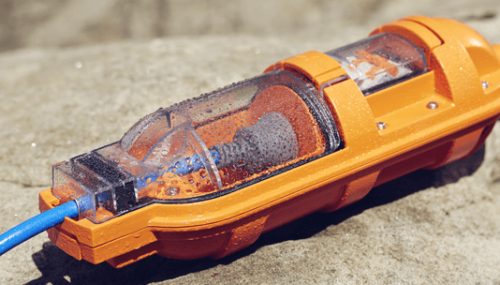 [You can get them at Bunnings, or cheaper here on eBay]
If you have one of these and a 15A heavy duty extension cord you can plug your caravan safely into a standard power point. If you're renting it's perfect. Or maybe you just don't want to fork out for an electrician to put a new power point in!
We were lucky when we bought our caravan. There was already a 15A outlet in our carport. But… we thought one of these would still be good to get.
When you travel you might end up in someone else's driveway (that only has normal 10A sockets).
Other places sell similar things. If you buy a different brand (e.g. from JayCar) make sure it has the same features as the Ampfibian:
Residual Current Detector (RCD) to protect from electrocution
Miniature Circuit Breaker (MCB) to prevent overload
Waterproof, and
Padlock point
[You want to lock them up, because they're an attractive item and can go missing easily]
This means if you're travelling and want to know how do I connect my caravan to the mains, the best option is:
Use the right heavy duty extension cord, and
Use a 15A to 10A adaptor.
Same goes if you can't change your home's power points.
So what do I need to connect to mains power when I'm travelling to caravan parks?
If you're travelling form caravan park to park: the question is still how do I connect my caravan to the mains…
…this time you should be okay as long as you have your heavy duty 15A extension lead.
Caravan park power points are rated to 15A. They're specifically designed for your heavy duty lead.
Remember though:
You can't just bring a standard home 10A extension cord (even though it'll fit in a larger 15A socket). Some caretakers take their job seriously, and check to make sure you have the right extension cord.
If you don't, you may have paid for a powered site… but end up without power.
They have a duty of care to make sure you don't set your van on fire!
Side note:
If you're travelling around Australia with your 15A extension cord it's still worth taking an Ampfibian. We've ended up parking our van in other people's front yards more than once. It's come in handy.
Summary:
Are you going to be sticking between home and caravan parks? Then the best option is to get a good 15A extension cord and get an electrician to install a 15A power point.
Are you travelling long term (or getting a new power point installed isn't an option)? Then the only option is to get a good 15A extension cord with an Ampfibian 15A to 10A adaptor.
Comment below: what's the dodgiest electrical set up you've seen before?!