Disclosure: When you click on links to various merchants on this site and make a purchase, this can result in this site earning a commission. Affiliate programs and affiliations include, but are not limited to, the eBay Partner Network
Here'll you find our caravan kitchen checklist as well as our top tips on how to pack a caravan kitchen.
We'll include:
What to pack (and not to pack).
What food to take (and not to take).
And:
Hints and tips about how to make the most of your limited space.
Let's get started:
What should you pack in a caravan kitchen?
When you're packing a caravan kitchen 2 things to consider are:
1. Keeping weight down, and
2. Saving space
This means not everything on this checklist might apply to you (based on what you normally cook)

Here's our caravan kitchen checklist (our essentials):
Air fryer
Baking tray and muffin tray
Bottle opener
Can opener
Chopping boards
Coffee keep cups (insulated)
Coffee maker
Collander (collapsible)
Cups
Cutlery set
Dinnerware (Corelle)
Dish drying rack (roll up)
Dishwashing detergent
Dish cloths
Egg flip
Egg rings (silicone)
Grater (container type)
Kettle (collapsible)
Knives (in sheaths)
Measuring cups (collapsible or nesting)
Meat thermometer (wireless)
Mixing bowls (collapsible)
Mixing spoons
Masher
Peeler
Pots and pans (nesting with removable handles)
Scissors
Sifter
Spatula
Tea towels
Toaster
Tongs
Wine glassess (stemless plastic)
Wooden spoon
What food should you pack for a caravan holiday?
Before you start putting food into your caravan… ask yourself 2 questions:
What food do you already cook regularly?
Is that REALLY going to change once you're in your caravan?
When we were heading off on our lap of Australia we were about to pack everything into our van.
Then we realised:
The things WE regularly ate were:
Spaghetti bolognaise
Steamed rice with chicken
Pancakes
Meat and 3 veg
Porridge
Burritos
Breakfast cereal
Scrambled eggs
Tinned tuna
So what made us think we were magically going to start using those tins of beetroot?
And that tin of pineapple we've had for 3 years?
Gone.
So here's what we did:
We took that list.
And we expanded it to include the ingredients for those meals.
Then that formed the basis of our caravan kitchen pantry.
[we realised we used way less spices and sauces than we were planning on taking]
Did we forget anything?
Yep.
But hey… it's not like we were in the middle of the outback day 1
In fact:
Our first caravan park was closer to a supermarket than our house was
So to answer the question 'what food should you pack for your caravan holiday?'…
List out what food you'll eat.
Work out the ingredients.
Pack those.
Resist the temptation to take it all.
How to pack a caravan kitchen: Hints and tips
1. Use nesting pots and pans with removable handles
Pots and pans can take up a lot of space.
And, they're a pain to get in and out.
Especially if they have long handles.
If you're going to be travelling a lot, it's totally worth getting a set of nesting pots and pans with removable handles.
At the very least, a frying pan that doesn't have handles.
These Camec SmartSpace Pots are pretty awesome.
2. Caravan kitchen storage is much easier when everything's collapsible
Our favourite collapsible caravan kitchen storage ideas are the: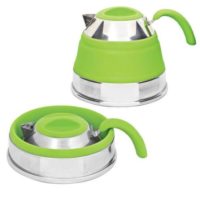 3. Roll up your kitchen dish drying rack
You can't stack your dishes a mile high with these things
But hey, that's a good incentive to get them done more quickly, right?
[plus you have to put them away before you travel]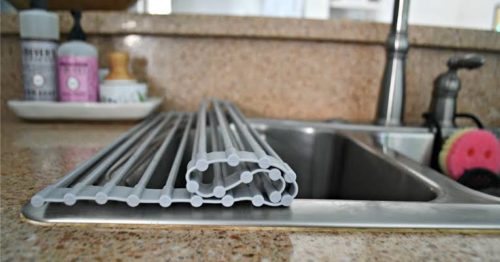 These roll up dish racks off eBay take up next to no space.
4. Use your oven and microwave as storage
When you first go to pack your caravan kitchen you quickly realise how little space you have.
You want to make the most of it!
When your oven or microwave aren't in use they're dead space.
This is what we use ours for:
Microwave: bread and eggs
Oven: chopping boards and flatbread
[just make sure you check before you pre-heat your oven]
5. Get storage containers that fit your cupboard
When you're choosing storage containers for your caravan make sure you think about their shape:
You lose space whenever you use anything round
The more square, the better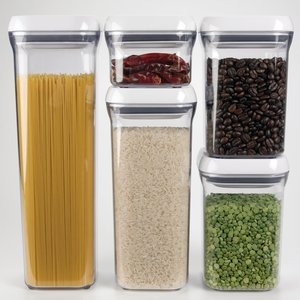 So make sure you get square containers for the cupboard
This relates to wine too: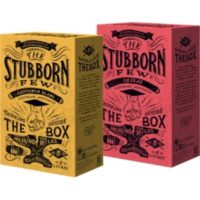 [goon isn't as bad as it used to be]
6. Store knives on the back of cupboard doors
We bought some knives with sheaths on them.
But then our little boy Eddie could reach into the draw…
So this isn't just about caravan storage ideas:
It's about keeping your knives sharp.
It's about safety.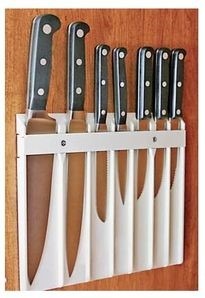 This is the Camco Knife Safe from Amazon.
7. Make packing your caravan kitchen cupboards easier with shelves inside shelves
Our caravan kitchen cupboad shelves aren't that great.
We lose a lot of space.
But once we put a shelf stand inside our cupboard…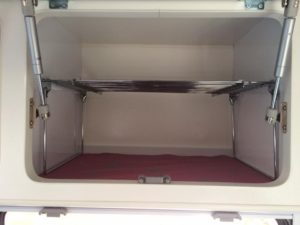 It created a lot better use of our space.
Or there's also these under shelf hanging baskets that you can put inside your cupboard…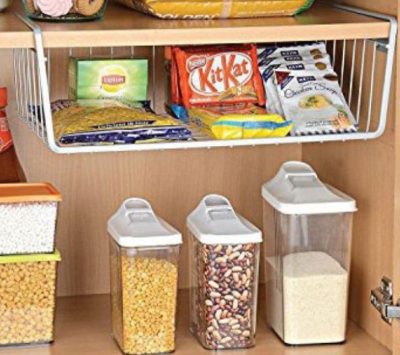 Want a few more caravan storage ideas?
Read: 13 Caravan Storage Ideas: Caravan Packing Tips To Destress Your Van
Summary:
That's our caravan kitchen checklist (the things that WE take… yours might be different)
But hopefully that was helpful?
And we hope it helped give some ideas on how to pack a caravan kitchen.
Your turn:
Comment below, and let us know what you can't go without in your caravan kitchen?