Disclosure: When you click on links to various merchants on this site and make a purchase, this can result in this site earning a commission. Affiliate programs and affiliations include, but are not limited to, the eBay Partner Network
Ticking boxes on your bucket list is cheaper than staying at home in front of the TV?
Well, we didn't see that coming. Months on the road, and yes, that's what we (and many others) are finding.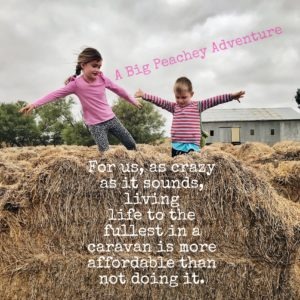 Do we have a home to come back to? Sort of! If we were renting, we would have gone at the end of the lease and officially been of-no-fixed-address. But… also of no rent bills, electricity, gas, etc. When the trip would eventually end we'd need to stay locally and find a new place to live. Happy with that.
Well, we're not renting. Same situation applies (pretty much). When we were in research mode we realised that we could rent our house out and pretty much cover our mortgage repayments… and eliminate our utilities expenses. This does mean that, unless all the planets are in neat alignment, when we come back it's highly likely it'll be smack-bang in the middle of our tenants' lease. So be it. We can either work around the dates or find somewhere else to rent short-term.
Awesome…. but if you're going to spend money, you need to make money too, right? At first, the plan was to develop all these side-hustles to try to scrape by. The good news is we didn't need to pursue our zany facepainting, iPhone repairing, and coffee mug screen printing business ideas (those skills have come in handy though). Instead, we found quite a few things out there to help both sides of the equation:
– Specific skills and qualifications (hairdressers, nurses, RSA, HR, forklift license, etc) seem to have no problems finding short-term gigs
– If you're willing, there are plenty of jobs that don't require qualifications (van park reception, housekeeping, cook, gardener, retail, fruit picking)
– There's a long list of job-finding sites on the Families On The Road-Travelling Australia Facebook Group (General Job Sites, Rural/Outback Job Sites/Agencies, Facebook Pages, Cattle Stations, Grain Industry, Wine Jobs, and Fruit Picking), and
– Annual and long service leave goes a LOT further than when you're at home
To make your money go further:
– There's an app for that! Actually, a few that you need…
– There are some memberships that cost you more if you don't have them!
– Call caravan parks rather than booking online. You'll find that nearly all of them have a discount program that isn't on their website
– Sign up to the Discovery and Big4 mailing lists. You'll hear about some pretty awesome deals
– Groups like House Sitting Australia Wide (can actually be paid too, maybe should have been in the list above?!)
– Visiting attractions? Many charge "excursion rates" if you let them know you're home schooling, and the outing is part of your child's education
– Food preparation (we all know it's something we should be doing… now we have the time to do it)
– Cask wine (aka goon!) is surprisingly not too bad these days. The only reason we drink it… because square boxes don't roll, right? (hey, don't judge!)
– Some of the most beautiful places in Australia are actually free camping (we averaged $20.45/night for a month in Tasmania)
By following this advice we haven't touched our savings (so far). We hope that we don't need to but hey… the memories we're creating are priceless