Disclosure: When you click on links to various merchants on this site and make a purchase, this can result in this site earning a commission. Affiliate programs and affiliations include, but are not limited to, the eBay Partner Network
We're asked quite a bit about how we manage to record The Family Travel Podcast while we're on the road. When we started do you know what equipment we used?
An iPhone. Sitting it on the caravan table with both of us speaking into the loudspeaker. A glass of red wine in our hands. This was all we used for the first 25 episodes (and sometimes you could really tell).
When we finally purchased some equipment, we wanted to make sure that it was compact and well priced. We ended up using the following set-up:
We use Audio-Technica ATR2100 Microphones
It's a Cardioid Dynamic USB/XLR microphone that comes with its own little stand. We bought it from PC Case Gear which is the cheapest place online we could find it. They're now cheaper on eBay
. Tim Ferriss uses these, and they're also what Pat Flynn (Smart Passive Income) recommends… they're pretty damned good for their price!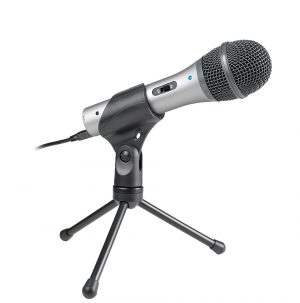 We Record onto a Zoom H5 Digital Multi-Track Recorder
We went for this so we can record while we're away from a computer, with or without microphones (the little microphone thing on the top has surprisingly good sound quality… better than when we used our phone anyway!). Recording on separate tracks is awesome. When someone coughs or Eddie starts crying halfway an interview, we could mute it out without cutting out the voice. Ebay was the best place to get this one.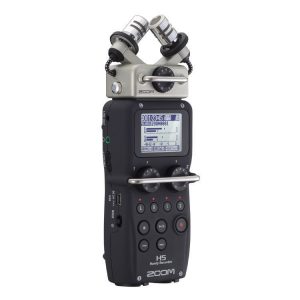 Other Bits and Pieces We Use?
Micro SD Card. The Zoom H5 Recorder comes with a 2GB Micro-SD card. We once did an interview with someone who didn't mind a chat, and it filled up! We quickly good a bigger one to go in. You don't need the high speed read/write capability like you would if you were filming on a Drone, so we got one a 32GB Micro SD Card SanDisk for $12.95 (with free postage!) from this seller on Ebay.
Rechargeable Batteries. The Zoom H5 Recorder uses 2x AA batteries. I make a point of putting in fresh batteries every time we use it. We went with the Panasonic Eneloop as these hold their charge for 3 years and can be charged 2100 times. Apparently. The best price we found for these was on Amazon here (comes with the charger plus 8x AAs and 4x AAAs).
Headphone Splitter. The Zoom H5 Recorder has one output for headphones. We use one of these so the two of us can plug our headphones in. You can pick these up from Kmart for a few dollars, or here on Ebay (still only a few dollars, you just don't need to leave the house).
A 3.5mm Male-to-Male Cable. This allows you to plug the phone into the Zoom recorder. I also use headphone jack adaptor for the iPhone lightning port (or just simply a 'dongle').
How Do You Record Phone Calls with a Zoom H5 Recorder?
With a Zoom H5 Recorder you can plug your phone into the stereo input at the top using the 3.5mm male to male cable. This records the phone output on the stereo tracks. We then plug in a microphone
 into the bottom of the recorder using the XLR cable, and this is then recorded on a separate track. Plug in a set of headphones (so there's no echo) and you're good to go. This works with phonecalls, Skype or Zoom.
If you want to have two hosts and one remote guest? Plug in a second microphone into the bottom of the Zoom H5 recorder, use the headphone splitter so you can both wear two headphones, and you're good to go.
Comment below if you have any questions about our set-up!
This article may contain affiliate links, where we may earn commission a small amount of commission at no cost to you.