Disclosure: When you click on links to various merchants on this site and make a purchase, this can result in this site earning a commission. Affiliate programs and affiliations include, but are not limited to, the eBay Partner Network
Here's a list of our 11 best Jayco camper trailer accessories:
These are our 'must have' purchases for our Jayco Swan
[and they're all things that are different than when we traveled in a full caravan]
These are all accessories that:
Make the most of limited space.
Keep our camper in good condition.
And:
Don't need installation.
Let's get started:
1. Jayco Chop N Serve: The multi-purpose accessory
These Jayco Chop N Serve boards are an accessory that are made specifically to fit into the round sink of a Jayco camper trailer.

For a bit of moulded plastic they do a pretty good job:
Creates extra bench space
The top is a chopping board
Underneath is a serving platter
It hides dirty dishes!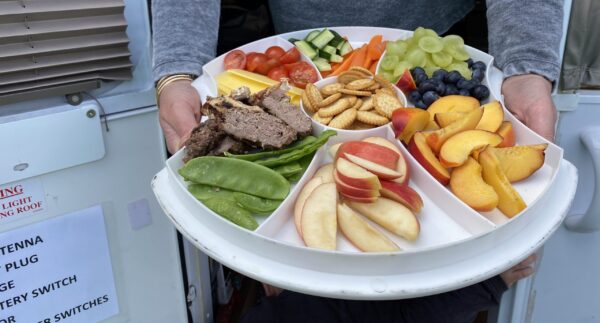 There was already one of these in our Jayco Swan when we bought it…
… but it looks like the best place to buy one is here from RV Parts Express via their eBay store
2. Silicon spray: The best accessory to keep your camper operating smoothly
I'm not sure if this counts as an accessory….
….but it's still a 'must have' for any Jayco camper trailer.
Unlike a caravan, a Jayco camper trailer has a lot of moving parts
(so it's important you keep things well lubricated to reduce wear, tear, and effort)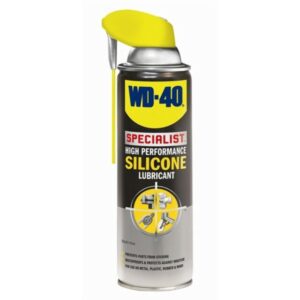 A can of this stuff is less than $10 from Bunnings
(an alternative is a stick of this dry lube for about $8 here off eBay)

The first time I used this spray I noticed a massive difference in:
Opening and closing the zips on the bed and flys
Sliding the beds in and out
Letting the sleeves on the telescopic lifter arms move more freely
HINT: Hold a piece of cardboard behind the lifter arms when you spray so you don't stain the canvas
If you're wondering where to lubricate the bed slides?
Hope that was of help.
3. Aluminium roll up table: The accessory that declutters your camper
My personal preference is to:
Keep the floor of our camper as clear as possible when we're travelling
Only pull things out as you need them
Our little plastic Bunnings table took up a bit of space when folded up AND had to live outside even when it wasn't in use.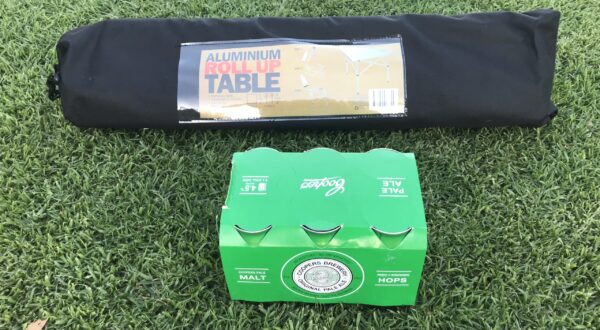 These aluminium tables are one of our best Jayco camper trailer accessories because they roll up to fit in our tunnel boot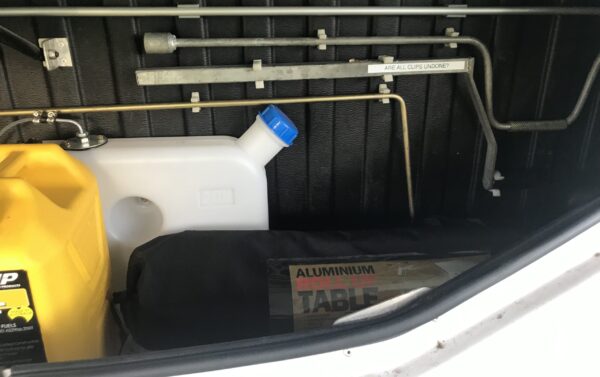 [and they're pretty light too]
This means you don't need to get your table out unless you're actually using it!
We bought ours from BCF but you can find the same ones cheaper here on eBay
And here it is in use with our next favourite purchase…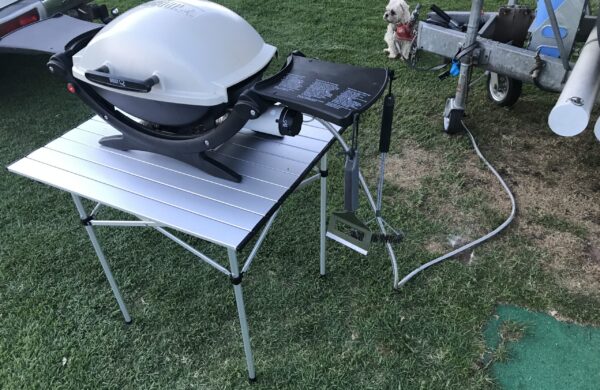 Having one of these tables features in this list:
Read: 9 Tips To Save Time Setting Up Your Jayco Camper Trailer
4. Gas bayonet hose: Makes cooking outside your camper more simple
When we bought our Jayco Swan it already had a bayonet gas fitting installed on the drawbar
(it's one of the mods on this list of the 35 Most Popular Jayco Camper Trailer Modifications)
So I bought a 3m braided gas bayonet hose here off eBay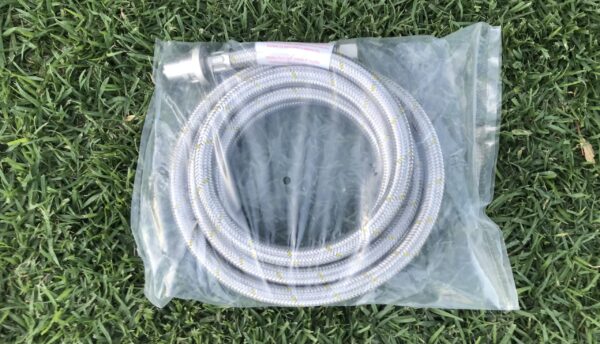 (about $35 cheaper than buying from BCF!)
Now, I can connect our Weber Baby Q to gas without having to disconnect and/or move a gas bottle
5. Moisture absorbers: The best accessory to keep your Jayco camper trailer free from mould
Like the silicon spray this isn't really an necessary, but it's still a necessity:
Jayco camper trailers are the perfect breeding ground for mould if they're closed down and there's any moisture in the canvas.
One of the good things about a Jayco camper trailer is that there's still air circulating even when it is closed down.
Moisture absorbers are only a couple of dollars…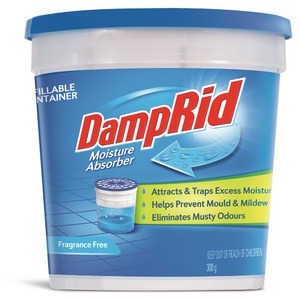 …get them from hardware stores, cheap shops, and most supermarkets.
Prevention is better than cure:
It's easy to kill mould, but removing mould stains is another story.
6. Mattress topper: The best Jayco camper trailer accessory for a good night's sleep
The general consensus is that Jayco camper trailer mattresses really suck.
A while ago I asked the Jayco Camper Trailer Owners Group to vote for their best modification: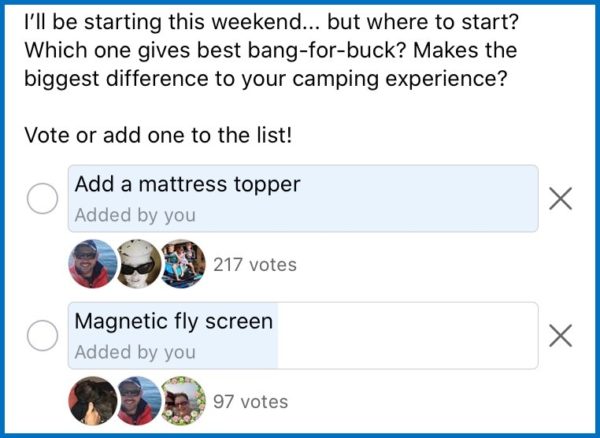 Adding a mattress topper was BY FAR the most popular response
[even though it makes more sense to be on this list of best accessories because it's not really a modification]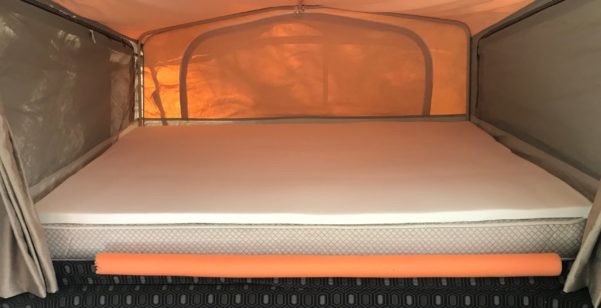 The one that's most recommended is the Ever Rest Memory Foam Mattress Topper from Spotlight, because it's:
Comfy
Inexpensive
You can leave on with the roof down
We bought ours here from Spotlight's store on eBay
NOTE: The double bed topper fits fine for both the double and "queen bed" mattress… check out our full review here if you'd like to see pictures of how it fits
7. Kmart yoga mats: Stops the cold coming up through the bottom of your bed
A problem with slide out beds is that there's not much stopping the cold from coming up from underneath
(this was VERY noticeable the first time we slept in our Jayco Swan)
You could line the base with marine carpet or proper (breathable) insulation…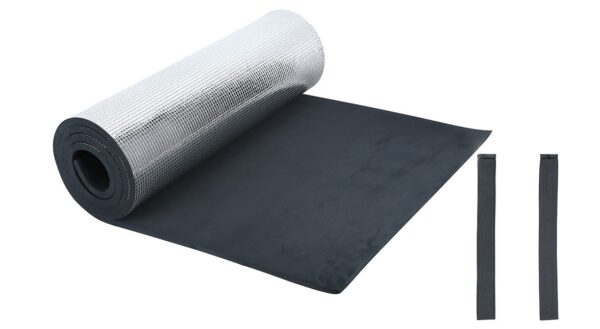 …but a cheap, simple fix to keep the bed of your Jayco camper trailer warm in winter is putting a couple of thermal mats underneath
(these thermal EVA foam bed rolls from Kmart are the most popular option)
This is one of the 7 Tips to Keep Your Jayco Camper Trailer Warmer in Winter
8. Collapsible deckchairs: Less stuff to deal with when setting-up and packing-up your camper
We used to use flat-folding deckchairs and lay them on the fold down table during travel.
Even though they were great for when we had a full caravan, I found them annoying for our Jayco Swan because:
They took up a lot of space
They created extra steps in the set up and pack up the process, and
We had to keep them outside even if we weren't going to be used
This was for 4 of us: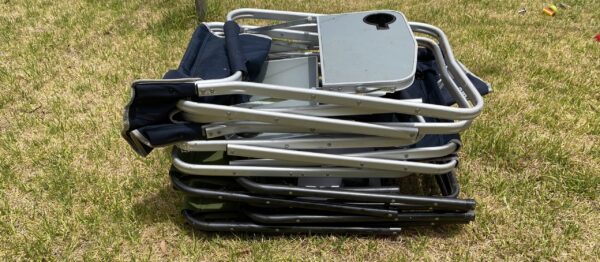 The moment we bought a set of collapsible deckchairs they became one of our best Jayco camper trailer accessories:
Collapsible deckchairs for a family of 5 fit in our tunnel boot so we only have them out IF and WHEN we're using them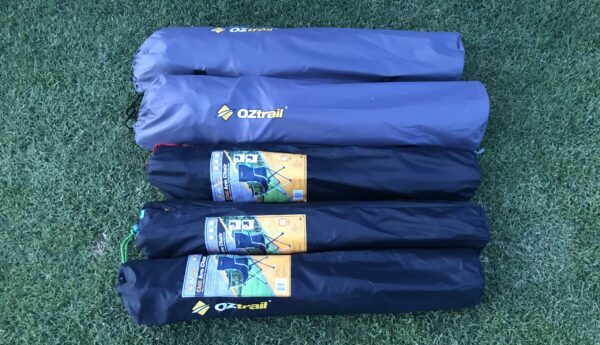 They make packing and setting up quicker and easier, and keep the campsite neater when not in use.
Read: 9 Tips To Save Time Setting Up Your Jayco Camper Trailer
We bought ours from Bunnings when they were on sale (and recommend you do too), but you can also get them off eBay:
These OZtrail Chill Arm Chairs for the kids, and… 

…these OZtrail Coolboy Chairs for us adults.
9. Portaloo and cover
Our previous caravan had an ensuite… and we didn't realise how much we'd miss it.
Our little Thetford portaloo quickly became one of our favourite Jayco camper trailer accessories for:
Free camping
When the kids need to go to the toilet overnight
When it's 4 am and you're busting for a pee but can't be bothered walking in the rain to the caravan park toilet block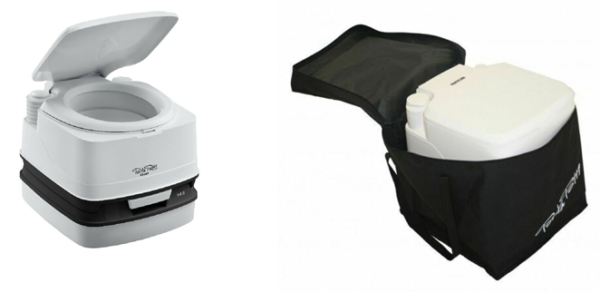 [emptying one of theses is no different to a normal caravan toilet cassette]
We have the Thetford Porta Potti 145 Qube (bought it here from Anaconda)
We also bought one of these from TentWorld via their eBay store for when it's not in use…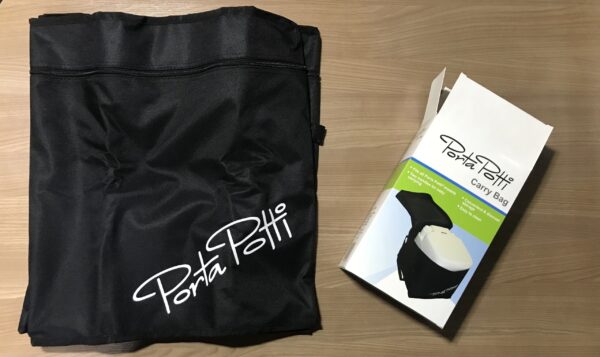 …and also found eBay the best place to buy these bio-paks drop in sachets (so no messing around with bottles of chemicals or measuring napisan)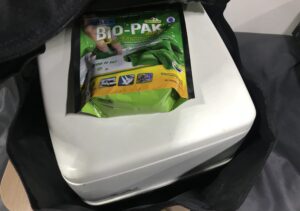 10. IKEA chopping board: The perfect fit to cover your Jayco camper trailer stove top
We don't have one of these yet. But, one of these Lamplig chopping boards are definitely on our shopping list:
They fit perfectly over the glass stove top lid and have a small lip over the front.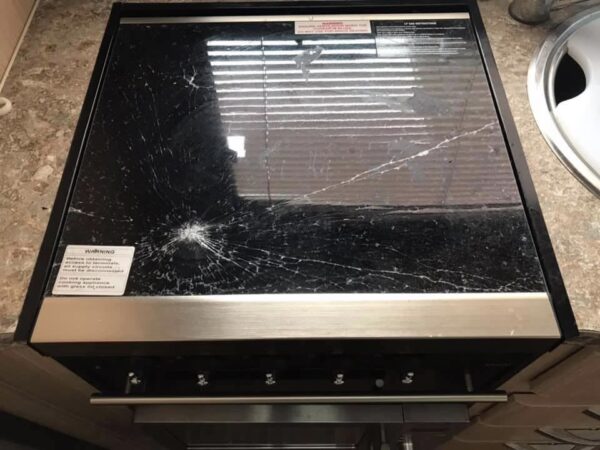 For around $20 they serve a few purposes:
Protects the glass stove top lid from drops and accidental breakages
Adds to bench space
When the stove is in use you can put it on the bench to put hot things on
Doubles as a grazing board for happy hour!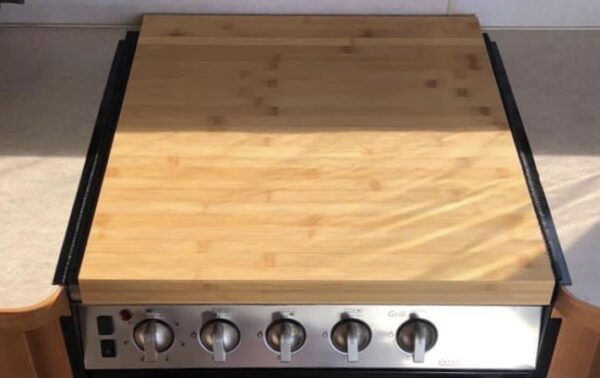 Here's the link to this one (although you get these in store at IKEA)
12.Wardrobe storage baskets
One of our favourite modifications has been sorting out the shelves in the tall wardrobe: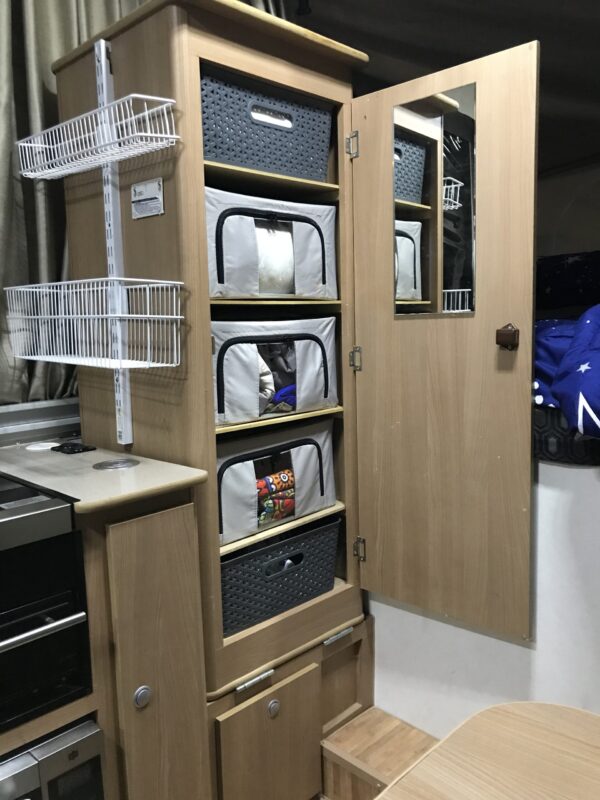 We went the cheap, light and easy option… there's more options and ways in here: 5 Options for Installing Wardrobe Shelves In Jayco Camper Trailers
A great addition for this is the baskets… here there's 2 types and where they're from:
Storage Container with Lid – Flat, Grey. These are from Kmart, cost $7, and are the size 16cm (H) x 40cm (W) x 36cm (D)
Easy Home Storage Box. These are the fabric folding boxes, and come from Aldi. They're on special there once or twice a year.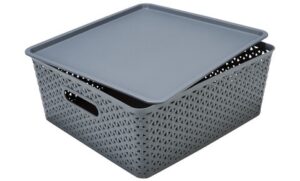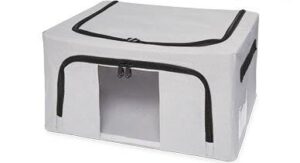 Summary: Best Jayco Camper Accessories
So these are OUR best Jayco Camper Accessories:
These are the things that we've found really helpful since we changed from our full-sized caravan.
And, the good news is that none of these are things that require installation…
…you'll find those sorts of things in our list of the 35 Most Popular Jayco Camper Trailer Modifications.
Comment below:
What's on your list of your best Jayco camper trailer accessories?