I'm planing on replacing the bag awning on our Jayco Swan, so it got me wondering: which is the best roll out awning for a Jayco camper trailer?
Replacing the bag awning was 8th on the list of  35 Most Popular Jayco Camper Trailer Modifications but…
Which one should I buy?
So I read every Facebook thread and forum post I could find on the Internet. This is what I found:
The 3 most popular options are the Fiamma F45, the Aussie Traveller Coolabah Awning, and the Ezi Camper Awning by Kakadu Annexes. But… they all have VERY different pros and cons.
Here's the main differences between these 3 options:
1. Fiamma F45: The Most Popular Wind Out Awning for Jayco Camper Trailers
It seems that the Fiamma F45 is the most popular option when people get rid of their bag awning…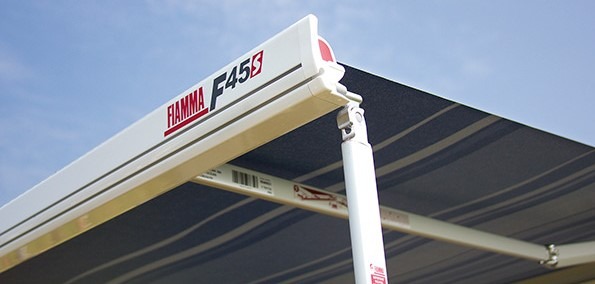 …and many rate it as one of the best modifications they've made to their Jayco camper trailer.
Once I googled it I quickly realised:
It's pretty much identical to what we had on our last van when we did our lap of Australia!
Pros:
Easy to wind out. It takes about 1 minute to set up.
You can wind it out AFTER you've set up your camper. No need to make a decision that you're stuck with!
Retract in a hurry. If the weather starts to get bad you can retract it in less than 1 minute
Weight. Weighs almost the same as the bag awning (the Fiamma F45 is 23 kg while the Jayco bag awning kit is 22 kg)
Easy to attach front privacy screen. Sail tracks are built into the front of the cassette.
You can pack away the night before travel. This allows for a quick morning getaway!
Price. At around $850, they're way cheaper than the Aussie Traveller or Kakadu Ezi Camper.

Cons:
Wind resistance. Not that sturdy until pegged down properly (which means it's at risk of getting damaged if you try to put it up if it's already windy)
On that last point, a lot of people also recommend:
Fiamma Curved Centre Rafter: provides additional support in the middle, and
Fast Clip System: an anti flap kit that also forms the corners for an annex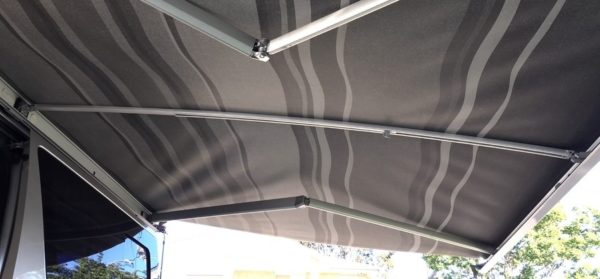 Summary of the Fiamma F45:
The Fiamma F45 is very much like our old awning which we used nearly every day with no problems… the main difference is that the support legs weren't built in (we had to do that part manually).

We hardly used our curved centre rafter or anti-flap kit. In fact, we left them at my dad's place with our annex half way through our lap of Australia! We just wound it in if it was getting too windy.

This means out of the box it'd suit our needs… but sounds like adding a curved centre rafter is like a cheap insurance policy for this model.
Best place to buy?
The place everyone seems to recommend is RV Parts Express from Sydney through their eBay store, who has 99.9% positive feedback (and here for the curved centre rafter)
NOTE: Everyone recommends the 3.5 m for a Swan or Flamingo, and it's a 50/50 split between a 3.0 m and 3.5 m for the Eagle  
Read: What Size Fiamma Awning for My Jayco Camper Trailer?
Although you can get a specific Annex for the Fiamma F45 (they sell it here on eBay as the Fiamma Privacy Room), we didn't really use an Annex when we did our lap…
…so for our family (aka my laziness in setting things up), our preferred option are these Privacy Screens that CampSmart sell through their eBay store.
2. Aussie Traveller Coolabah Awning: The
Set-and-Forget

Option

The Coolabah Awning by Aussie Traveller seems to be a good option for those who don't want to worry about wild weather…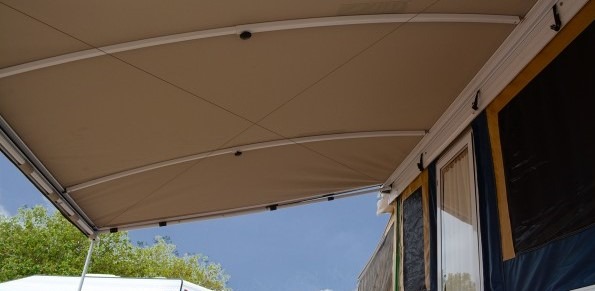 …but don't mind having to make a decision about their awning use during set-up
[like the bag awning, it needs to be set-up when the top of your Jayco camper trailer is still down]
This makes it VERY different than the Fiamma:
Pros:
Heavier duty. It has a built in cross-wire bracing system that provides increased stability when it's windy.
Comes with curved rafters. No need to purchase these as additional accessories
Total cost if planning on upgrading to an annex. If you plan on adding annex walls, it has zips on all 3 sides (making it about the same price as a Fiamma with an anti-flap kit)
Cons:
You need to commit during set up. If you're out camping and haven't pulled it out, it's too late. You're 'awningless'
Once it's up, it's up. If really bad weather comes in, you'd have to wind down the top of the camper to retract the awning.
More physically demanding. Some people with less mobility find this one a bit difficult to pull out.
Expensive if you're just after an awning. If you don't plan on going for an annex it's about $1,500… more than the Fiamma (but still a lot cheaper than the Kakadu Ezi Awning)
Final thoughts?
There's 2 things that made me want to get rid of the bag awning off our Jayco Swan:
You can't put it up after you've set-up your camper, and you can't pack it away the night before travelling.
So for me, it seems my need for convenience outweighs the ability to set it up and leave it out in gale force winds.
3. Kakadu Annexes' Ezi Camper Awning Arms: Buy Once and Buy Well
If you want a premium awning, then the Kakadu Annexes' Ezi Camper Awning Arms is the answer: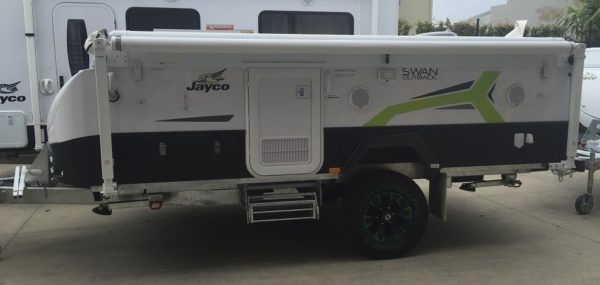 It combines strength and convenience.
What's crazy is that we had one like this on our first pop-top caravan that we bought 2nd hand for $7K…
…it must've made up about a third of the price we paid for the van!
Pros:
Super strong. All the feedback is that this is pretty much the best made awning on the market.
Easy to wind out. It takes about a minute to set up.
You can wind it out AFTER you've set up your camper. No need to make a decision that you're stuck with.
You can pack away the night before travel. Allows for the quick morning getaway.

Cons:
Price. About $2,000 installed, they're definitely not cheap. But hey, it's unlikely you'd ever need to replace it.
May void Jayco warranty. This one's not an issue with our Swan because we bought it 2nd hand, but Jayco have something against these awnings. Sounds like it's not necessarily about the weight, but the impact on the roof and lifter system.
Unable to install along with an air conditioner. A lot of people report that Kakadu Annexes won't install one of these if you already have air con on your roof (to me that's the sign of a good and honest supplier though)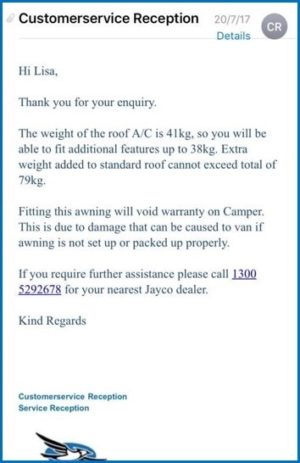 Final thoughts?
These look pretty awesome… but if I had to choose between an air conditioner plus Fiamma F45 vs. no air conditioning amd the Kakadu Ezy Awning?
The winner is air conditioning (even if it means winding in the awning if the weather picks up)
Plus, our Swan already has an air conditioner, solar panel, and antenna… so it's not like I have a choice!
Summary: The Best Roll Out Awning for Jayco Camper Trailers
There's some big differences between the most popular roll out awnings for Jayco camper trailers…
…but some of the pros and cons are a matter of perspective
[and how you prefer to camp]
I'd sum them up as:
Fiamma: cheap and convenient
Coolabah: cheap and strong
Kakadu Ezy Arm: strong and convenient
For us, convenience is a big factor. And, we already have an air conditioner on our roof…
…so I'm going to have to go with the majority and get a Fiamma from this seller on eBay.
UPDATE: We bought our Fiamma… and love it! Easy to install too. Check out: Jayco Swan Fiamma Awning Installation [Step-By-Step With Pictures]
Comment below and let me know if I've missed anything. Otherwise, if you're looking to make more changes to your Swan, Eagle, Flamingo, Dove, or other Jayco bird?