Disclosure: When you click on links to various merchants on this site and make a purchase, this can result in this site earning a commission. Affiliate programs and affiliations include, but are not limited to, the eBay Partner Network
In this article I'll share with you our Jayco camper trailer set-up checklist
(and our pack-up checklist too)
Even though I put these together when we'd just bought our Jayco Swan a few years ago, I still refer back to this if we haven't had our camper out for a while:
Setting up and packing down a Jayco camper trailer is mostly a sequential process…
…and doing things out of order can make things a lot harder

(or make you need to backtrack which takes even more time)

So we briefly re-read this just before setting-up to remind us the best order for OUR set-up
[yours might be slightly different based on whether you're using your bed end flys, are setting up a bag awning, etc]
Here it is:
Our Jayco Swan Camper Trailer Set-Up Checklist
This is our standard set-up procedure for when we're camping on an unpowered site:
Insert levelling ramp on low side
Drive onto ramp until level E-W
Apply handbrake and chock wheels
Attach jockey wheel, unhitch, move car
Wind jockey wheel until level N-S
Lower stabiliser legs
Unzip, attach, and half-raise bed flys
Undo clips and wind up roof*
Insert roof support poles and close velcro
Raise bed end flys
Pull out beds and insert support poles
Pull steps out
Assemble door
Raise wardrobe
Insert hockey sticks
Attach velcro
Plug in roof power cable
Switch fridge from DC to gas
* When winding up the roof we stop twice to double-check that the lifter arms are raising evenly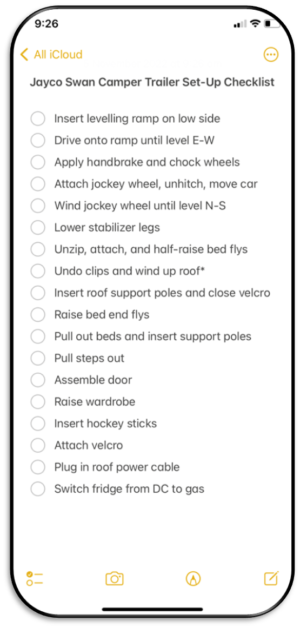 Now, depending on where we're camping and what the weather is like, some optional things that aren't standard practice for our set-up include:
Roll out the awning
Attach power cable
Attach water hoses
Set-up table and/or chairs
The main benefit (and reason) we switched from a bag awning to a Fiamma roll out awning is because you don't need to commit to having it out during the set up process… you can decide later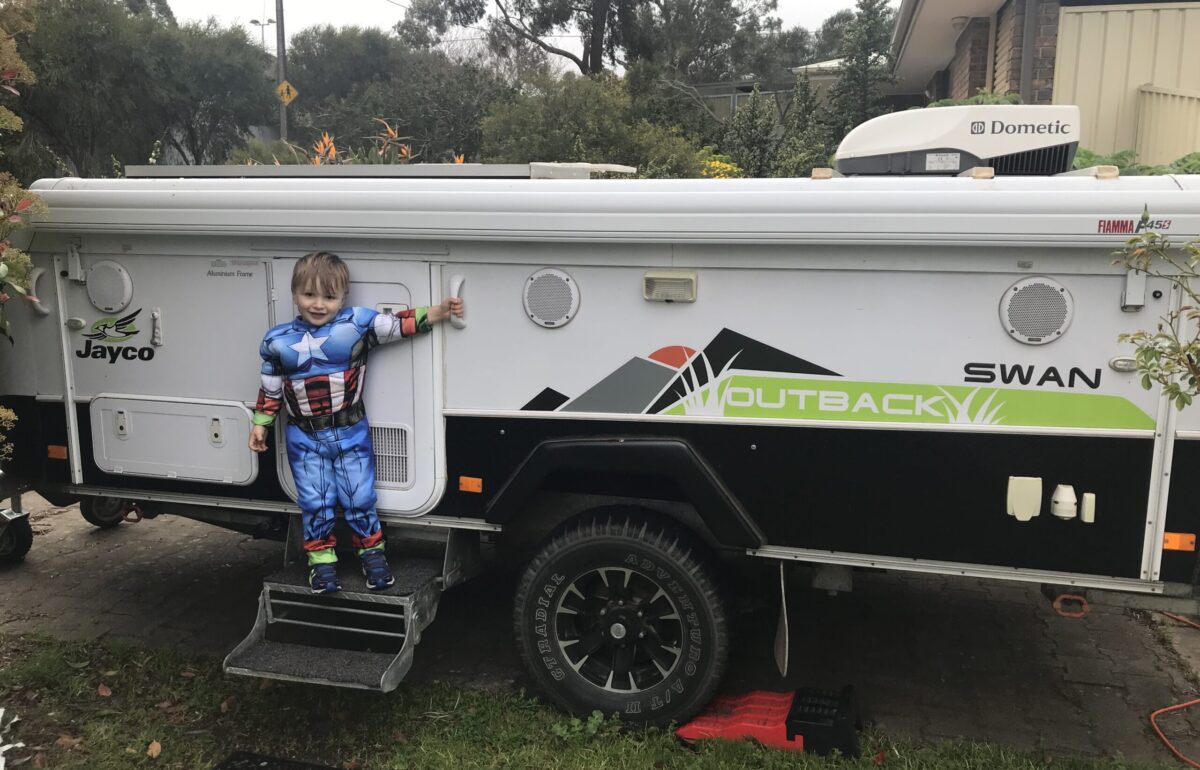 (plus you can pack it away easily the night before leaving to make for a quick getaway in the morning)
To be honest, this is our number one timesaving tip for both set-up and pack-up
Read: 9 Tips To Save Time Setting Up Your Jayco Camper Trailer
The other big time-saver?
Swapping to collapsible chairs (instead of folding ones) and to a roll-up table
[we bought ours from BCF but you can find the same ones cheaper here on eBay]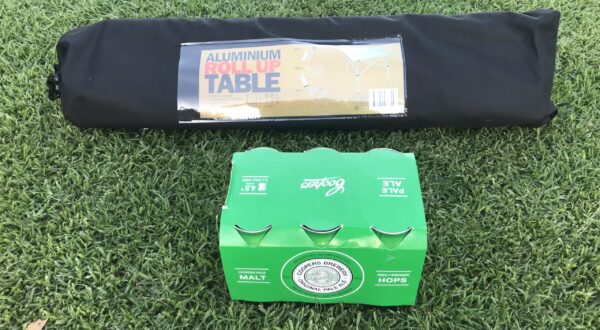 (this means we don't have to get them out unless when we actually need them)
Read: 11 Best Jayco Camper Trailer Accessories (Our Must Have Purchases For Our Swan)
Our Jayco Swan Camper Trailer Pack-Up Checklist
Packing up to go home from camping is bad enough at the best of times… but it's worse if:
Things come loose during travel
You have to wind up if forgot something
Lights burn a hole in the canvas
Food in the fridge gets warm, or just…
It drags out for over an hour!
This is the process we've found most helpful for us:
Wash, dry and put away dishes
Unplug power and water
Get everything out that's staying out
Internal confirmatory checks:
Diesel heater isolation switch off
Cupboard doors latched
TV antenna down
Windows zipped up
Lights off
Remove bed hockey sticks
Fold down wardrobe
Attach door to ceiling*
Switch fridge to DC
Unplug roof power cable
Fold canvas and push in beds
Lower bed flys halfway
Remove bed support poles
Wind down roof
Fold up bed flys
Fold away steps
Turn off gas
Wind up stabiliser legs
Clip roof latches
HINT: When it comes to attaching the door to the ceiling something we didn't know was that it needs to be folded flat
It's the answer to a surprisingly frequent question that pops up when people have difficulty closing their roof…

…which is why it's number 2 in this list of tips and tricks for Jayco camper trailer owners
Read: 23 Tips For New Jayco Camper Trailer Owners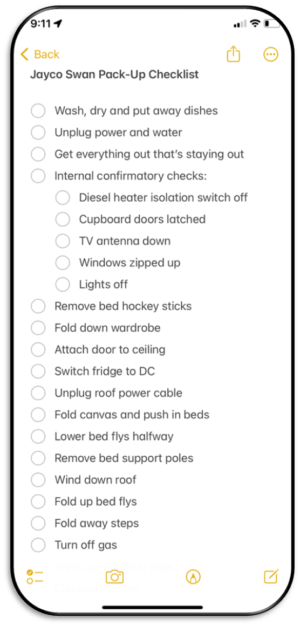 And why is clipping the roof latches the very last thing?
By leaving it a few minutes, it allows the air to escape from the canvas which makes the roof easier to close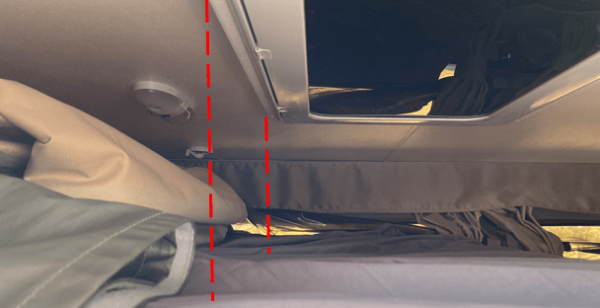 (which makes the difference in being able to leave our mattress topper on the bed when we close down)
Read: Ever Rest Memory Foam Mattress Topper Review [For Jayco Camper Trailer]
Summary: Our Jayco camper trailer set-up and pack-up checklists
We refer to our Jayco camper trailer set-up checklist (and pack-up checklist) especially if we haven't had our camper out for a while:
Yours might be different based on how you camp and whether you're using your bed end flys, are setting up a bag awning, etc