Disclosure: When you click on links to various merchants on this site and make a purchase, this can result in this site earning a commission. Affiliate programs and affiliations include, but are not limited to, the eBay Partner Network
Here I'll give you my Ever Rest Memory Foam Mattress Topper review, that I bought online from Spotlight…
… and I'll also tell you why it was the very first modification I did for our Jayco Swan.
Here you'll find the answer to questions about:
Sizing
Comfort
Price, and
Can you can leave it on the bed when the top is wound down?
Let's get started:
Why I bought the Ever Rest Memory Foam Mattress Topper
I created a poll to find out the best modifications people have done for their Jayco camper trailer:
The most popular response BY FAR was to add a mattress topper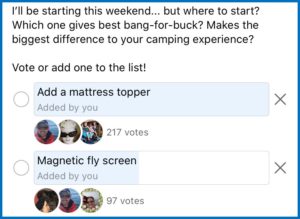 [it got 217 votes while no. 2 got 97]
I found this pretty interesting considering that this isn't even really a modification!
After reading A LOT of recommendations the most popular options were:
Spotlight's Ever Rest Memory Foam Topper
Kogan's Ovela Bamboo Memory Foam Mattress Topper
Kmart's Anko Bamboo Mattress Topper
The clear winner (by a mile) was the Ever Rest Memory Foam Topper.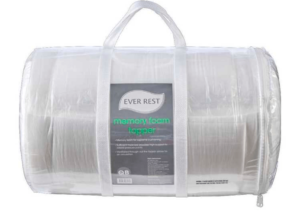 So I bought one here from Spotlight's store on eBay
(even with shipping it worked out to be the same price as buying in-store)
My Review: Thoughts and opinions about the Ever Rest Memory Foam Mattress Topper
My initial thoughts were:
"It's pretty thin… is it even thick enough to make the mattress more comfortable?"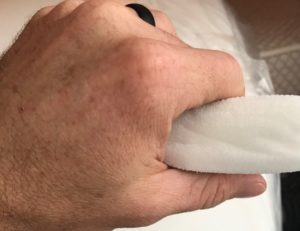 But once it was out of the bag, after a few minutes it got to its 5cm thickness.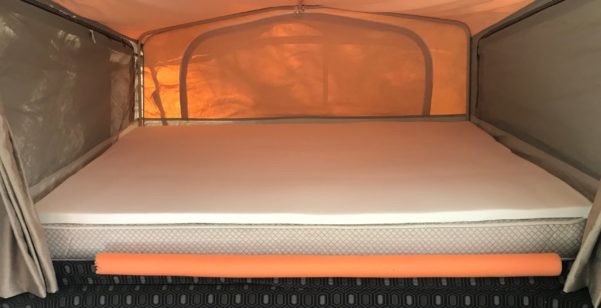 Laying on it, I could feel a massive difference.
I'll be honest though:
I'm not the best judge. I sleep anywhere and it doesn't bother me.
Remember the poll I conducted?
Without hesitation, adding a mattress topper was Natalie's vote:
She hated the mattress in our Jayco Swan… she thought it was hard and cold.
Our first night sleeping on the Ever Rest Memory Foam Mattress Topper?
Big difference:
Now, the mattress is actually comfortable. And warmer too.
(it was single-digit weather last night, and no complaints about the cold coming from underneath)
Sizing: What size mattress topper do I need for my Jayco camper trailer?
The beds in a Jayco Swan (and other Jayco camper trailers too) are:
A double bed, and
A queen bed that's NOT QUITE a real queen sized mattress.
So for the mattress topper for the bigger bed, this is what people have done:
Buy a queen sized mattress topper and had to cut it down…

…or the most common thing is to just buy a double sized mattress topper.

So I ended up getting a double bed sized mattress topper too… and I'm glad.

There was about a centimetre gap on each side, and it went to the edges top and bottom:
No cutting!
Can you leave an Ever Rest Memory Foam Mattress Topper on your bed when your Jayco Swan is wound down?
Yes!
Because it's only 5 cm thick, you can leave it your bed when the top was down.
[it's one of the things that sold me on this mattress topper]
I would've been willing to get a mattress topper that wasn't quite as good just so that it would've been less to do in pack-up and set-up…
…so it's quite lucky that this was the most recommended AND you could leave it in place.
Price for the Ever Rest Memory Foam Mattress Topper: How Does It Compare?
Spotlight sells these for about $80 (I bought mine from their online store here on eBay)
Number 2 on the list of mattress toppers most recommended for Jayco camper trailers (the Kogan Ovela) sells for quite a bit more at $119 plus postage.
So… the one that's most recommended is $40-50 cheaper than it's closest rival?
Bargain.
Summary: Happy with the Ever Rest Memory Foam for my Jayco Swan
Overall, I'm very happy with Spotlight's Ever Rest Memory Foam Topper.
It wasn't too expensive, was delivered to my door, and it's thick enough to be comfortable and provide an extra layer of insulation…
…but not too thick, so I can leave it on when I wind down the top of my Jayco Swan.
If you're after one click here to get one from Spotlight's store on eBay
[just don't forget: double bed size fits both beds]
If you have any questions about my mattress topper review, please comment below.
Otherwise, check out how this started: