Disclosure: When you click on links to various merchants on this site and make a purchase, this can result in this site earning a commission. Affiliate programs and affiliations include, but are not limited to, the eBay Partner Network
In this article I'll review the Ezi Winch Handle Extension for our Jayco Swan camper trailer
This was to help solve 2 common problems:
Grazing my knuckles on the pole carrier (in a front-winding model like our Jayco Swan), and
The handle getting in the way of the pole if you've done the bed end fly mod
(a common problem as the bed end fly mod is one of the 35 Most Popular Jayco Camper Trailer Modifications)
So here I'll compare:
The 'Long Jayco Camper Winder Handle'
My DIY idea, and the
Ezi Winch Handle Extension
(Darren from AGeckoCan is the same guy that makes these Ezi Hockey Sticks)
Let's get started:
Option 1: Purchasing a Jayco Camper Long Winder Handle
My initial thought was:
I'll just buy a longer winder handle
I measured mine, and the length of my shaft (excluding handle) was 500 mm

[yes, that's a sticker reminding me to check "are all latches undone?"]
So I looked at one of these from RV Parts Express…

…but the 450mm "long" winder handle was actually shorter than the one I already had that was causing problems
(so even the long ones aren't long enough)
Size does matter.
Option 2: DIY Winch Handle Extension
After realising the Jayco Camper Long Winder Handle wasn't a workable option, it was back to the drawing board.
Literally.
I came up with an idea: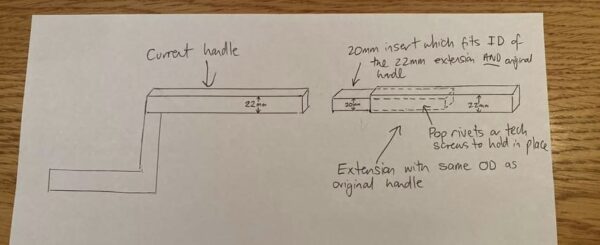 An extension that's the same 22mm outside diameter as the existing handle…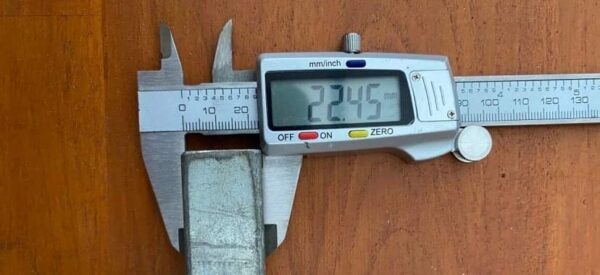 …that's also reinforced by an 20mm insert that fits neatly inside the internal diameter:

I was going to make this myself.
When I went to Bunnings it was easy to find some 20mm galvanised steel which fitted smoothly into my current Jayco winch handle
But…
The insert was the easy part.
It was the outer extension that I couldn't easily source:
Steel tubing of a 22mm diameter is not a standard size.
I tried multiple steel suppliers in Adelaide. I couldn't even find one supplier of 22mm square tubing. It was all 20mm.
I searched online.
Then, I found one place in Victoria… and they only sold it in 3m pieces!
So it turned out:
Something that seemed like it should be simple and cheap to make was something that was cost prohibitive to do on a one-off basis
(like $120-$300 depending on postage!)
But if it was produced at scale?
Option 3: AGeckoCan Ezi Winch Handle Extension
AGeckoCan are the same manufacturers as the Ezi Hockey Sticks
(Read: Ezi Hockey Sticks Review: An Easier Way To Set-Up Your Jayco Camper Trailer's Beds)
Darren produced this winch handle extension which was made of 22mm diameter galvanised steel, giving:
An extra 300mm length, and
A 150mm insert that fits perfectly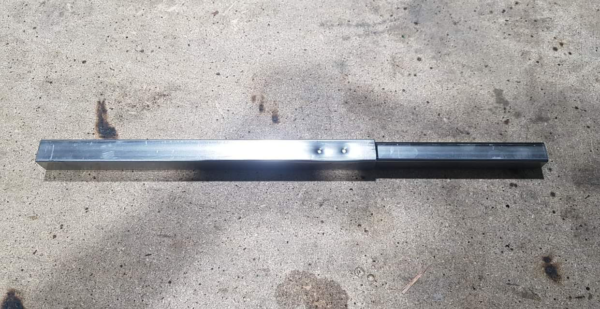 (it's 100% perfect in terms of fit and length of both the inner and outer pieces)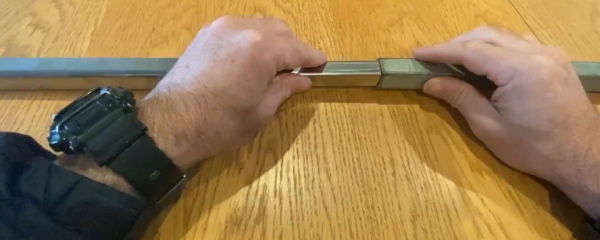 The real benefit of this thing…
When putting up the bed end flys with the mod, normally the handle hits the diagonal-upright:

Now it's a case of assembling the bed end fly poles then just winding up without extra manoeuvring:

And as you can see, about perfect length too when all together – just enough to give the clearance needed: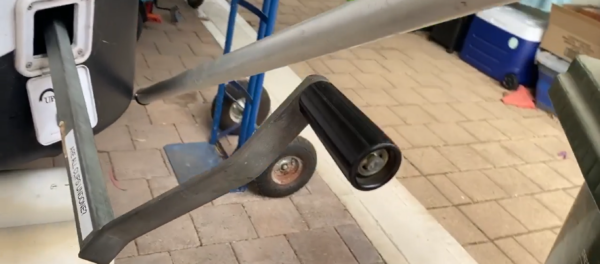 But what if don't have the bed end fly mod?
It assists with extra clearance to prevent knuckles scraping on pole carrier.
It goes from this: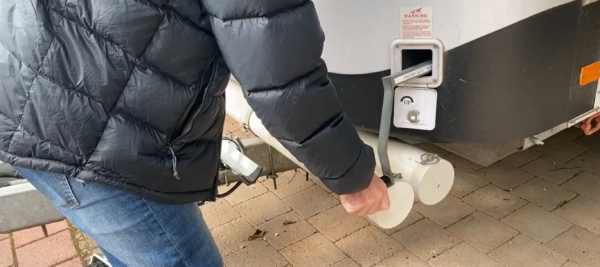 To the Knuckle Saver (TM):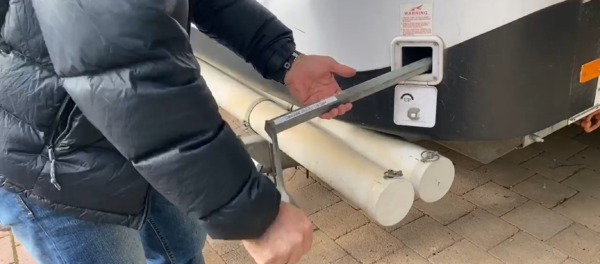 Now, while there's no impact on torque, it feels a little wobbly. If you hold it closer to the port, then there's no problems
(just needs to be a 2 hand job for stabilisation).
The worry I had was that it could slide out and that the extension could get left behind inside the receiver.
But… this is what makes me say it's the perfect length: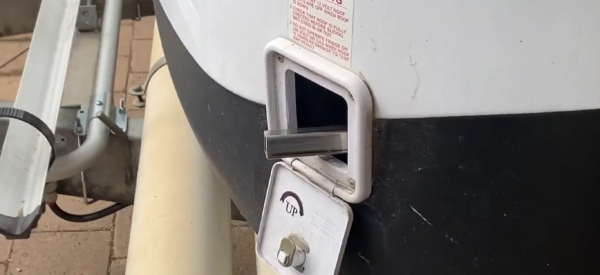 Even if it did get left completely inside the receiver, the length is such that it still protrudes to pull it out
[that's my Fiamma bike rack on the draw bar… read my Installation and Review here]
Summary: DIY vs AGeckoCan Ezi Winch Handle Extension
Although the AGeckoCan Ezi Winch Handle extension is simple, it's difficult to find raw materials of the right size at small scale…
…so it's a product that is cheaper to just buy AND has a huge user benefit
(it would be of benefit to anyone who has a front winder with the pole carriers, and both front and back for anyone who has the bed fly mod)
Click here to speak to Darren about getting one
(and no, I don't get any commission for recommending these)
It's what I had in mind when I was going to make one, and would 100% buy exactly as it is and gladly recommend to others
Simple. Effective.
I'm sure this will end up on this list of the 35 Most Popular Jayco Camper Trailer Modifications