Here I'll show you step-by-step how I did the DIY bed divider for our Jayco Swan camper trailer.
A bed divider is on the list of the 35 Most Popular Jayco Camper Trailer Modifications, and I can see why. It's great to either:
Allow a little one to get an uninterrupted sleep, or
Stop 2 bigger ones from fighting over their space
Let's get started:
1. Gather up the materials you'll need
To make this bed divider I got everything from Bunnings and Kmart:
1.5 m curtain rod
3.5 m of bungee cord
1 x snap hook carabiner
1x flat sheet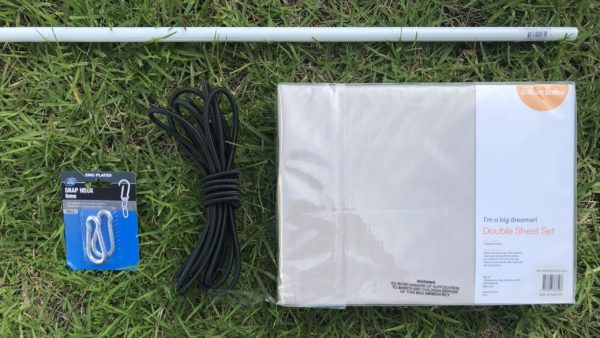 [You could use an old single sheet and it's large enough… but I bought a double sheet set because we needed another fitted sheet for the bed anyway]
2.Cut and cover the curtain rod
First, cut the rod to the width of the bed with a hacksaw
(in our Jayco Swan this was 1.33 m)
Then, put some black tape in and around the edges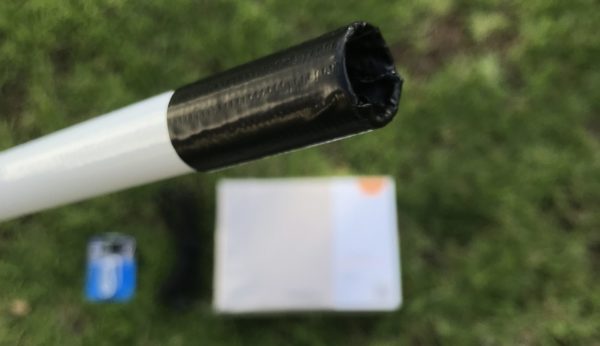 For this, I used some of the cloth tape I had left over from when I did the magnetic fly screen modification for our Jayco Swan
3. Create a tie down point
For this I made a knot around one of the snap hook carabiners using the bungee cord…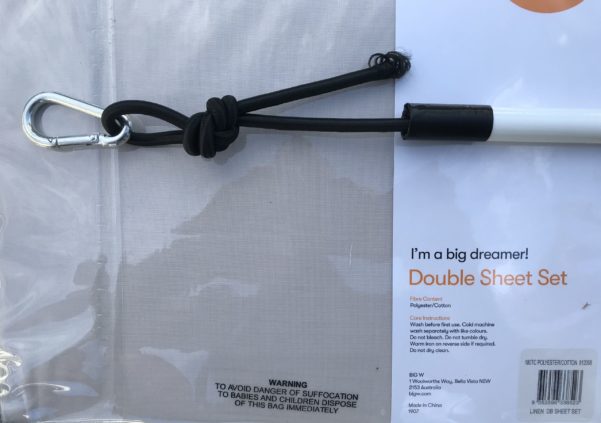 …then pulled it through the rod.

Then, I checked to make sure it fitted okay: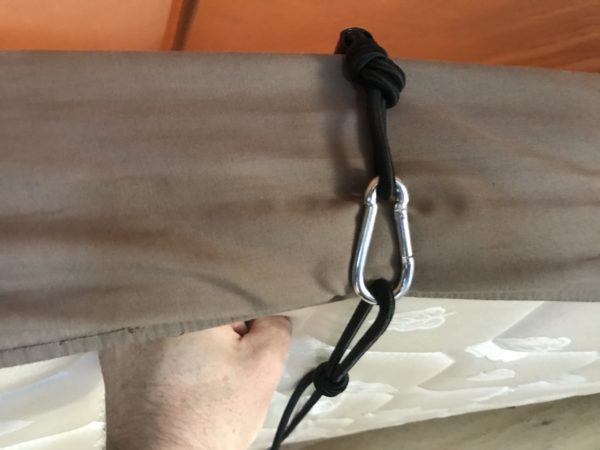 Perfect!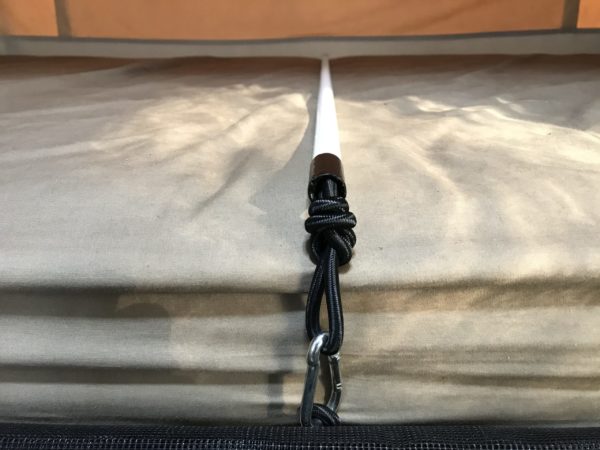 4. Make a hole in the existing hem
The sheet already had one side that's doubled over…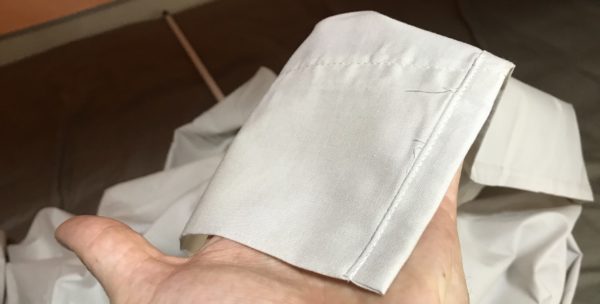 …so I cut a small hole, just big enough for the rod to go through.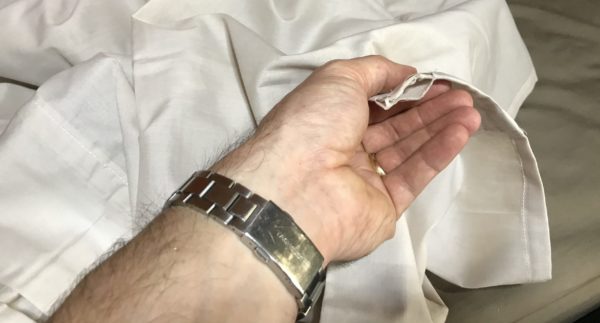 This is what it looked like: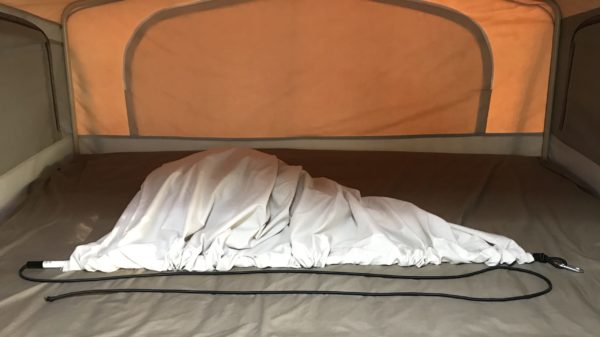 5. Pin the sheet in position
Here I clipped in the pole at the bottom, just like it'd be in the finished product…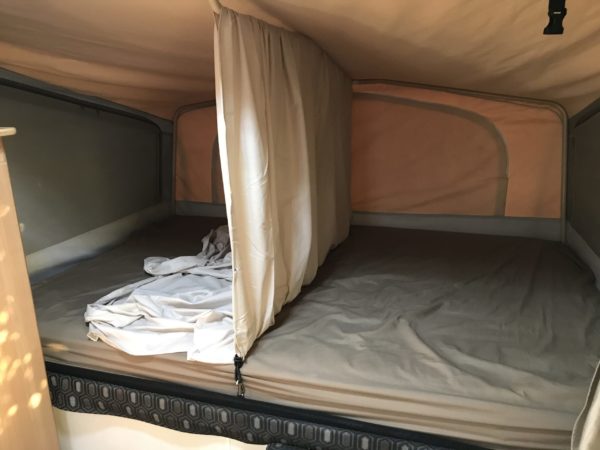 …and then draped the sheet over the top of the centre rafter (aka hockey stick)
A single row of pins then went parallel to the bar
6. Cut and sew
I have to give credit to my mother-in-law, Sue, for this part.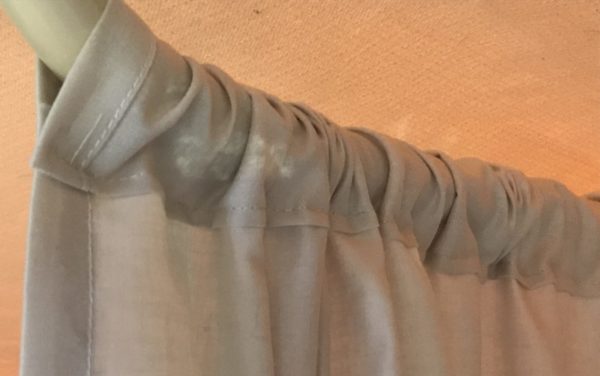 She did a great job!
Summary: The finished product
So here's the finished DIY bed divider for our Jayco Swan camper trailer.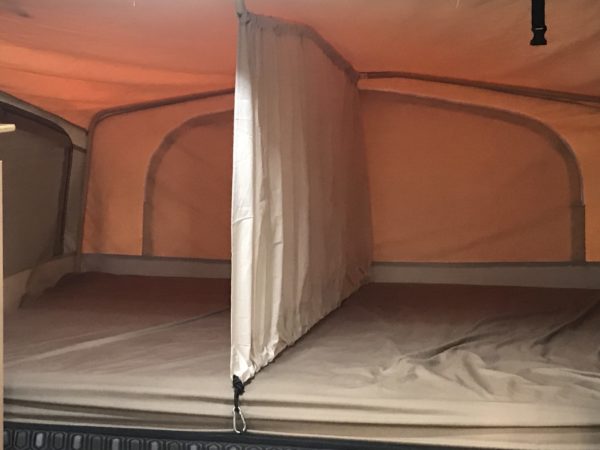 With bedding in place: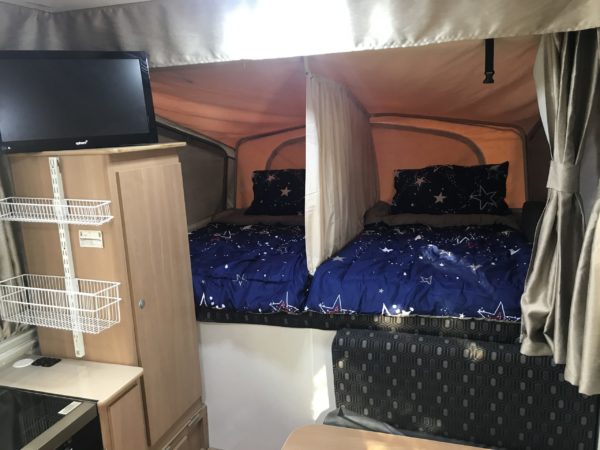 And here's the measurements in case you can't get into your camper right now (and would like to get started):
What I like about this idea is:
It can be left in place during travel
The kids can't reach underneath it to bug each other
It's easy to remove to wash, and
It was cheap!
Even though this is only 25th on the list, it's one of my favourite modifications… so far
Read: 35 Most Popular Jayco Camper Trailer Modifications if you're after any more ideas