Disclosure: When you click on links to various merchants on this site and make a purchase, this can result in this site earning a commission. Affiliate programs and affiliations include, but are not limited to, the eBay Partner Network
Here I'll compare some store-bought caravan step covers vs. sticking down marine carpet.
I recently upgraded to some wrap around step covers from caravanmods.com.au for our Jayco Swan… So I'll compare:
How well they work
Cost
And:
Ease of installation.
But first:
Why carpet the steps on a Jayco camper trailer?
Carpeting the steps ranks 4th on this list of the 35 Most Popular Jayco Camper Trailer Modifications.
It's totally worth doing, because it:
Stops the steps from being slippery when it's wet, and
It helps keep dirt outside
When we bought our Jayco Swan this was already done with some marine carpet, screws, and sealant: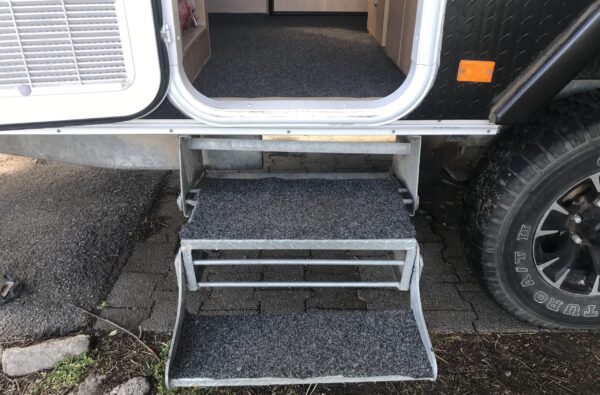 So why change?
What's the difference between sticking carpet down and using wrap-around step covers?
The DIY marine carpet did a great job…
…but because it was a single piece that was cut to fit the top of the step it started to lift at the front: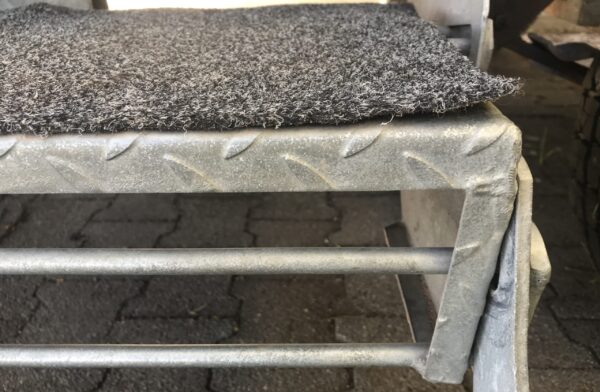 [ironically this created a trip hazard]
So although the DIY method could've avoided this if the carpet had been folded around the step too…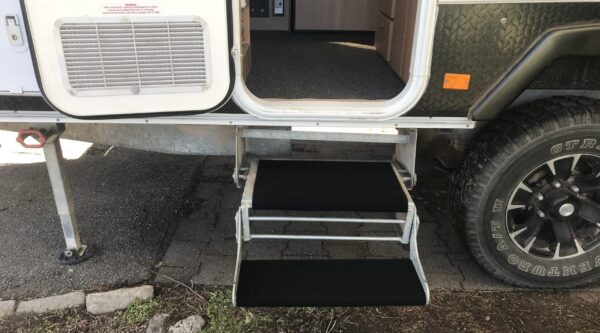 …the design of the wrap-around covers means that lifting off at the front won't be an issue.
The carpet that the step covers are made from seem to be pretty good quality
(and are better at getting mud off our little ones' feet)
How much do the step covers cost (and are they worth it)?
These wrap around step covers from caravanmods.com.au cost $49.99
At first that might sound like a bit, but if you went to Bunnings and bought:
35 cm of marine carpet ($14)
1 tube of sika sealant ($18), and
A couple of tech screws…
The DIY method doesn't seem that much cheaper
(unless you have some marine carpet and sealant leftover from other projects)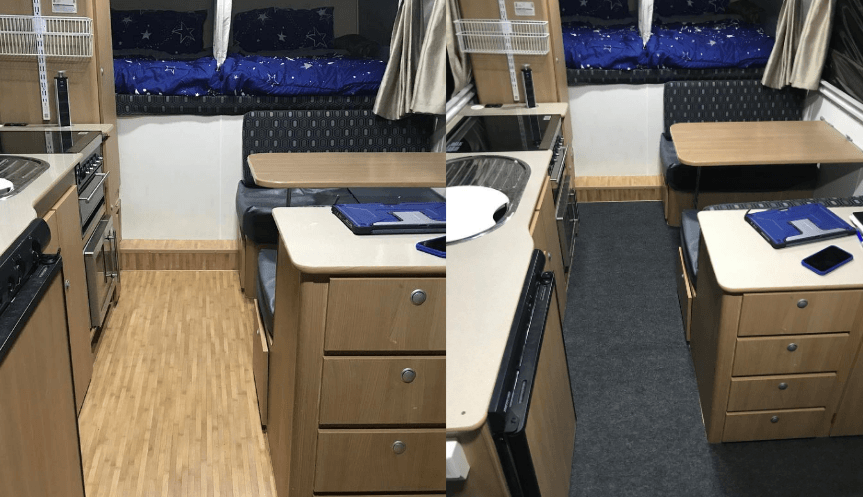 Read: Installing Marine Carpet In A Jayco Swan Camper Trailer 
It's worth noting that when my step covers arrived a T spirit level was also included: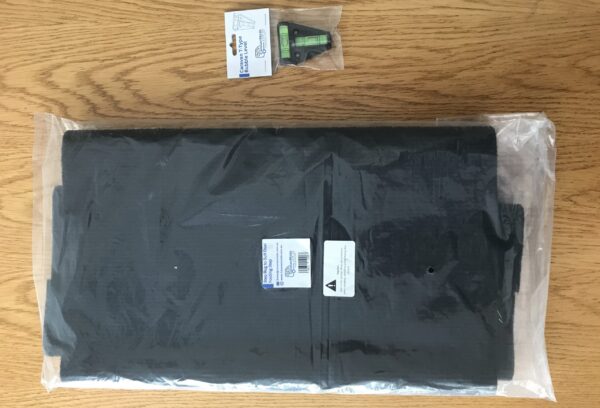 [a handy little addition that gives another reason to order through caravanmods]
There's one other thing to take into consideration if you're considering DIY vs. store-bought step covers…
How does installation of wrap around step covers compare with doing it DIY?
Neither are exactly tricky.
To stick marine carpet onto your steps of your Jayco camper trailer it's a case of:
Go to Bunnings and buy stuff
Cut the carpet to size
Spread some sealant
Drill in some tech screws
So yeah, you'll need a drill, caulking gun, and some heavy duty scissors.
To install the wraparound step covers is a lot easier. It's a case of unclipping the springs…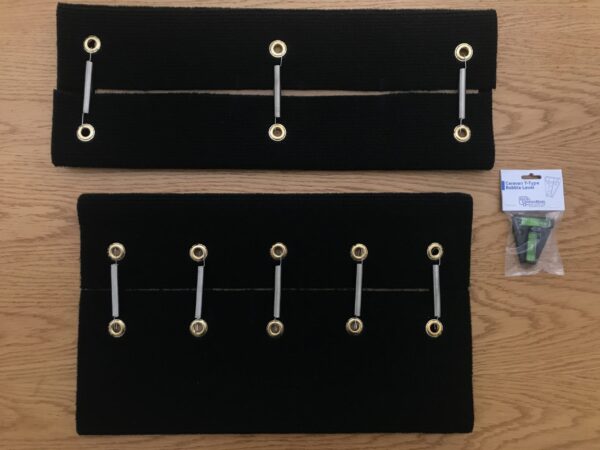 …then clipping them back into the eyelets:
No tools required.
Summary: Store-bought wrap around step covers vs. DIY with marine carpet
I'm a bit of a fan of doing DIY mods to our Jayco Swan.
But after now having had both the DIY and the store-bought option my view is:
Unless you already have the bits and pieces sitting there good to go, I'd just go straight to buying some wrap around step covers. The price isn't that much different than buying all the bits, it's quick and easy to install, and no tools are needed.
Check them out here at caravanmods.com.au 
[no, I'm not getting paid to say that!]
Otherwise, if you're after more ideas then check out our article the 35 Most Popular Jayco Camper Trailer Modifications