Disclosure: When you click on links to various merchants on this site and make a purchase, this can result in this site earning a commission. Affiliate programs and affiliations include, but are not limited to, the eBay Partner Network
Here I'll show you how I did the clothesline modification for our Jayco Swan Camper Trailer…
…using the dead space under the slide out beds.
Once I saw this idea of hanging a clothesline between the bed support poles it was something I had to do
[it ranked 5th in the list of the 35 Most Popular Jayco Camper Trailer Modifications]
This saves space.
It's out of the weather, and
It gives 5.2 m of hanging space.
Here we go:
1. The parts I used to hang a clotheseline between the bed support poles
The parts I used were: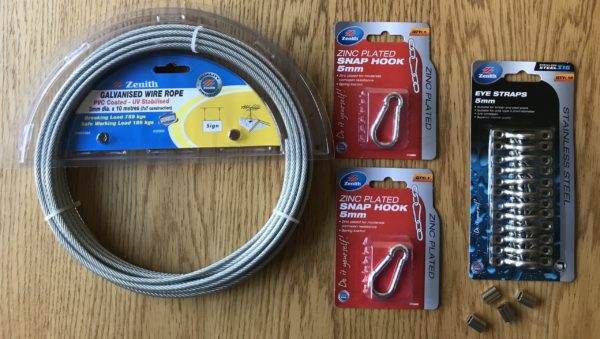 [This picture is actually from when I did the tunnel boot table modification]
You could use rope, clothesline wire, or even just bungee cords… but I already had some of the pegless clotheslines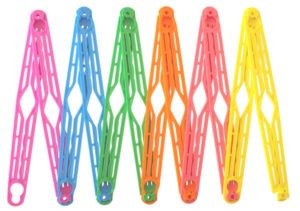 [They're pretty awesome]
2. Mark where the bottom and top rungs of the clothesline will go
The bottom marking is one of the most important for the clotheseline modification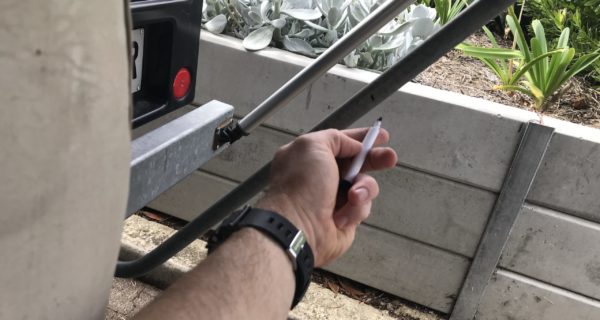 [You want to make sure there's enough clearance so the clothes don't touch the spare tyre]
Then I just repeated it for the top: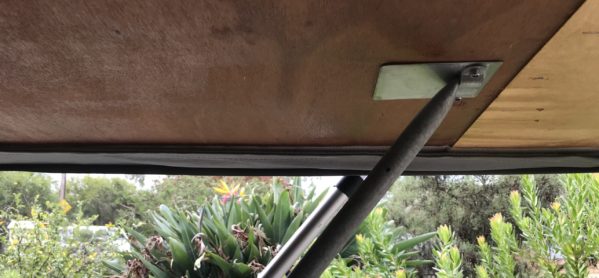 Once the poles are marked top and bottom, remove for the next step…
3. Mark the intervals where the other strands of clothesline will go
I measured the distance between the top and bottom marks and divided by 3
[because there are going to be 4 strands for my clotheseline modification]

Then, I held one of the eyestrap over each of the marks to see where the screw holes would go…

…and repeated on the other bed support pole too.
4. Attach the eye straps to the bed support poles
The eye straps came with screws, but on one of the other clotheseline modifications I saw I noticed they'd used rivets…

…so I did the same (although the screws would be fine if you don't have a rivet gun)
5. Attach the clothesline and the modification is complete
I used the pegless clotheslines:
2 packets did the whole lot.
[I used the snap hook carabiners on one side because each packet of pegless clotheslines comes with 2 bungee cords]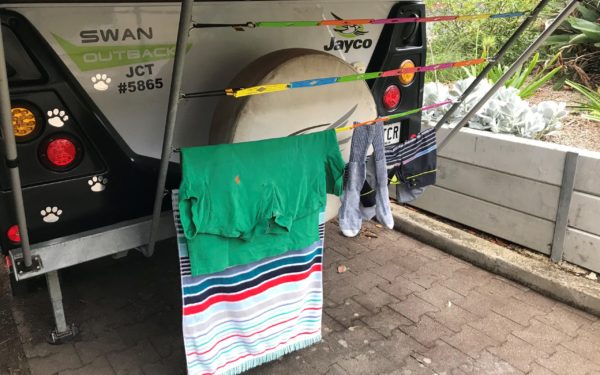 I took this picture to show a towel over the bottom line.
Also… it was raining when I put this stuff on the line!
Summary: Jayco Camper Trailer Clotheseline Modification
Overall I'm happy with how this turned out for our Jayco Swan.
It's given 5.2 m of hanging space… which is more than if you hung a line between your awning support poles.
This will now replace our portable folding clotheseline
[even though it's one of the 33 Most Popular Caravan Accessories for Travelling Australia]
Comment below if you have any questions about how I did this, or check out the rest of the 35 Jayco Camper Trailer Modifications