Disclosure: When you click on links to various merchants on this site and make a purchase, this can result in this site earning a commission. Affiliate programs and affiliations include, but are not limited to, the eBay Partner Network
You don't have time to exercise. You have an unpredictable schedule. You're busy. You have small children that you can't leave alone.
So no, this isn't an article trying to convince you to reprioritize your life to make more room for exercise. It's to share some practical ideas about how you can squeeze in exercise around the other things in your life.
The good news is you don't need to set aside an hour a day for exercise to get a good, or even great, level of fitness. 
How?
1. Exercise at the same time as you're doing other things
It only takes you 10-20 seconds to do a set of exercises. You rest a couple of minutes until you've recovered, then you go again. Instead of trying to find an hour to "do a workout", why not just work your exercises into what you're already doing? 
Step-ups while at the playground with the kids. Sets of push-ups while you're doing the washing. Sets of squats between jobs when you're packing up the caravan.  The ideas are endless.
2. Spread your exercise throughout the day
Whether you do all your exercises at once, or spread them throughout the day, you will get pretty much the same benefit. This morning I did 5 sets of pull-ups while at the park. This afternoon I did 5 sets of push-ups while sorting washing. This evening I've done 5 sets of squats in between other bits and pieces. 
I'll do my sit-ups in the morning. I've done a whole workout, just not at the same time. I definitely didn't need to take time away from the kids to go to a gym. 
3. Your workouts don't have to be that long
If you are lucky enough that you can dedicate some time for exercise, it doesn't have to be an hour. What do you think is better… doing 60 minutes of slow and gentle exercise, or 20 minutes of moderate or intense exercise? Well, the odds are that they're pretty much equal! We go to a playground for 40 minutes as a family… one of us will be watching the kids, while the other does a short, sharp and shiny workout. Then we swap.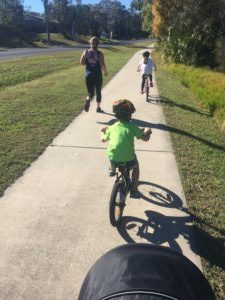 If increasing the intensity isn't your thing, that's fine too. You know what's worse than doing 20 minutes of slow and gentle exercise once a week? Not exercising at all. Something really is better than nothing. 
4. Prioritise which exercises you're doing
Not all exercises are created equal. Some give you way better bang for your buck. Which ones are the good ones? Pretty much the ones that move a lot of your body at once. Squats. Push-ups. Pull-ups. Step-ups. Lunges. Rowing movements. Pressing overhead. Dips. 
If you did just 3-4 of these exercises you will have exercised nearly every muscle in your body. Anything on top of this would be wasting your time.
5. Don't do too much
You're short of motivation? Time? Both? Well, there's a thing called the 'Minimum Effective Dose'. Would getting up from a chair be considered exercise for you? Probably not. Slowly going from sit-to-stand 20 times? Yes. This should be your approach. Don't worry about going to 50, or even worse, 100. You may be able to, but it's not giving you that much more benefit. 
You'll get way more benefit doing regular exercise that is just hard enough to create change. Don't smash yourself so that you're so sore (and demotivated) that you can't work out again for a week. Read more here about why the secret to getting fit is NOT training so hard.
6. Learn bodyweight exercises
If you learn some basic exercises you can do without equipment, the world will be your gym. Unless you can already do a pull-up, there's only one piece of equipment you'll need. You won't need to waste your time travelling too and from a 'place of exercise'. You won't need to waste time sorting out your gear. You'll be able to squeeze in exercise anywhere and anytime (well, almost anywhere… don't be a weirdo). Another benefit? You can scale their difficulty to suit anyone.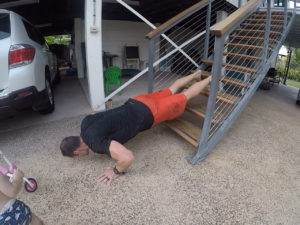 Whether you are doing push-ups with your hands against a wall, or doing them with your feet up on a bench, they are exactly the same exercise.
Bonus: You don't have to be in Active Wear!
Which will give you more benefit? Wearing Lycra leggings and walking around the block swinging your arms like you're a flightless bird, or walking to the shop in jeans and a t-shirt to get milk. Hint: they're the same. 
It's sometimes a matter of changing your mindset about when you have an opportunity to exercise. The kids might be at the park and you're just sitting there scrolling on The Facebook. If you got up and walked around the playground it still counts. Just don't walk into the swing set.
You don't have to go and do a 1 hour workout at the gym 4 days a week to get fit. For some, that's their special time, and that's okay. For me, it's a waste of my time. I can do the same amount of exercise while getting the washing and ironing done. I can do push-ups and step-ups while packing up the caravan. Yoga while having a glass of red wine and watching Netflix. 
Make a note to yourself… how can you squeeze exercise into your existing routine?