Disclosure: When you click on links to various merchants on this site and make a purchase, this can result in this site earning a commission. Affiliate programs and affiliations include, but are not limited to, the eBay Partner Network
In this article I'll review the Kovix KTR-18 Alarmed Trailer Lock that I bought from RV Parts Express via eBay.
There was nothing to stop anyone from reversing their car into our driveway, hooking up our caravan, and driving off…
…so I asked around:
What is the best caravan hitch lock?
The most common response was that the Kovix KTR-18 is rated as the best caravan hitch lock on the market

[It's one of the 33 Most Popular Caravan Accessories for Travelling Australia]
But are they that much better?
Here's my thoughts:
My review: Here's my thoughts and opinions on the Kovix KTR-18 Alarmed Trailer Lock…
I took everyone's advice and chose the Kovix Alarmed Trailer Lock for a few reasons:
It's big enough to be a visual deterrent
There're no padlock that you could simply cut with a pair of bolt-cutters
It looked solid so it'd be hard to cut through even with an angle grinder
A 120 dB alarm would go off if someone tried to drag the van away by its chains
[apparently that's how thieves get around standard hitch locks]
And it's not flimsy:
But also, for when we update the hitch on our Jayco Swan:
The 50 mm ball is removable so you can also use the Kovix Alarmed Trailer Lock for different types of caravan hitches too: Cruisemaster DO35, Treg Off-Road and Treg Poly-Block

Handy.
Kovix Alarmed Trailer Hitch Lock: First Impressions
The first word that came to mind when I got this caravan hitch lock was quality:
Not only did the lock look like something that couldn't easily be messed with…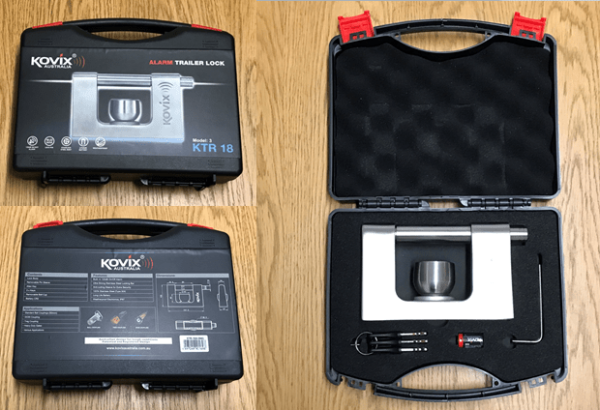 …the way it was packaged made it look like they paid attention to detail and were concerned with workmanship.
And when I picked it up and started playing with it I was even more impressed:
Not only is it VERY SOLID, it has some pretty cool features…
What's included with the Kovix Alarmed Trailer Lock?
I was very happy with what came with it. This is what is included with the Kovix KTR-18 Alarmed Trailer Lock:
The lock body itself
Removable pin sleeve
Allan key to remove the 50 mm ball
3 x keys
CR2 Lithium battery, and
The fancy carry case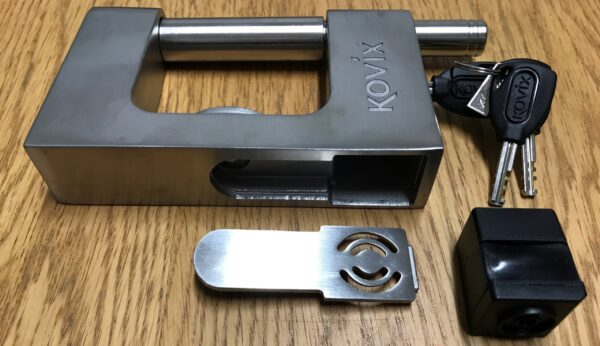 So what's this about the removable pin sleeve?
Here's a quick video I found on the Kovix Facebook page
[hard to cut through with an an angle grinder… and it still stays locked]
The features that I like about it include:
That anti-cutting sleeve which fits over the locking pin (so if anyone tried to cut through it it would just spin)
The removable 50 mm ball so it can be used on different hitch types
The electronics are weatherproof
A 120 dB alarm that's activated by movement…
How loud is the 120 dB alarm on the Kovix alarmed trailer lock?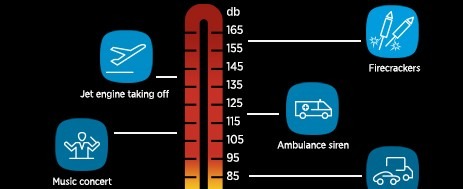 The 120 dB alarm in a Kovix KTR-18 is the same volume as:
An ambulance siren
A thunderclap
An aircraft at take off
A shotgun
So yes, the neighbours will take notice if someone's messing with your caravan or camper trailer!
[and yes, you can use it in a non-alarmed mode too]
The Kovix KTR-18 compared with the Purple Line Saracen Ultra
When I asked around:
Who makes the best caravan or trailer hitch lock?
There were two clear winners:
Kovix, and
Purple Line
The Saracen Ultra Hitch Lock is just as tough and as heavy duty as the Kovix.
An advantage that the Saracen has over the Kovix is that you can leave it on while you are hitched up: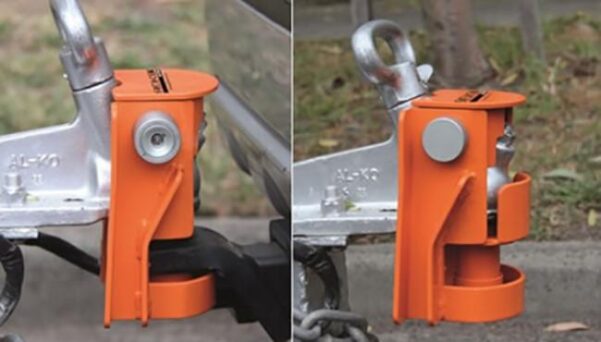 The 2 disadvantages of the Saracen that I saw compared to the Kovix KTR-18 are:
No alarm so your van could still get towed away by its chains in the middle of the night and you wouldn't know
They're not interchangeable… a Saracen Ultra Hitch Lock will only fit a 50 mm ball
[so if we swapped to a DO35 hitch then we'd need to buy another… this Saracen Off Road Hitch Lock]

So if being able to leave the hitch lock on while your caravan or trailer is connected (and you don't feel the need for an alarm) then a Saracen looks like the best option.
I found that Outback-Equip is the best place to buy the Saracen Ultra Hitch Lock for a 50 mm ball (about $40 cheaper than anywhere else), and here at RV Parts Express for the DO35 Off Road Hitch Lock (both bia eBay)
Me?
The alarm (and the ability to change between different hitch types) was important so I bought my Kovix KTR-18 here from RV Parts Express via eBay
 Our results from using our Kovix Alarmed Trailer Lock
The big questions answered:
Our Jayco Swan Camper Trailer is still safe and sound in our driveway
It hasn't gone off once by itself in the middle of the night
The kids did set it off once (and it was very loud!)
So yeah, I feel like I've got my money's worth.
Kovix KTR-18 Alarmed Trailer Lock Price: The best caravan hitch lock comes at a cost
These things aren't cheap at around $180…
I shopped around quite a bit, and the best place I could find was here from RV Parts Express via their eBay store
They definitely cost more than the $30 Aldi special
(which you can see people picking open with a piece of coke can!)
But I figure why spend thousands of dollars on a caravan or camper trailer…
…only to skimp out on the main thing that could stop it from being stolen
[cheaper than paying insurance excess]
Conclusion: very happy with our Kovix KTR-18 Alarmed Trailer Lock
Overall, I'm really impressed with the Kovix KTR-18 Alarmed Trailer Lock:
It's helped me to sleep better at night knowing that someone couldn't easily take off with our Jayco Swan Camper Trailer.
I highly recommend the Kovix KTR-18 especially if you have a caravan or trailer you leave unattended in your driveway.
Click here if you would like to buy one (otherwise comment below if you have any questions I haven't answered in this product review)
Kovix KTR-18 Alarmed Trailer Lock
Pros
Solid steel construction
Anti-cutting sleeve
Super loud 120 dB alarm
Removable 50 mm so can use on other hitch types
Waterproof components
Cons
Initial outlay is a bit pricey
Will go off if the kids play with it (can be in non-armed mode though)