Disclosure: When you click on links to various merchants on this site and make a purchase, this can result in this site earning a commission. Affiliate programs and affiliations include, but are not limited to, the eBay Partner Network
This article is to review the Tesalate Beach Towel and answer the question: are they REALLY sand free?
I'll also answer the question:
Are they worth the price?
But first, in the interest of full disclosure:
We received an email asking if we'd like to be given one to review.
My initial thoughts were:
It's just a beach towel. But hey, why not, it's free.
[Typical guy]
But when I showed Natalie the email, her response was that these were THE towels.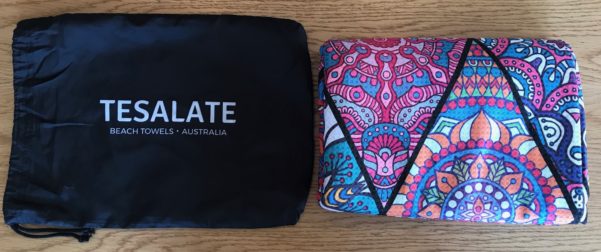 Ones that she wanted to get but didn't know if we could justify the price. So we went Turkish Towels to use as normal towels and also double as beach towels.
[More on that later]
Anway… I'm not getting paid to write this. I don't get any commission if you buy one.
So I can be totally honest with what I've found, so hopefully it'll help you form your own opinion.
Also, I'll answer the question:
Will I buy another one knowing that I have to pay full price for it?
My Review: Here's My Thoughts and Opinions On Tesalate Beach Towels…
One of the first things I thought when I opened the package was that it seemed like good quality.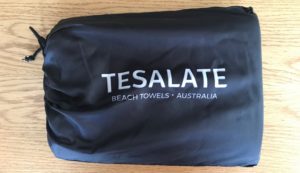 There was this mini pamphlet inside the bag:

So I'll review the towel against each of its claims.
Is the Tesalate Beach Towel really sand free?
All other features aside, this was the thing that interested me the most about the towel.
So I put it down and covered it with sand.
Then I shook it off.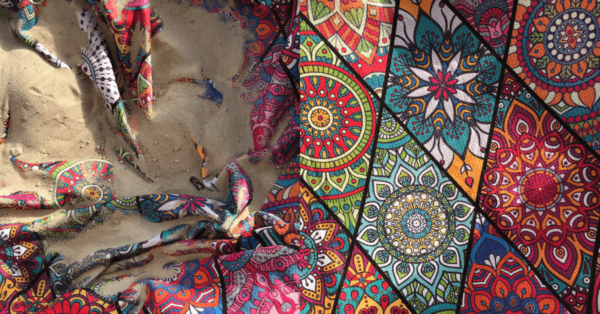 Literally all of the sand came off within about 20 seconds.
Not just, "cool, I'm not gonna get sand in the boot of the car" type sand removal.
It was literally ready to go have a normal shower and use it as a bathroom towel.
And that's what I did. Definitely no sandpaper feeling!
Is the Tesalate Beach Towel absorbent enough to comfortably dry you off?
The reason I say "comfortably" is because I once tried one of those Chamois style camping towels.
It felt like I was trying to dry myself with a slimy fish.
So I was a bit sceptical about this as a towel to dry yourself after being soaked.
[Mostly because it's pretty thin]
So I took a shower and tried using it as my normal towel:
It worked.
And it was comfortable.
[Pretty much on par with a Turkish Towel, but feeling a bit heavier]
In fact:
I'm still using it as my every day towel
How long does it take for a Tesalate Beach Towel to dry?
I'll be honest:
Drying-time isn't something that would be a main selling point for a towel for me.
So my experiment was pretty unscientific.
I had a shower in the morning. Dried myself with a normal towel. Got back in the shower. Dried myself with the Tesalalate Beach Towel.
I hung them up next to each other…
…and that evening it was only the Tesalate that felt completely dry.
So I don't honestly know how much quicker they dry, but they do dry faster.
How compact are Tesalate Beach Towels?
Shown is the"Bohemian – Towel for Two"
It's over twice the size of my normal bath towel…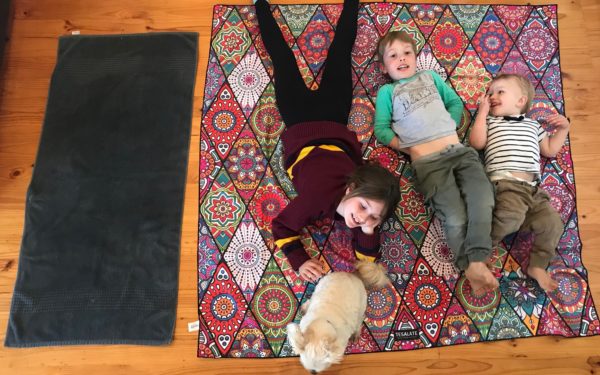 It's big enough to be used as a picnic rug.
But when you fold it up it's a lot smaller.

So you're getting a much bigger towel for smaller volume
(very handy, especially in the caravan)
Tesalate Beach Towels compared with Turkish Towels
When we started travelling around Australia we had an idea:
Turkish Towels would be good because they could double as beach towels.
[They're one of the items listed in our article: 33 Most Popular Caravan Accessories for Travelling Australia]
But the reality was that they would get all wet and sand would stick to them. A bit like mud.
And then sand would be all through the car.
They're still better than normal beach towels because they're lighter and dry more quickly…
…but it didn't reduce our total number of towels.
There's no way you could use the same one for both the beach then the shower.
I'll be honest though:
Turkish Towels do feel a bit better for day-to-day showering than the Tesalate Beach Towel.
So which would I recommend?
For everyday use and if you rarely go to the beach?
I'd go two Turkish Towels (check out Hammamas ones here on Amazon)
If you travel a lot and love the beach?
This is where a Tesalate Towel becomes a good option.
Unlike Turkish Towels the Tesalate Beach Towel:
Can double up as your every day towel
You won't be dragging sand around with you everywhere
You'll have less luggage, so they can save space and weight.
Tesalate Towels Price: Are They Worth It… And Would I Pay Full Price For One?
Surprisingly… I would say yes. Now.
But when I first saw the price of these my initial thoughts were "no way"
The single towel version of the one shown (Bohemian) sells directly through the Tesalate website for $79.
Even though that sounds like a lot, the next time I need a towel I'll be buying one of these.
My reasons are:
The sand-free factor
They're smaller and more compact
They truly can be used as a dual-purpose towel (or picnic blanket for that matter)
I'll actually be adding these to this article: 18 Dual Purpose Caravan Accessories [Weight and Space Saving Ideas]
Also:
Tesalate Beach Towels are a good example of buy once, buy well

[They have a lifetime guarantee]
They look pretty cool too:
Some of the patterns look great when combined with the look of the material!
Conclusion: Tesalate Beach Towels are expensive but good value
For a towel, I'm pretty impressed:
Sand free, compact, and a lifetime guarantee.
If you can't justify the price for yourself, I think these would make a great gift idea.
Click here if you would like to buy one
Well, thanks for reading this Tesalate Beach Towel review. I hope it answered any questions you may have… but if you do have any questions please do feel free to leave me a comment below