Disclosure: When you click on links to various merchants on this site and make a purchase, this can result in this site earning a commission. Affiliate programs and affiliations include, but are not limited to, the eBay Partner Network
I kept hearing that everything should have AT LEAST 2 purposes to save space and weight. But what are some dual purpose caravan accessories?
I asked around… and found some great examples.
Some we were already using.
Others we'll start using.
Some won't work for us, but they might for you:
1. Collapsible colanders double as a steamer AND fruit bowl
The stainless steel and silicon collapsible colanders are awesome as colanders. They take up bugger all space when they're folded down. But they're pretty cool as dual purpose caravan accessories too:
You can put them in your saucepan, and just put the normal lid over the top.
Some people use them as their fruit bowl. This is a good idea if you don't mind taking the fruit out before you cook each time.

We got ours from Aldi, but you can also get them pretty cheap on Amazon.
2. Bucket with screw on lid doubles as dirty clothes basket AND washing machine
We've tried everything when it comes to washing clothes in our caravan. Believe it or not… as a family of 5 this is what we settled on as the best option.
[Check out our article: Washing Clothes While Caravanning: The 5 Best Options]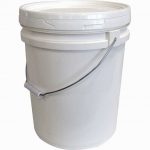 The bucket lives in our ensuite. This how we use it as both a dirty clothes basket and a washing machine:
Throw dirty clothes in after wearing
2. Put water and detergent in
Screw the lid on
Drive from point A to point B
We now have clean clothes!
[Wool was doesn't need rinsing which saves time and water too]
We got ours for about $10 from Bunnings… one of the cheapest dual purpose caravan accessories
3. Super strong suction hooks to hang towels AND use as outside bin
We use the super strong suction hooks (the ones that you press the button to make them stick).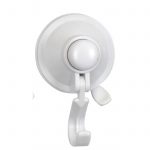 We have 2 of these that we use to hang a plastic shopping bag outside. This is our bin.
There's 3 reasons this works for us:
Eddie (our toddler) can't play with the rubbish!
It keeps the smells outside, and
No ants inside
[Check out our article: 13 Tips To Stop Ants Getting Into Your Caravan]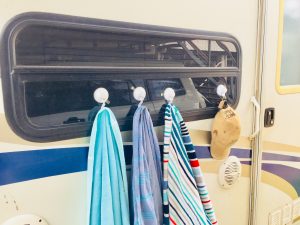 We have some more that we put up whenever we've gone swimming. They dry quicker and it keeps the sand out.
They're only a couple of dollars from eBay, totally worth it.
4. Spare toilet cassettes double as a grey water tank when needed
At first this sounded a little gross… but then I thought about it:
Grey water can go septic and be considered black water in less than 24 hours.
So the reality is:
When you're handling grey water that's kept in a holding tank… you should take the same precautions as you would when you're emptying septic waste anyway.
Wear gloves. At least.
5. Trail-A-Mate's are a hydraulic jack and jockey wheel
Here's something interesting we found out when we interviewed a RAA mechanic:
"A really common reason for roadside assistance call outs is that factory-standard jacks don't give enough clearance to get your wheel off"
If you're relying on the jack that's in your car? You might want to check that it lifts your caravan up high enough.
If you're relying on the jack that came with your caravan? You might want to check that this one also lifts your caravan up high enough!

You could go out and buy another jack.
That, or you could save space and weight and get a Trail-A-Mate
(cheapest place is from OurRVan, Rosebud Vic via eBay).
They're a dual purpose caravan accessory because they're both a jockey wheel and a hydraulic jack.
6. Ugg boots are perfect for wine storage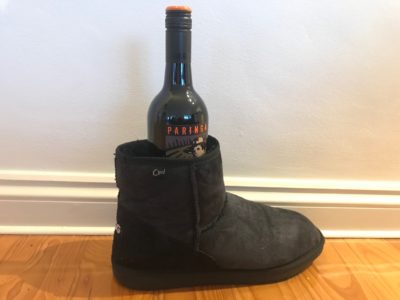 Well, I guess you could use them for other glass objects too. Like bottles of spirits.
7.Microwaves are great for storing bread while you're travelling
Mircrowaves take up a fair bit of cupboard space.
So when you're travelling you may as well make the most of it.
We store our bread in our microwave… others store eggs in there too.
I'm sure there's plenty of other ideas too, but these seem to be the most common.
8. Caravan ovens are good for storing flat items
Like microwaves, ovens take up a lot of space… some people actually remove them to put extra cupboards back in.
We do bake in our caravan oven. So when we're not using it, we try to make the most of the lost space.
We keep the following in our oven:
Baking trays
Pita bread
Chopping boards
9. Plastic tubs are multi purpose caravan accessories
People use these for lots of reasons. They're light and easy to move. They're cheap from Bunnings or even the supermarket.
Sit them on some non-slip mat and some of the things you can use them for include:
Kids' baths
Dirty clothes basket
Hand washing tub
Bucket for washing hair
Putting shower stuff in when travelling

Bonus: Even better if you can get your rectangular collapsible bucket (see below) to fix as your lid
10. Rectangular collapsible buckets are multi-purpose but take up less space
These can be used for pretty much all of the purposes listed above (but take up less space when not in use).
This is what we used to do our hand washing in before we bought a bucket with screw on lid.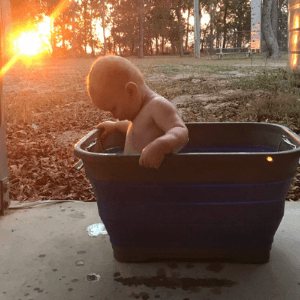 We still use it because the shape makes it a bit better for:
Kids's baths
Washing feet
Laundry basket
Carrying things to the camp kitchen
11. Stubby holders stop things from rattling and breaking
It seems like nearly everyone has a use for stubby holders that's in addition to what they're designed for.
Whenever the question of dual purpose caravan accessories comes up, these always get a mention.
Just some of the ideas include:
Protecting glass jars or glasses
Stopping items like pots and pans rubbing
Fitting them around sauce, soy, vinegar bottles, etc to stop rattling
Jamming them in awnings to stop rattles in wind
Storing beers in them when travelling so they don't break in the car fridge
12. Milk crates for storage, seating, and stepping
Some people always travel with 2 or 3 milk crates. In addition to being used for storage, they can also be turned upside down and used as a:
Seat, and
Step for setting up the awning
They can be stacked to which can be quite handy.
We had one in our old caravan (it had the wheel chocks and jockey wheel chock pad in it). For some reason we don't have one in our current van… I reckon I'll be fixing that.
I'll buy one, of course. They're only a couple of dollars each.
13. Platform workbenches double as second table, bench seat, or BBQ stand
These are lightweight aluminium. They fold up. They're height adjustable.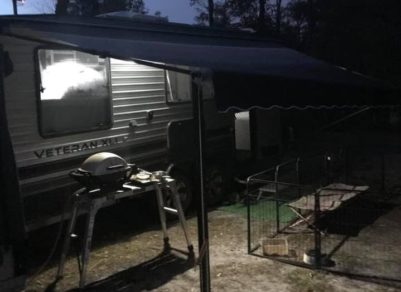 I don't have one… but they're now on my shopping list!
What I like about these is that they're durable, fold completely flat, and also be used as a spare bench seat.
They're only about $65 from Bunnings… not much more than a folding table.
14. Cordless drill drivers for winding stabiliser legs and screw-in tent pegs
Cordless drill drivers aren't just for making DIY repairs.
Nearly every caravan park we've been to we'd hear someone using their drill in the morning to wind up their stabiliser legs.
Screw in tent pegs (like these Peggy Pegs) are a handy little invention…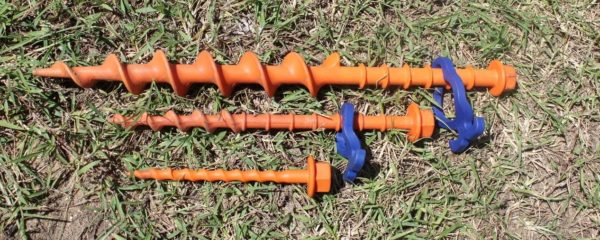 …especially if you're trying to set up your awning and the ground is either sandy or really hard.
15. Ikea graters double as Tupperware containers
These are only a few dollars from Ikea. They work really well as graters, especially if you're doing something like burritos:
You can just leave the cheese in the container and use it as a serving dish.

We use this almost as often as a standard container for putting stuff in the fridge (even if we didn't use the grater part).
16. Occy straps can be used for lots of things (even a quick and handy clothesline)
We use an occy strap to hold our caravan TV in place while we're driving…
…but when I asked about dual purpose caravan accessories on Facebook one smart fellow listed way more uses:
Holding the folding table back to make the little ones bed
Holding the coffee machine in place whilst driving
Lifting the canopy to hold things up/make more space
Use a long one (or join some together) for a quick and easy clothesline
I think the clothesline thing is genius… and will definitely be adding this to how we hang washing
17. Flexible plastic baskets: a lighter option than plastic tubs
I'll be honest: these do pretty much the same thing as the other baskets mentioned in this list. Except… you can't wash in them.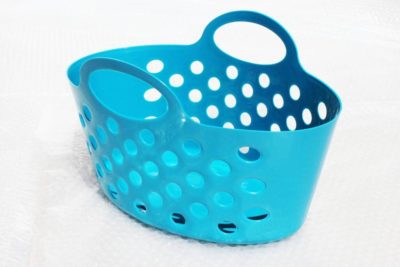 But they're pretty popular so they're worth a mention.
You see them around the place being used for people's washing, taking them to the shower block, etc
[a benefit of these is that you can hang them on hooks in cubicles too]
18. iPads are our biggest space saving device in our caravan
Not really a caravan accessory… but they're on this list because our iPads made a big difference to how much clutter was in our van.
How?
No CDs… all our music is saved on our iPad
No DVDs… most of our movies are on a USB or iPad
Laptop… we got rid of one, kept one, and used the iPad with a keyboard for a lot of stuff
Nearly no books… the Kindle app is pretty good
Your turn:
Comment below… any dual purpose caravan accessories that aren't on this list?
Otherwise, you might be interest in this related article: 13 Caravan Storage Ideas: Caravan Packing Tips To Destress Your Van