Disclosure: When you click on links to various merchants on this site and make a purchase, this can result in this site earning a commission. Affiliate programs and affiliations include, but are not limited to, the eBay Partner Network
We asked some travelling families: how long does it take to travel around Australia in a caravan or camper?
We also did a bit of (very surprising) research.
This is what we found:
You could drive it in as little as 2 weeks…. but you won't see much of what the country has to offer. Most people who've completed a lap of Australia recommend 12-24 months. Some are still going after more than 2 years!
So yes, you need to take a few things into consideration.
Here we go:
How far is it around Australia by road?
If you're wondering how long does it take to travel around Australia then one of the first questions would naturally be: How long is it?
National Highway 1 is a 14,500 km ring road around Australia… with a separate section in Tasmania.
That's why you COULD do it in 2-3 weeks if you really wanted to.
(The current record for driving around Australia is just under 6 days. Crazy).
Highway 1 is sealed virtually the whole way around: you can drive the whole route by caravan or camper.
But the road conditions vary a lot:
When it passes through capital cities it can be multi-lane freeways. It gets down to a single lane road in Queensland.
[We thought this made it really interesting]
And of course:
If you want to travel around Australia in your own car then you'll need take the Spirit of Tasmania ferry from Port Melbourne to Davenport.
People who've completed a lap of Australia: how long do they recommend?
To find out how long does it take to travel around Australia, instead of looking at the numbers…
…let's hear from people who've done it already:
So I created a poll and asked:
For those of you who've done the big lap…

How long did it take? How long would you recommend?
This was the results: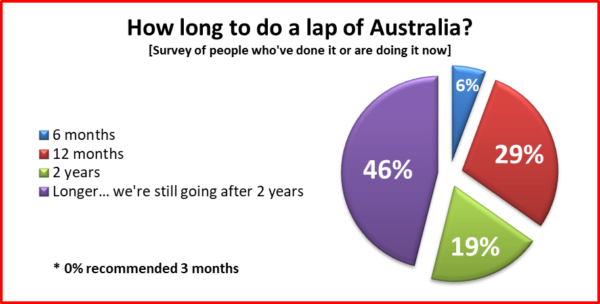 3 months: 0%
6 months: 6%
12 months: 34%
2 years: 19%
Longer… still going: 46%
For us?
Well, we hit the road with the intention of driving around Australia in a caravan for 12 months…
…13 months later we haven't even been to Western Australia yet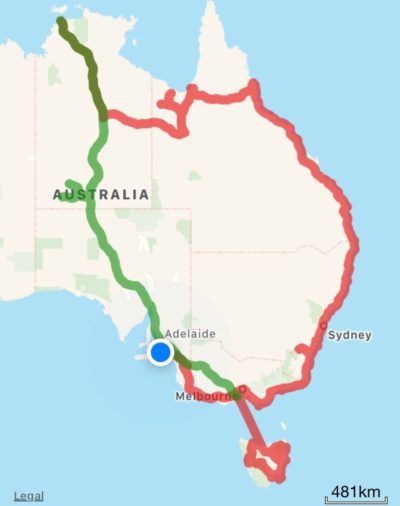 It's one of those things where you can do it in as little or as much time as you have available.
One of the responses:
"We only had 4 months so that's how long we took. Everything after that is a bonus. It's fantastic."
[I love it]
We had every intention of doing the whole lot in a year. But a month or two into our trip?
We realised that we wouldn't see as much as we'd like, in the detail we'd like.
We even felt that 4 weeks just in Tasmania was nowhere near enough!
Why do you need so much time to drive around Australia in a caravan?
For a start: Australia is very big.
Darwin to Adelaide is just over 3,000 km. You COULD drive that distance in less than 2 days if you didn't sleep.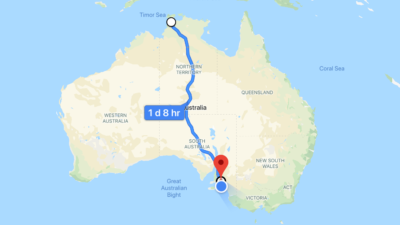 The reality?
Even if you drove 8 hours a day and never stopped to see anything… that's still 4 days.
[And I find driving a camper or towing a caravan way more tiring than just driving a car]
And you'd miss some AMAZING things from this route:
Mataranka
Edith Falls
Uluru
Kings Canyon
The Olgas
Coober Pedy
[5 of those are even on OUR top 10 list of places to see in Australia… check out our 4 Day Uluru Itinerary: Our Self Drive Alice Springs to Uluru Itinerary]
So it's not that you need that much time, it's just that Australia has A LOT to see.
It's a balancing act:
If you want to really explore each area, you'll see less places.
If you want to see more places, you'll have less time at each.
[and even then, you'll find it tough to see it all]
There's some really good lists of places to see in Australia. If you take this one for example: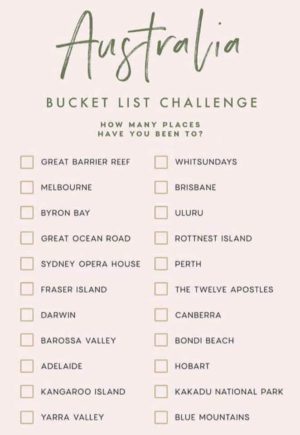 There's 22 places on this Australia Bucket List Challenge.
And if you do a lap by sticking to the main route?
You'd miss 1/3 of the places on this list
(that's how many are over 50 km from Highway 1)
And then there's the fact that 1/4 of these places you need to cross water to get to
Plus:
This list doesn't include some other absolutely amazing places
Cape Yorke
Karijini National Park
Gregory Downs
The list goes on!
Four Hands in a Tin Can are an awesome travelling family to follow. I think their response sums it up nicely:
"I think you need 18 months to experience Highway 1 (the lap) or to do the figure 8 to take in Uluru. If you want to do inland as well, and to truely appreciate and absorb it all, you need as long as you can get because there is so much out there."
Some other great comments included:
"We are 8 months in and still have sooo much to see. Originally thought 12 months but need to extend that to at least 2 years. Depends on whether you want to really experience the country or just fly through it IMHO"

"18 months so far and still only touched the surface."

"Did it in 12 but by far not long enough to see everything, could quite easily have spent another year. In fact in 6 months we had only gone from Melbourne to Brisbane"
Summary:
How long does it take to drive around Australia by caravan or camper?
However long you have.
Some people have done it in less than a week…. and others have been going for several years and still haven't seen it all.
Comment below:
If you have less than a year would you rather do a lap more quickly, or choose to thoroughly explore a region and leave the rest of it for another time?
[cover image by Evad37 Original author of GIS data:© Commonwealth of Australia (Geoscience Australia) 2013. – Own work;GIS data sources: "GEODATA TOPO 5M 2004" from Geoscience Australia, CC BY-SA 3.0]