Disclosure: When you click on links to various merchants on this site and make a purchase, this can result in this site earning a commission. Affiliate programs and affiliations include, but are not limited to, the eBay Partner Network
Here's the 4 day Uluru itinerary we put together after A LOT of research.
If you've only got a few days…
This is the Alice Springs to Uluru itinerary to cover all of the Red Centre 'must do' items:
Explore Uluru
Uluru sunset
The Olgas (Kata Tjuta), and
Kings Canyon.
Let's get started:
Day 1 (Morning): Travel Alice Springs to Uluru
You'll need to leave early… Alice Springs to Uluru is a really long drive
In fact:
It's 468 km to the resort town of Yulara… that's 5-6 hours IF you drive non-stop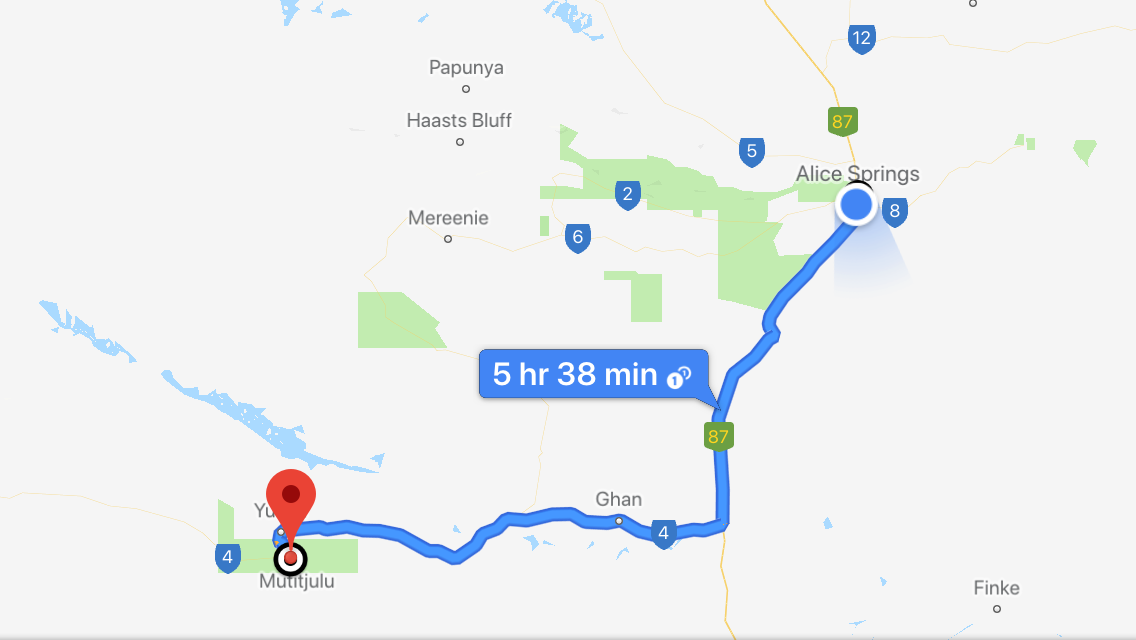 [You'll want to stop and fuel up along the way though]
It took us 7 hours because we were towing the caravan and the kids needed a few breaks along the way.
HINT:
Don't leave TOO early… you don't want to be driving on Northern Territory roads around dawn (or dusk).
Way too many big animals on the road.
Day 1 (Afternoon): Tour the Uluru Cultural Centre first
The big day of driving will be totally worth it…
Because you'll be blown away by the sheer presence of Uluru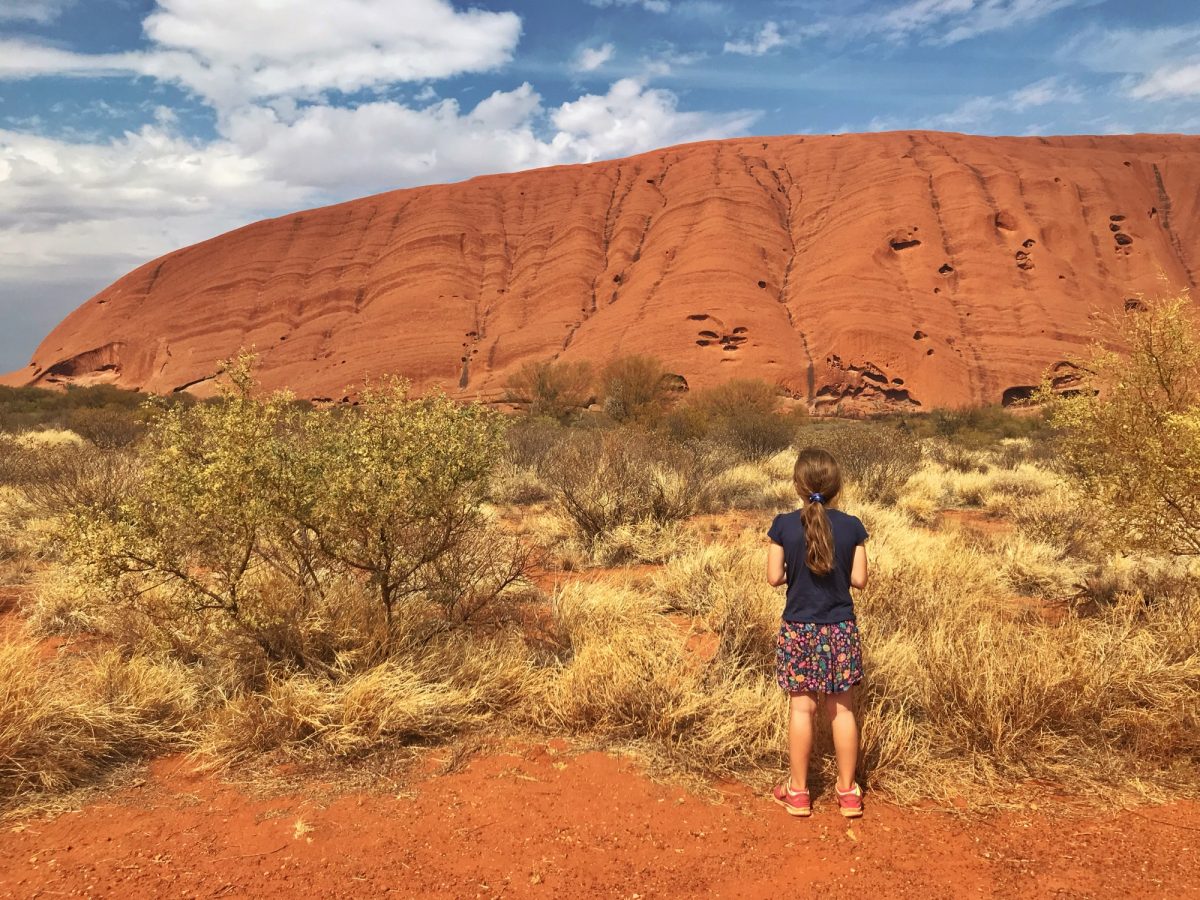 But before you go exploring Uluru, it's worth making the trip to the park so you can go to the Cultural Centre
[The minimum entry is a 3 Day Parks Pass, so it doesn't cost any extra going in an extra time]
Uluru is more than just the world's largest rock
You'll see it has some amazing cultural significance.
[Even just the practical way the Anangu people used it is amazing]
By putting this on your Uluru itinerary first:
When you walk around Uluru you'll have a greater appreciation for each of the many caves, the markings, surrounding vegetation, etc.
Day 2 (Morning): Tour or Explore Uluru
The ways you can explore Uluru include:
Climb it*
Walk around the base
Cycle around the base, or
Do a Segway tour
Here's a little more info on each:
Option 1. Climb Uluru
Uluru will be closed to climbing from the 26th October 2019
So if you don't climb Uluru… is it still worth it?
Absolutely.
None of us climbed (for different reasons) but all of us agree that Uluru is still a highlight of our travels
Read: 10 Tips to Help You Plan Your Trip to Uluru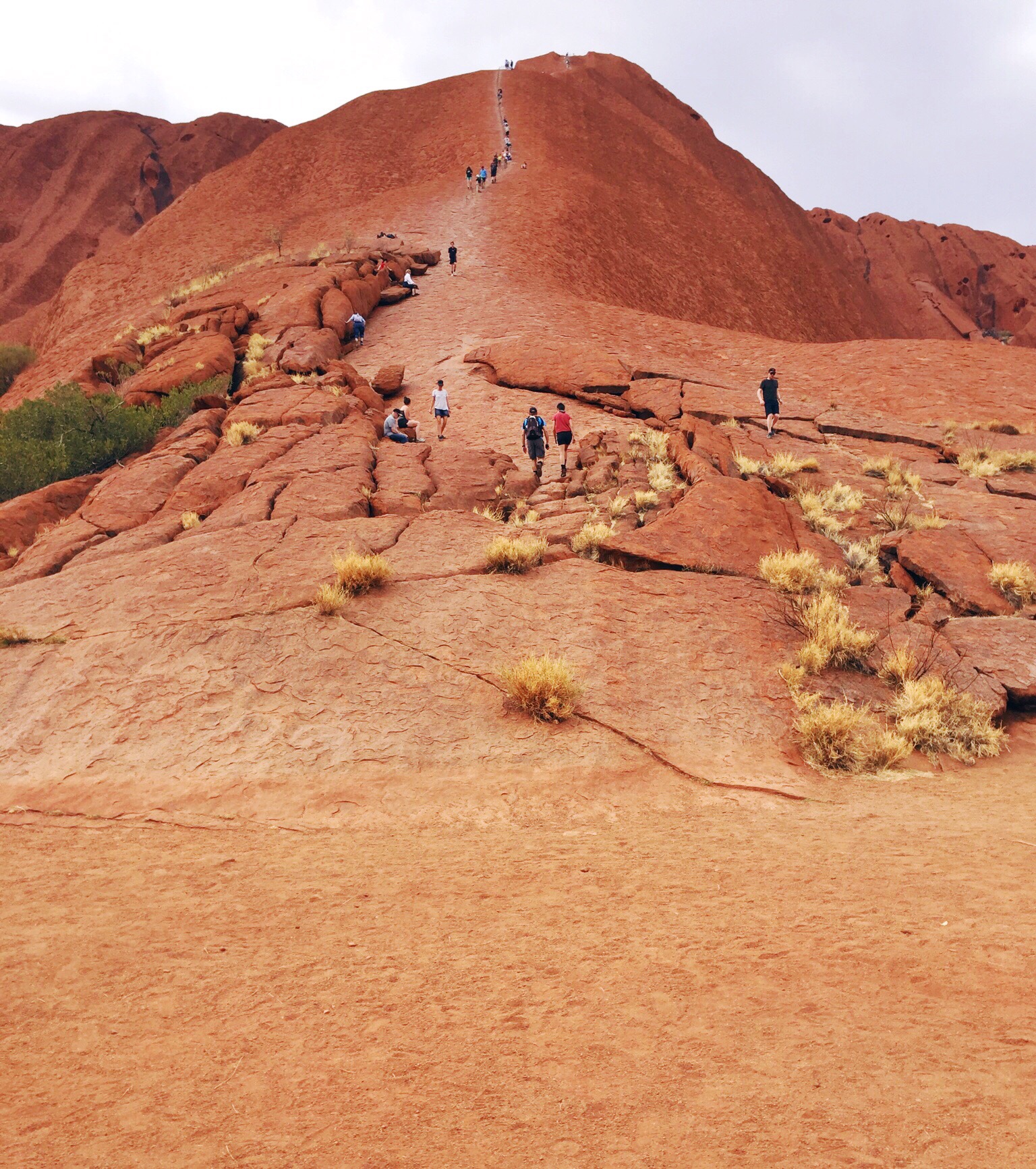 Option 2. Day a guided tour or walk around the base of Uluru
It's pram friendly and there's lots of short walks for people of all abilities
There's free guided tours too:
Meet in the car park, no booking required
But if you plan to walk a lap of Uluru get there early because it's really big
[just under 11 km and takes 3-4 hours]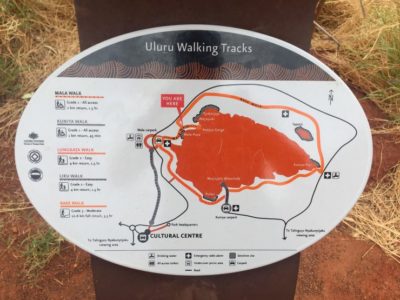 Option 3. Ride a bike around Uluru
Riding a bike around Uluru is a much easier option than walking it.
The path is smooth, the ride is easy.
And, because it's quicker… it's less time in the desert sun.
You can take your own bikes, or you can hire some there.
Option 4. Take and Uluru Segway tour
If you were ever going to ride a Segway, nows the time to do it!
Day 2 (Evening): Watch the Uluru sunset
When you drive to Uluru in the morning you'll see some big, empty, parking bays as you approach.
But in the late afternoon?
These get packed.
So get there an hour or two before sunset:
Take a beer or glass of wine, and enjoy how it changes colour.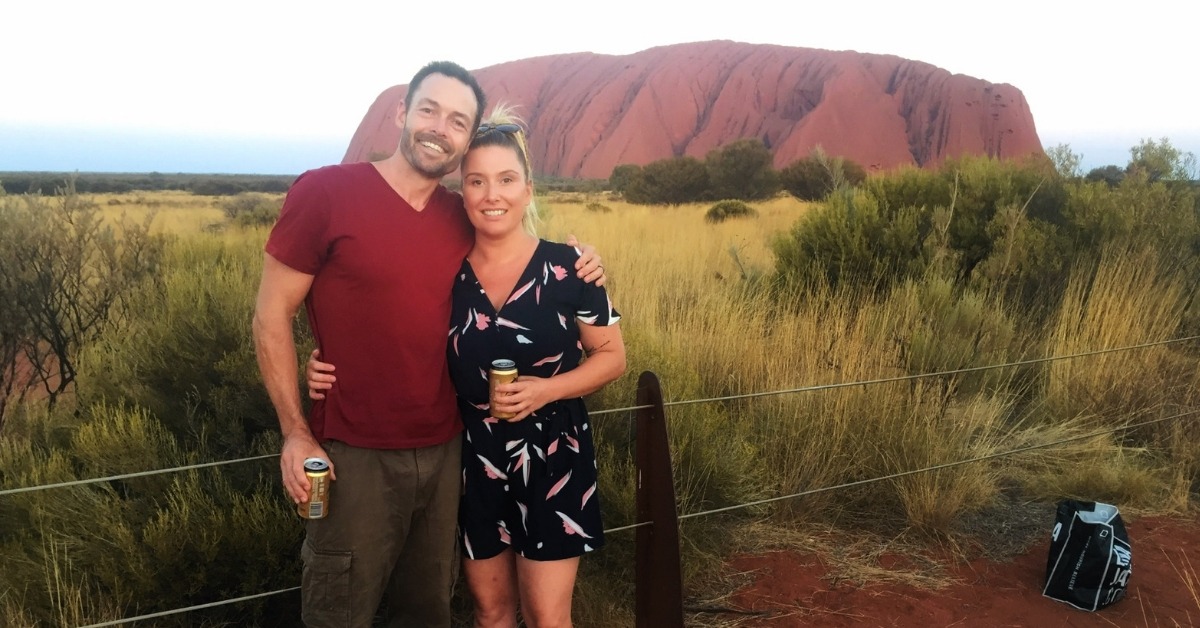 It's amazing.
Seeing the colours change is a must for your 4 day Uluru itinerary.
Day 3 (Morning): Kata Tjuta (The Olgas)
Your 3 Day Parks Pass also includes Kata Tjuta (The Olgas)
I think if Uluru didn't exist then bus-loads of tourists would still come to see The Olgas.
They're that good.
[a lot of people even rate them better than Uluru]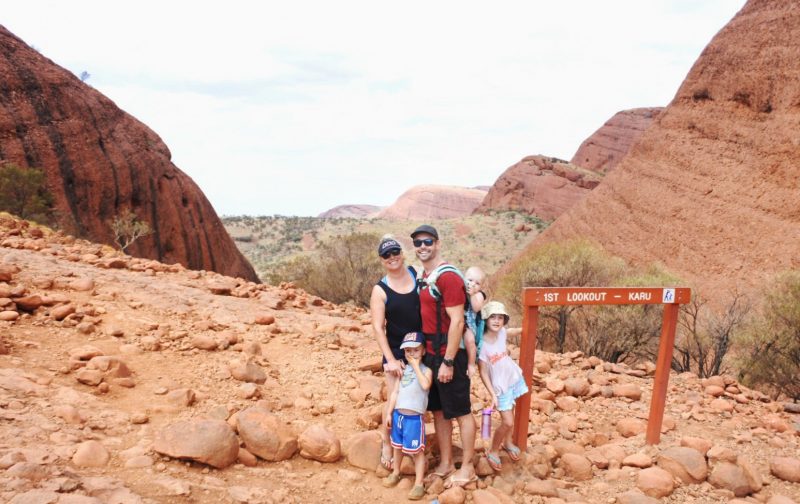 There's an all access boardwalk as well as difficult (Grade 4) 7.5 km walking loops.
I'd recommend doing this the day after Uluru…
…it'd be a bit much to do in the same day.
So wait until Day 3.
But go early in the morning.
This way you're not out in the desert sun, and then you can also…
Day 3 (Afternoon): Travel from Yulara to Kings Canyon
When you drive the Lasseter Highway from Uluru to Alice Springs it's a 2-3 hour detour to get to Kings Canyon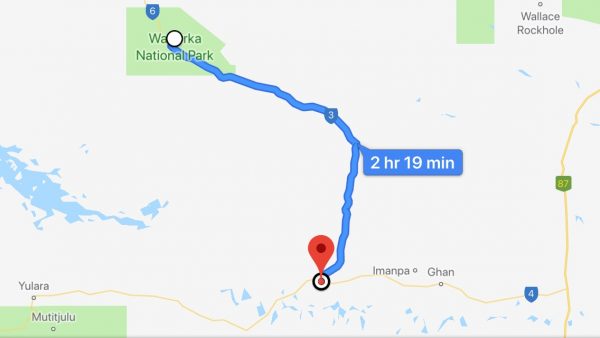 This is why we recommend you do it in the afternoon:
Even if you leave Uluru early, it's still going to be late morning by the time you get to Kings Canyon.
And if you plan on doing the Kings Canyon rim walk, you don't want to do that in the afternoon.
So use the time after seeing The Olgas to drive to Kings Canyon… and stay somewhere close.
The caravan park at Kings Canyon Resort is only about 10 minutes away from the canyon…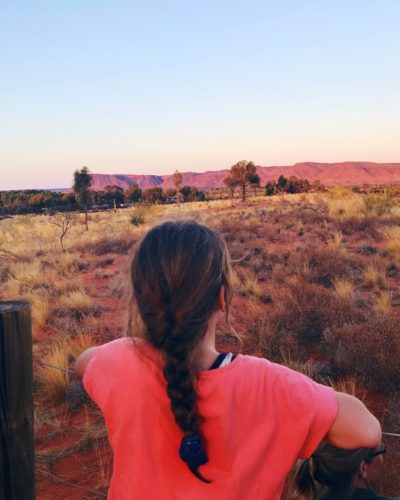 …and the sunset viewing platform is pretty cool.
[It's pretty popular at the moment because of Uluru being closed to climbing from October… so check availability soon]
Day 4 (Morning): Kings Canyon
Kings Canyon is a totally different experience to Uluru or Kata Tjuta
It's amazing because of the rock formations…
…if you've come this far you MUST include it on your itinerary.
The Kings Canyon Rim Walk is 6 km and takes 3-4 hours.
Our 7 y.o. and 4 y.o. did it easily.
[It's NOT pram friendly though, Eddie was in a carrier]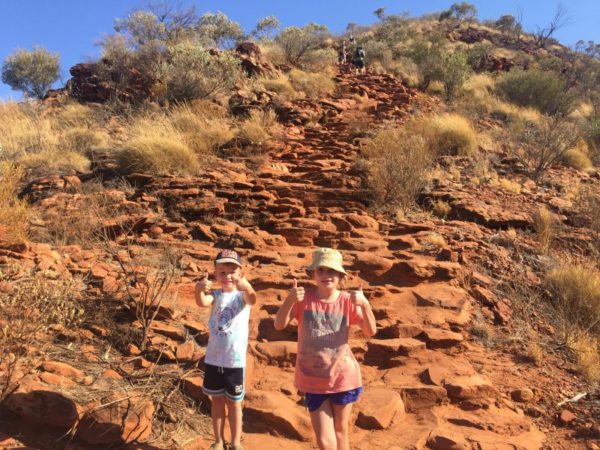 Like Uluru and The Olgas:
Get to Kings Canyon early if you plan to do the full Rim Walk.
It heats up really quickly because there's a lot of red rock.
Read: 8 Tips to Help You Plan Your Trip to Kings Canyon
Day 4 (Afternoon): Travel Kings Canyon to Alice Springs
It's still a big drive from Kings Canyon to Alice Springs
It's 473 km…
…so about the same as Alice Springs to Uluru
[Another reason we recommend exploring Kings Canyon early in the morning]
Summary: Our 4 Day Uluru Itinerary
So there we are:
In 4 days you'll be able to see the highlights of the Red Centre.
It's the Alice Springs to Uluru itinerary that we put together… and we didn't feel like we were rushed or missed out on anything
Comment below: Is there anything else you'd like to know about our 4 day Uluru itinerary? Did we miss anything?