Disclosure: When you click on links to various merchants on this site and make a purchase, this can result in this site earning a commission. Affiliate programs and affiliations include, but are not limited to, the eBay Partner Network
Here you'll find everything you need to help you choose between solar blankets vs solar panels for caravanning
We'll cover pros and cons based on:
Space and weight
Cost
And most importantly:
How easy they are to use
[The best solar panel in the world is no good if it's not pointing at the sun]
Let's get started:
1.Folding solar panels: The most effective solar panels for caravans
When we started caravanning around Australia, folding solar panels were pretty much the only option
[solar blankets were VERY expensive at the time]
So I got a set of folding solar panels from eBay… and I was very impressed at how good they work
In fact:
Even though I have a folding solar blanket now too, I still use these all the time.
Pros:
Solid construction with rigid frame which makes set-up easy
Adjustable legs so you can change angle to follow the sun
Durable and hard to break
They're quite cheap. A decent set of Kings 160W folding panels only costs about $160 from 4WD Supa Centre's online store
Easy to secure when you're not around (here's a few different ways to do it)
Cons:
Their size. Even when they're folded up they take up a decent amount of space in your boot
A decent set of folding solar panels weighs in at 15-20 kg
Who is this option best suited for?
These are good if your caravanning involves quite a bit of free camping (or using unpowered sites). They make it easy to change position and angle to really make the most of the free power from the sun.
HINT: You can never have too much solar in one set of panels. Prices have come down a lot in 2019 so you're better off just starting out with a set of 250W folding solar panels
They're cheap here on eBay (and they're pretty much the same size and weight)
2.Solar Blankets: More portable, just as effective, but harder for caravans
We found some awesome free camps (like Gregory Downs). We weren't driving as much.
This meant we needed more solar to charge the deep cycle battery in our car
The price of solar blankets has come down a lot in 2019… now they've become one of the most popular caravan accessories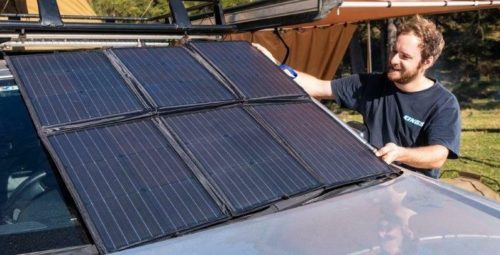 Apparently some of the older blankets didn't work as well…
So we used a multi-meter:
When we tested the output of our solar blanket vs solar panel they were the same.
Does this mean they win the solar blankets vs solar panels debate?
Pros:
They don't weigh much. You're only looking at about 4 kg… so around 1/4 of the weight of a set of folding panels
Their size. They take up hardly any space, and can easily fit in amongst your other gear
Price – even though they're still more expensive than folding panels, the price has come down a lot.
Cons:
You have to be more creative in how you angle them to face the sun because they don't have a frame
Even though they've come down in price they still cost a bit more on a dollar-per-Watt basis
You wouldn't leave them out if you're not there… they're a pretty attractive item!
Who is this option best suited for?
Want something that's light and doesn't take up much space? Then a solar blanket is perfect… as long as you're planning on hanging around your caravan and you can move them around a bit.
You will need to pay a little more. A Kings 200W solar blanket is now only about $250 from their online store (5.0 star rating, so they've got pretty good reviews)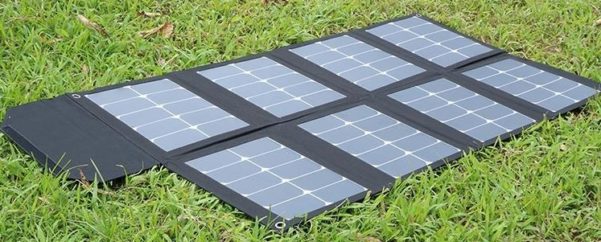 HINT: To get the most out of our solar blanket we use the windscreen of our car in the morning/afternoon, and lay them flat on the ground in the middle of the day.
Summary: Solar blankets vs solar panels for caravans
So here's the pros and cons of solar blankets vs solar panels.
For us?
We'll continue to use both
[We already have them, so why not]
But if someone put a gun to my head and made me choose? I'd probably go with a solar blanket.
Comment below: If you use solar blankets, what are the hints and tips you'd recommend for keeping them pointed at the sun?