Disclosure: When you click on links to various merchants on this site and make a purchase, this can result in this site earning a commission. Affiliate programs and affiliations include, but are not limited to, the eBay Partner Network
This article is to review the Scrubba Wash Bag that's made by Calibre8.
I'll answer the question:
Is the Scrubba just an overpriced dry bag?
And:
Is the Scrubba Wash Bag really twice as effective as normal hand washing?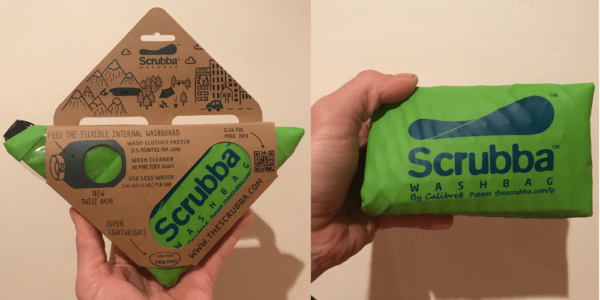 Let's get started.
My Review: Here's my thoughts and opinions on the Scrubba Wash Bag
When you're caravanning or camping there's times you want to only wash a couple of items.
But it'd be a waste to do a whole load in a washing machine…
…so you usually end up doing some hand washing.
[Otherwise it'd be a waste of water or $1 coins]
We'd been using a bucket as a portable travel clothes washer (not exactly fun).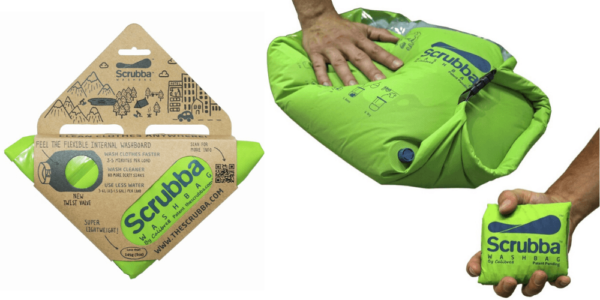 So when I heard about the Scrubba Wash Bag I was pretty interested.
What is a Scrubba Wash Bag?
It's a waterproof bag that's sold as a portable washing system because it:
Has a flexible internal washboard
Folds up to be compact
Uses very little water
It's quicker than hand washing, and
Gets your clothes cleaner.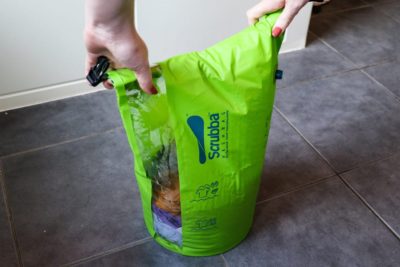 So I got onto the team at Adventure Awaits to get one to try for myself…
Scrubba Wash Bag: First Impressions
When the Scrubba was still in it's packet I thought:
"It's just a dry bag."
But once I opened it up?
I quickly found some BIG differences…

So what's included with the Scrubba Wash Bag?
This is what's different about a Scrubba Wash Bag. It has a:
Closure system like a dry bag, but
An air release valve too (super important)
The bag has small nubs inside which creates a flexible internal washboard
A transparent window to monitor washing and water levels, and
Non-slip backing to grip and stop sliding around while washing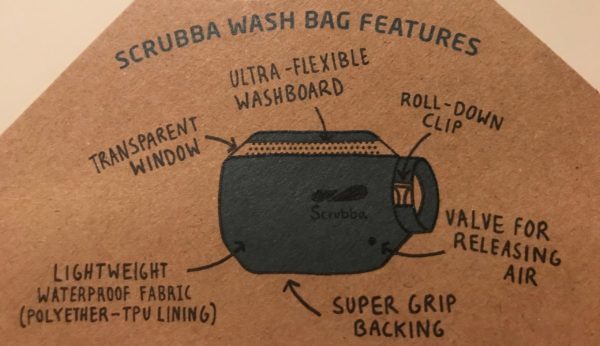 Something else I really like about the Scrubba design:
The user instructions are also printed on the the outside of the bag.

As a side note:
When the bag arrived from Adventure Awaits they'd also thrown in some Dreambly Wash+Dry Sheets.
I never thought I'd say this… but these are a game changer for washing when you're caravanning or camping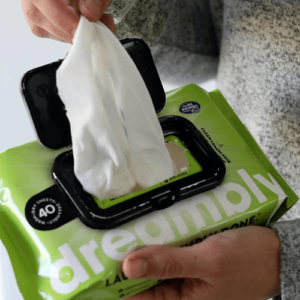 (and I'll probably end up writing an article just about these!)
UPDATE: My Dreambly Laundry Sheets Review: Perfect for Caravanning and Camping
How does the Scrubba Wash Bag work?
It's a pretty simple concept:
Add clothes, water, and some detergent
Fold the top of the bag over, and clip it closed
Use the valve to let the air out
Rub the bag on a firm surface for 3-5 mins
Do a quick rinse, and
Hang to dry

This made me think:
It's something you can use as a portable travel clothes washer AND it doubles as a dry bag.
So even though I got this for using in our caravan…
…it would be absolutely perfect when I go hiking and camping (I already use a dry bag anyway)
So is the Scrubba easy to use… and how much can you fit in it?
I found a load with the Scrubba pretty easy to use:
It's easier than normal hand washing
[Less mess and less work to get clothes clean]
But if you need to do a lot of washing, here's where it gets tricky.
Here's roughly what you can fit:
T-shirt, shorts, leggings, and underwear, OR
Pair of long pants plus underwear, OR
A couple of summer dresses, OR
A double bed sheet
This makes it perfect for:
Keeping on top of underwear
Doing a set of gym clothes
Washing a particular item you want to wear
Getting onto something before a stain sets in
If you wanted to wash a complete set of winter clothes using the Scrubba?
It'll be a few loads for a pair of jeans, jumper, t-shirt, and underwear… about 10-15 minutes worth.
Check out my results from using the Scrubba Wash Bag:
When I was testing the Scrubba I had the perfect candidate:
My gym clothes.
So in I put a:
Long-sleeved top
Pair of shorts
Leggings,
Underwear, and
Pair of socks

This didn't really take any longer than putting them in a bucket.
I then rolled/massaged the clothes around in the bag for about 3-minutes… it didn't feel like long enough at all.
(I'd like to say the clothes smelled like roses… but no)
I then empytied the water out, and repeating for another minute with fresh water.
The clothes smelled like they had just came out of the washing machine.
Also:
I could squeeze a lot of the water out of the clothes and into the tub while they were still in the bag
Definitely quicker, easier, cleaner, and more effective than using a bucket.
Total time to get a clean set of clothers: 5 mins
Scrubba Wash Bag vs. Dry Bag
It's easy to guess how the Scrubba was invented:
Someone was using a dry bag, and noticed all the things that made using it for washing ineffective:
A dry bag gets air pockets in it, slides everywhere, and doesn't really agitate the clothes to wash them.
The beauty of the Scrubba is how the extra bits all work together:
The air release valve makes sure the clothes aren't floating, and makes the bag easier to handle
The non-slip mat holds it in place, allowing the
Internal flexible washboard then washes the clothes properly
The window on the side is handy for when you're loading it too.
So there's no comparison: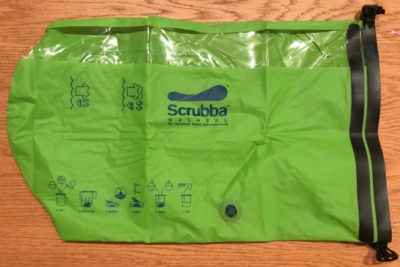 A Scrubba can be used as a dry bag, but a dry bag can't be used as a good portable travel clothes washer.
Compared with normal hand washing?
Yes, I'd say it is twice as effective. And uses less water.
Conclusion: Very happy with the Scrubba Wash Bag
Overall, I'm really happy with the Scrubba Wash Bag as a portable travel clothes washer:
It's helped make hand washing cleaner and easier… and I'm using it in place of my normal dry bag for hiking.
I recommend the Scrubba Wash Bag especially if you're:
Caravanning to keep on top of your washing
Travelling because it means packing less clothes
Hiking as it's a dry bag that doubles as a washing bag
Even at home, spending 3-5 minutes using the Scrubba for small loads is a good alternative to using a washing machine
Click here if you would like to buy one from Adventure Awaits
(for a really portable travel clothes washing system then also check out the Slide n' Dry pegless clotheslines)
Thanks for reading this Scrubba Wash Bag review. I hope it answered any questions you have but if you do have any more please comment below