Disclosure: When you click on links to various merchants on this site and make a purchase, this can result in this site earning a commission. Affiliate programs and affiliations include, but are not limited to, the eBay Partner Network
This article is to review the Dreambly Laundry Sheets that I got from Adventure Awaits.
They're marketed as an all-in-one wash and dry sheet…
So I'll answer the question:
Do they do the job of cleaning your clothes properly?
And just as importantly:
Are they good value?
Let's get started.
My Review: Here's My Thoughts and Opinions on the Dreambly Wash + Dry Sheets
When you're caravanning or camping you start looking at things differently…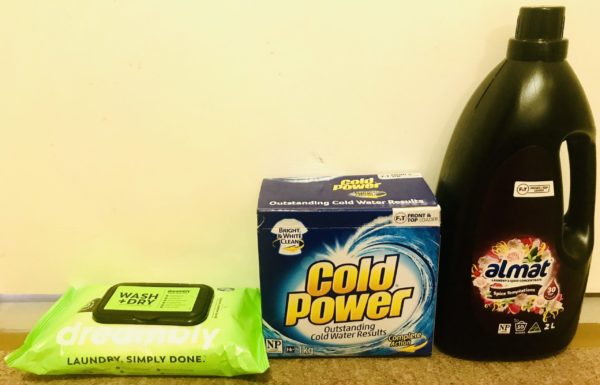 …bigger isn't better.
You want everything smaller. Lighter. And, with less fuss.
[But you don't want to pay an arm and a leg for it]
How you wash your clothes is no different.
One of the best purchases I got for washing clothes in a caravan is my Scrubba Wash Bag
(you can read my full review here)
So when I got some of these with my Scrubba Bag I was pretty interested:
Dreambly Laundry Sheets: First Impressions
The first thing I thought when I got these was:
"Wow, these are neat and tidy."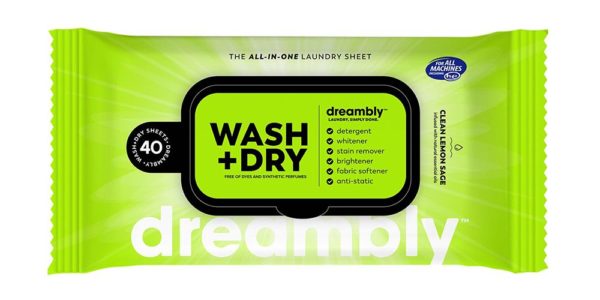 I don't know about you, but I hate when I do washing and end up with powder everywhere
[Or even worse: have powder spilled in the caravan]
Having laundry liquid run down the sides of the bottles? Ugh.
So I was SOLD just on how clean and compact they were for the caravan… before I'd even used them!
What Do Dreambly Laundry Sheets Actually Do?
Dreambly Wash + Dry Sheets describe themselves as the all-in-one laundry sheet.
To do a load of washing it's simple:
You pull out a sheet like you would a baby wipe…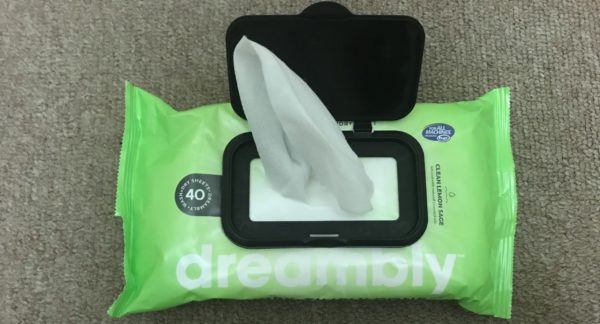 …and just put it in with your load
[if there's a stain you rub it on there first]
Then, if you use a tumble dryer, you leave the sheet in with it.
Dreambly laundry sheets are supposed to do 6 things. They're:
Detergent
Stain remover
Fabric softener
Whitener
Brightener
Anti-static
I'll be honest:
Calling them a whitener and brightener is a bit of a stretch because all detergents do that
(And who cares about static?!)
But hey, some people obviously do.
Apparently there's other uses for them too… check out this video for a good laugh:
For me, they serve 3 functions:
Stain removal, clean, soften.
For a compact packet of wipes that's an all-in-one pretty good deal…
…and how no-fuss they are makes them PERFECT for taking caravanning or camping
(especially when you combine them with a Scrubba Wash Bag)
My Results From Using Dreambly Laundry Sheets: Do They Wash Clothes Properly?
Yes.
For this Dreambly Laundry Sheets review I did a couple of basic tests.
I put one Dreambly sheet in for each of these washes:
A black and a blue t-shirt: No residue or lint.
My gym gear after a session: No smell.
A standard load of washing: No different to our normal detergent.
Now, I have to admit these weren't the most scientific of tests:
I didn't wash identical items separated out by detergent vs Dreambly sheets… and get someone that was blindfolded to choose a winner.
All I wanted to do was answer a simple question:
Can Dreambly Laundry Sheets really replace normal laundry detergent when I go caravanning?
I'm happy to say "yes"
Price: Dreambly Wash + Dry Sheets compared with normal laundry detergent
Now this depends on what brand you buy, so in this case I thought I'd choose a well known brand
(and use their standard version, not the fancy types)

Here's what I found…
You get 20 loads of washing out of a 1L bottle of Cold Power that costs $10… or 40 loads of washing out of a packet of Dreambly Laundry Sheets that cost $23.95
So that's:
Cold Power Liquid: $0.50c per load
Dreambly Laundry Sheets: $0.60c per load
So if you do a load of washing every day of the week?
You're paying an extra $0.70c per week for how compact and convenient these are.
To me, that's worth it.
You can also get them here in single packets… at about $1 per pack.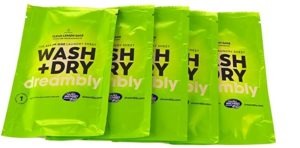 When I've had to fly interstate for work I've taken a couple of these and the Scrubba… worked a treat.
Are Dreambly Laundry Sheets Environmentally Friendly?
My initial reaction was:
"Just more landfill"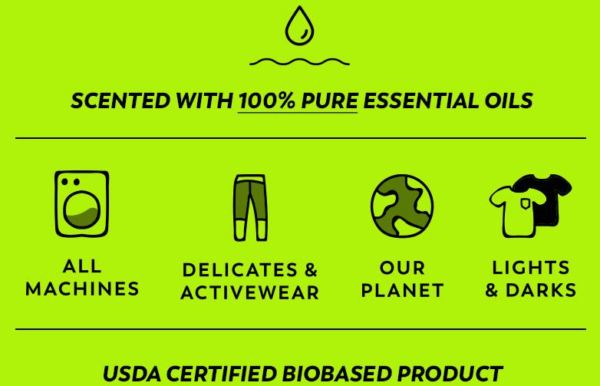 But when I saw the "OUR PLANET" on the packet it got me reading:
Natural ingredients
Biodegradable in 10 days
Organic stabilisers (whatever that means)
Scented with essential oils
Greta would approve.
Conclusion: Dreambly Wash + Dry Sheets Are Perfect for Caravanning and Camping
Overall, I'm really happy with the Dreambly Laundry Sheets for taking in the caravan.
I found they do the same job as laundry powder or liquid… but make do washing cleaner and easier.
I recommend the Dreambly Wash + Dry Sheets especially if you're:
Caravanning and are short on space
Camping and want something compact
Are prone to powder or liquid spillages
Click here if you would like to buy some from Adventure Awaits

(for a really portable travel clothes washing system then also check out the Scrubba Wash Bag and the Slide n' Dry pegless clotheslines)
Thanks for reading this Dreambly Laundry Sheets review. I hope it answered any questions you have but if you do have any more please comment below
Dreambly Laundry Sheets
$23.95
Pros
Small and compact
Easy to use the right amount every time
Just as effective as normal detergent
No more spills in the caravan
Environmentally friendly detergent
Cons
Slightly more expensive than normal detergent
You have the used sheet to dispose of afterwards