Disclosure: When you click on links to various merchants on this site and make a purchase, this can result in this site earning a commission. Affiliate programs and affiliations include, but are not limited to, the eBay Partner Network
When it comes to heating a caravan or camper, a frequently asked question is which is better: gas vs diesel heaters?
We've had both… and loved them both.
So here we'll cover the pros and cons of both running AND installing them…
Let's get started:
Gas heater: no need to carry additional fuel
Our caravan came with a gas heater already installed…. and when we spent a month in Tasmania it was amazing!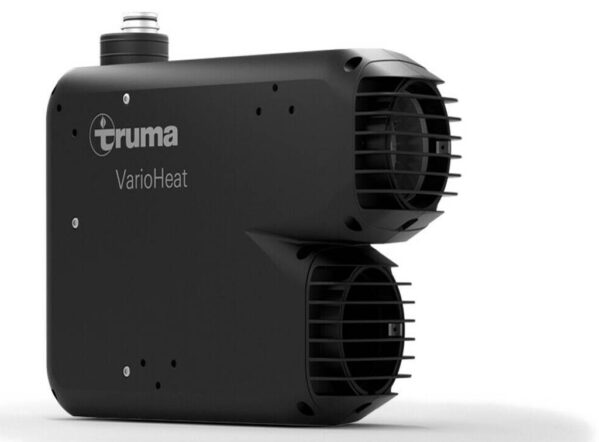 So when we changed set-ups, our preference was to get another gas heater installed.
Pros:
Only one fuel source. If you already use gas for the cooktop etc then there's no need to worry about carrying another fuel source.
Very quiet. Gas heaters are very quiet (pretty much there's the fan noise and that's it)
No smell outside. There's no exhaust smell if your neighbours are parked up next to you.
Cons:
You need to be careful with your gas usage. If you're not careful and you run out of gas then it can mean no fridge or cooktop. 
Gas is hard to get in some areas. We found it hard to get gas in some parts of Australia… so we had to be careful we didn't use the heater too much.
Running costs can be quite high (gas price can vary A LOT). It's usually about the same cost to use gas when compared with diesel… but the price of gas in some remote places can be 2.5 times what you pay in a capital city.
Gas heaters are expensive to buy. When we looked at getting a gas heater for our new camper, it seemed like the only option was a Truma… for around $2,000 (and that's cheaper here on eBay). Sure, there's diesel heaters that cost this much too… but there's also $150 diesel heaters which work just as well. That's not the case with gas heaters.
They can only be installed by a licensed gas fitter. Unlike a diesel heater, you can't go the DIY route when it comes to gas heaters.
We loved the idea of getting another gas heater… but when it came to paying $2,500-$3,000 to get one installed?
That's when we thought we'd check out diesel heaters…
Diesel heaters: cheap to buy, install, and run
After reading (and watching way too many YouTube videos) I was amazed at how many people had installed diesel heaters  
So we bought and installed one… and I was blown away: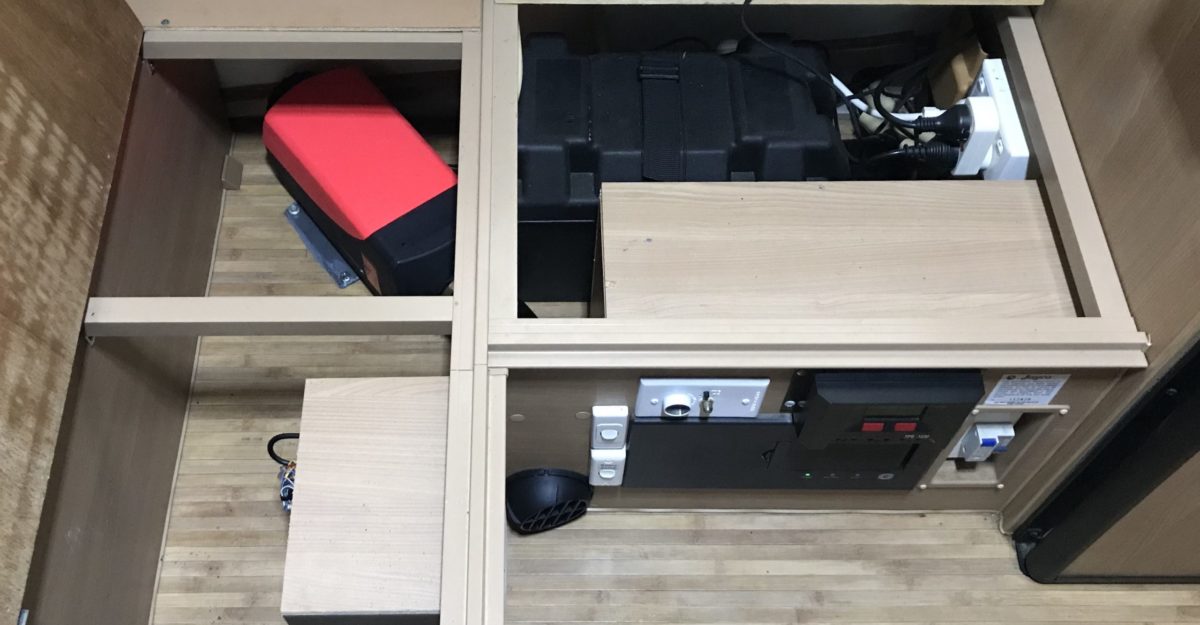 Pros:
Cheap to buy. You can pay $1500-$2000 for a German Eberspacher or Webasto diesel heater… or $150 for a no-brand version (here off eBay) that does the same job.
Easy to install. Unlike a gas heater, installing a diesel heater is a pretty simple DIY job (or most caravan repairman do it for around $300)
Good fuel economy. On 'Low' they use about 115 mL of diesel per hour… that's 60-80 hours of run time on the 10 L tank that comes as standard. If you use a 20 L tank then you can literally run your heater non-stop day and night for a whole week (so there's no need to carry spare diesel)
You can get diesel anywhere. There's no need to ration use of your heater because you can get diesel everywhere.
Easy to refuel. Check out this installation of a diesel heater quick disconnect kit which allows you to use a jerry can as your fuel tank.

Cons:
Instructions are terrible (leads to installation mistakes). If you pay $2K for something you pay someone to install it… but if something's $200? Doing it DIY when the instructions are notoriously terrible leads to these 13 common installation mistakes
Fuel pump ticking. The fuel pump has a ticking noise (which can be amplified if mounted on a hollow part of the chassis). Luckily there's several tips to quieten diesel heater fuel pump noise.
You need to fit a diesel tank. Unlike tapping into existing gas bottles, with a diesel heater you need to fit a diesel tank.
There's an exhaust pipe. There's an external exhaust pipe and the smell of diesel-exhaust for the first few minutes after start-up (OUTSIDE of the caravan or camper).
Easy to buy too big. Bigger isn't always better. Quite often people buy one they think is suitable for their van or camper, and it's excessive.
Read: 2kW vs 5kW Diesel Heater for Caravan or Camper [Pros and Cons]
So based on these pros and cons, it seemed like installing a diesel heater was a no-brainer for us…
…especially once these other factors appeared to be pretty much the same:
Gas vs diesel heaters: similarities (and myths)
The way gas vs diesel heaters work is surprisingly quite similar: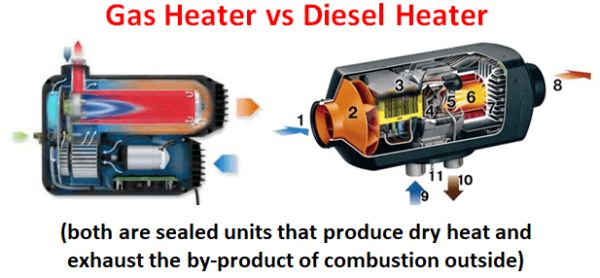 No smell or fumes inside the cabin. Both gas and diesel heaters are sealed units… so there should be no smell inside at all. Diesel heaters exhaust outside, gas heaters are flued outside (if there's a smell inside the cabin then it must have been installed incorrectly)
Both gas and diesel heaters produce a dry heat. You hear misinformation on both sides here… some say moist heat and condensation is formed due to the burning of gas, others say the same thing happens as a result of diesel combustion. The truth is that both types of heaters exhaust all moisture outside (the heat we feel is from a fan blowing air across the outside of the sealed combustion chamber)
Power draw. The truth is that diesel heaters do draw more power at start-up (5-7 Ah), but that's only for a few minutes from the glow plug and when the fan's running high. Then, both types are low power (fan and fuel pump, about 0.7 – 0.9 Ah)
Reliability. Both gas and diesel heaters require maintenance… but if installed correctly, both are very reliable.
So once we'd done the research and a comparison of the pros, cons, and similarities…
…installing a diesel heater like this one we got from eBay (click on picture) seemed like a no-brainer for us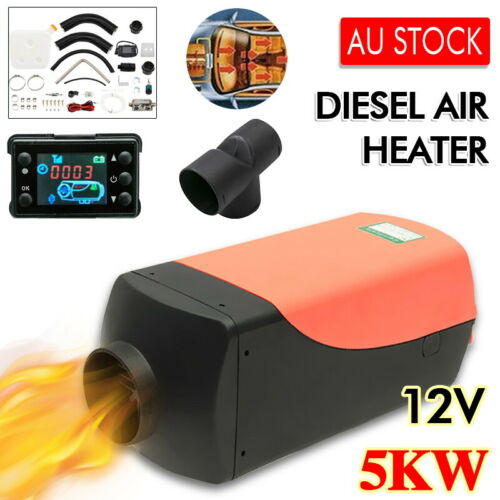 (but it also made me realise that if I was going to install it DIY I'd need to make sure I did it properly)
Read: Our Diesel Heater Installation [Step-By-Step With Pictures]
Summary: gas vs diesel heaters for a caravan or camper
Now that I've had both a gas and diesel heater…
…if I bought a new van and it already had a heater I'd be happy with either.
But when it comes to installing a heater into an existing caravan or camper?
After weighing up the pros and cons of both our preference is definitely a diesel heater
They're one of the 35 Most Popular Jayco Camper Trailer Modifications…
…and also one of the top 7 Tips to Keep Your Camper Trailer Warmer in Winter
Here's how we installed ours:
Read: Jayco Swan Diesel Heater Installation [Step-By-Step With Pictures]
If you would like to read more about the specific one that we bought then check out our review here