Disclosure: When you click on links to various merchants on this site and make a purchase, this can result in this site earning a commission. Affiliate programs and affiliations include, but are not limited to, the eBay Partner Network
In this article you'll find 17 caravan gift ideas for Christmas.
These are things that are useful… whether you're a travelling family or grey nomad.
Let's get started:
1. Bamboo caravan travel mugs: The perfect gift for anyone that loves coffee and caravanning

These cups are the perfect Christmas stocking filler for the person that:
Is environmentally conscious

Drinks a lot of coffee

Loves caravanning

Loves letting everyone know how much they love both coffee and caravanning!
Bamboo caravan travel mugs: Available from Adventure Awaits
2. Scratch Map of Australia: The Christmas gift to help track your travels
This one is a great Christmas gift for those that travel a lot…
…because it's a fun way to record where you've been
You scratch the gold foil off the places you've visited: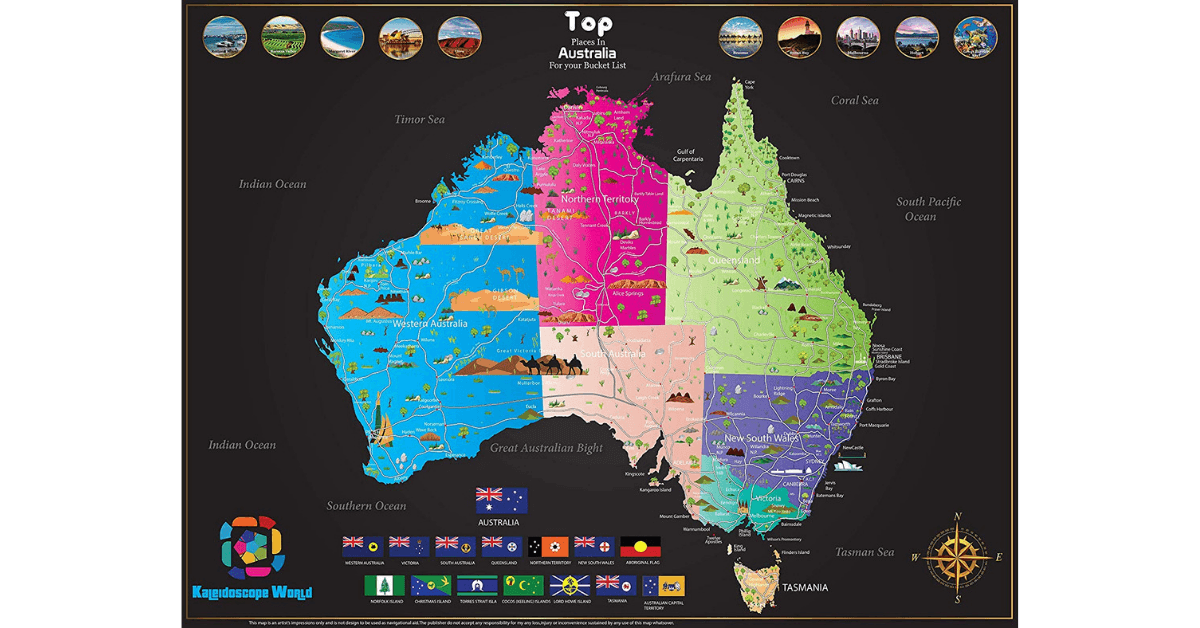 It then shows different colours and landmarks
[The only problem is you realise how big Australia is… and want to travel more!]
Scratch Map of Australia: Check it out here on eBay
3. Accessories for the Weber Baby Q
The Weber Baby Q is one of the most popular caravanning items…
…and there's a few caravan gift ideas that can make it even more useful.
Some great finds on eBay include the Duffel Bag…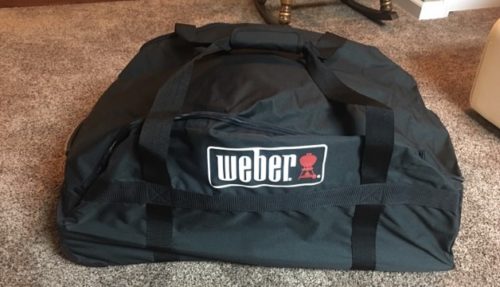 …or Breakfast Plate so you can do bacon and eggs on it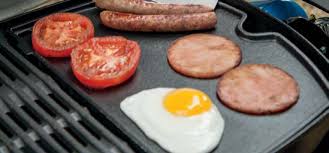 Also, check out the Rotisserie Attachment
4. Scrubba Wash Bag: The gift that makes hand washing clothes easier
Hand washing clothes is inevitable when you're travelling in a caravan…
The Scrubba Wash Bag is like a dry-sack but with an old school wash board inside.
You add water, dirty clothes and a little detergent:
Then your washing is done in a flash.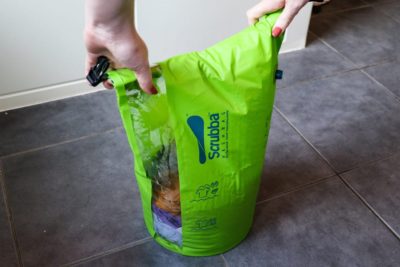 [It's the Christmas gift that makes everyday vanlife quicker, easier, and with less water being spilled everywhere]
Scrubba Wash Bag: Best place to buy is from Adventure Awaits
PS: This pairs well some with Pegless Clotheslines (also from Adventure Awaits) to create a complete lightweight caravan laundry system.
5. Turkish Towels: The most popular towels for caravanning
Turkish Towels are the best towels for caravanning becuase:
They're light and save space

Even though they're thin they're super absorbent, and

They come in pretty cool colours and patterns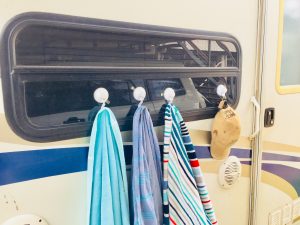 [So you know who left theirs on the caravan floor!]
Hammamas Turkish Towels: Available here on Amazon
6. Furrion Lit: The best portable speaker for caravanning
I've always been a BOSE fan… until I saw this one:

The Furrion Lit is waterproof, shockproof and sandproof
[Perfect for the caravan]
These are pretty feature packed:
Torch built in

USB to charge your phone

Emergency SOS light and siren
Furrion Lit Portable Bluetooth Speaker: Best place to buy is Outback Equipment's online store via eBay
7. Slimline insulated travel mugs: Keep your Christmas drinks hot or cold
The guys over at Love Your Travels have an answer to the biggest problem with insulated travel mugs:
These ones actually fit in your cupholder.
We love ours (for both hot and cold drinks)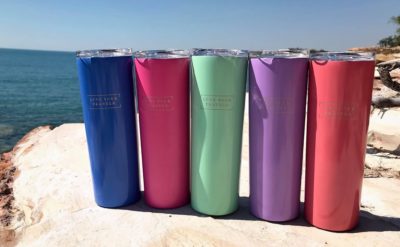 They're great quality that will last
A perfect for anyone who spends a decent amount of time in their car or caravan:
Slimline insulated travel mugs: Buy directly from some fellow Aussie travellers at Love Your Travels
8. Collapsible Christmas gifts for the caravan
The great thing about collapsible items as caravan gift ideas is that they save space AND they're on these multi-purpose caravan accessories

Our favourite collapsible caravan kitchen storage ideas are the: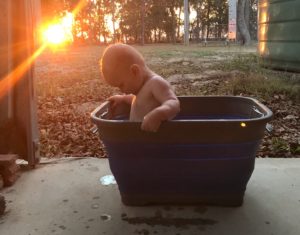 [Our collapsible tub gets used for handwashing as well as a baby bath]
We got ours from Aldi, but you can also get them pretty cheap on Amazon.
9. AeroPress Coffee Maker: Give the Christmas gift of great coffee
It's hard to go past this for anyone that loves caravanning and lots of coffee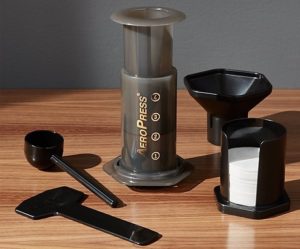 [These have a 5.0 star rating on Amazon]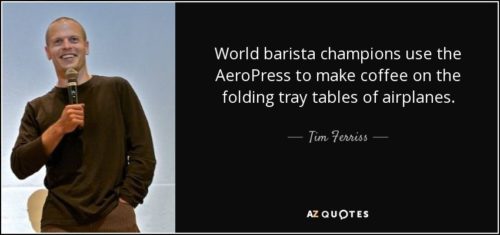 And I love this:
"If I were a robot, the AeroPress would be my arm"
AeroPress Coffee Maker: The best place to get is here on Amazon
[But if the person you're buying for is a short black fan… check out the MiniPresso below]
10. A decent headlamp: One of the most useful Christmas gifts you can give for caravanning
A decent headlamp is a very useful. It leaves both hands free to do things like:
Hitching up at night

Visiting the toilet block

Night walks with the kids

Looking for frogs

Changing over gas bottles

Packing up as much you can the night before travel days
Now headlamps are something you can go el cheapo on… but remember:
They get used a lot.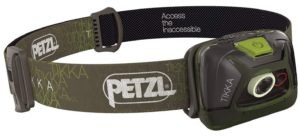 I recommend: The Petzl 'Tikka' Headlamp from Amazon
11. Savvy Level: The best electronic caravan levelling gadget
You stick a transmitter in your caravan…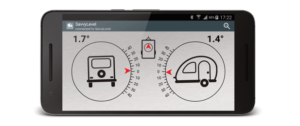 …and there's a free app for your phone or tablet that tells you when you're level
This makes the SavvyLevel the perfect gift for the solo caravanner
But also… it's described as:
"a marriage saver when levelling at the end of a long day"!
SavvyLevel Levelling System: Best place to buy is here on eBay
12. Wacaco MiniPresso: The perfect Christmas gift for espresso lovers
The MiniPresso is the perfect gift idea for the caravanner who's approach to coffee is:
Quality over quantity.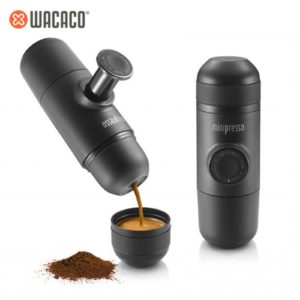 It pumps out a perfect shot of espresso… great for people that:
Drink short blacks

Like single-shot coffees, and

Don't drink several cups at once
It comes in 2 models: GR (Ground Coffee) or alternatively NS (Nespresso Pods)
Wacaco MiniPresso: The best place to get is here on Amazon
Want other options?
Read: 7 Ways to Make Coffee in a Caravan [Powered and Unpowered]
13.Tesalate Sand Free Beach Towels: The Christmas gift for people who love the beach, but not sand in their caravan
Turkish Towels are great for everyday caravan use.
But f the person you're buying for loves the beach?
This is where Tesalate Towels become a great gift idea. They're:
Sand free so you won't be dragging the beach around with you

Compact, saving space and weight

Quick drying, and

We have a double sized one that we also use as a picnic rug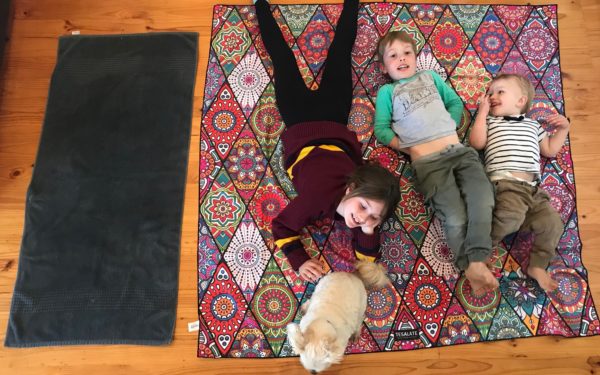 Tesalate Beach Towels: Buy through their website (use discount code THANKS10PPJ to get 10% off)
14. SmartSpace Nesting Pots: The gift that saves space in the caravan kitchen
There isn't too much space in a caravan kitchen:
These things save a lot of space

[They stack and the handles detach]
Camec SmartSpace Pots: The cheapest place to buy them from is Award RV Superstore via eBay
15. Leatherman Wave Multi-Tool: 18 Gifts in 1
There's one word to describe these things:
Handy.
(You can't help but feel a little MacGyver whenever you use it)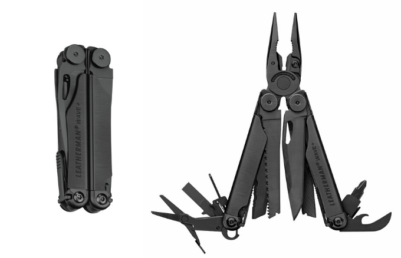 Ours lives in our glovebox… perfect for when you're separated from your main tool kit.
(or just couldn't be bothered getting them out for a small job)
Leatherman Wave: Here on eBay.
16. Tyre Pressure Monitoring System: The gadget that saves blowouts
These aren't the cheapest thing in this list of Christmas caravan gift ideas…
…but tyres cop a lot of wear-and-tear from pulling a 2-3t van around Australia.
If they save one tyre, that's money well spent:
No one wants a blowout while pulling a caravan at 90-100 km/h
TYREDOG Wireless Tyre Pressure Monitoring System: These are the top pick (recommended by the RAA), best price is here on eBay
17. Alarmed Caravan Hitch Lock: Help Keep their pride and joy safe
No caravan hitch lock is 100%…
…but you do you want to make it as hard (and as noisy) as possible
Wheel clamps do work well, but a decent hitch lock is a bit more portable.

The Kovix Alarmed Trailer Lock is the top pick: Check it out here on eBay
[If they have a Trail-A-Mate, also check out the Trail-A-Mate Anti Theft Lock as a Christmas gift idea: Best place to buy is from SunCoast Caravan Service, QLD via eBay]
If you want to find out my thoughts and experiences using this one?
Read: Kovix KTR-18 Alarmed Trailer Lock Review: The Best Caravan Hitch Lock?
Your Turn:
So that's 17 caravan gift ideas for Christmas.
[If you're after some more ideas then check out: 33 Most Popular Caravan Accessories for Travelling Australia]
Comment below:
Any other great ideas we've missed?