Disclosure: When you click on links to various merchants on this site and make a purchase, this can result in this site earning a commission. Affiliate programs and affiliations include, but are not limited to, the eBay Partner Network
Everyone includes Kings Canyon on their Red Centre itinerary… and so should you.
Looking down (or up!) into the canyon really is spectacular. There is no way photos do the place any justice.
It's totally worth the effort, but you really do need to conquer some physical challenges to get there.
Like our tips to help plan your trip to Uluru, these are some things we wished we'd known before we made the trek to Kings Canyon:
1. Stay close to Kings Canyon the night before
If you're heading along the Lasseter Highway from Uluru to Alice Springs, it's about a two and half hour detour to get to Kings Canyon (and yes, it's sealed roads the whole way).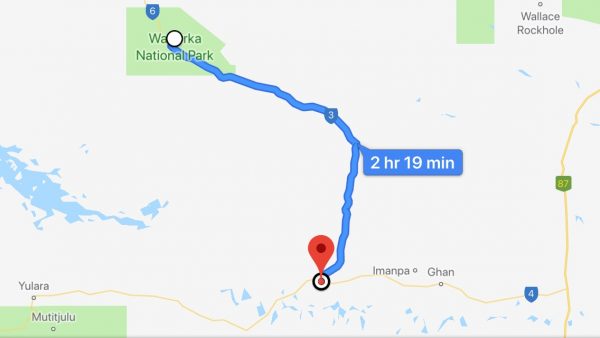 Even if you leave Uluru bright and early, it's going to be late morning by the time you're there.
You don't want to be doing Kings Canyon in the afternoon.
Stay somewhere close.
The caravan park at Kings Canyon Resort is only about 10 minutes away.
[It's pretty popular at the moment because of Uluru being closed to climbing from October… so check availability soon]
2. Don't expect the same cultural experience as Uluru
While the traditional owners of Uluru ask that you don't climb and its about being immersed in the culture, Kings Canyon is quite different.
The significant art sites of the Luritja people are away from the main visitor areas and walking tracks.
This leaves you to enjoy the amazing rock formations and nerd-out on it's geology.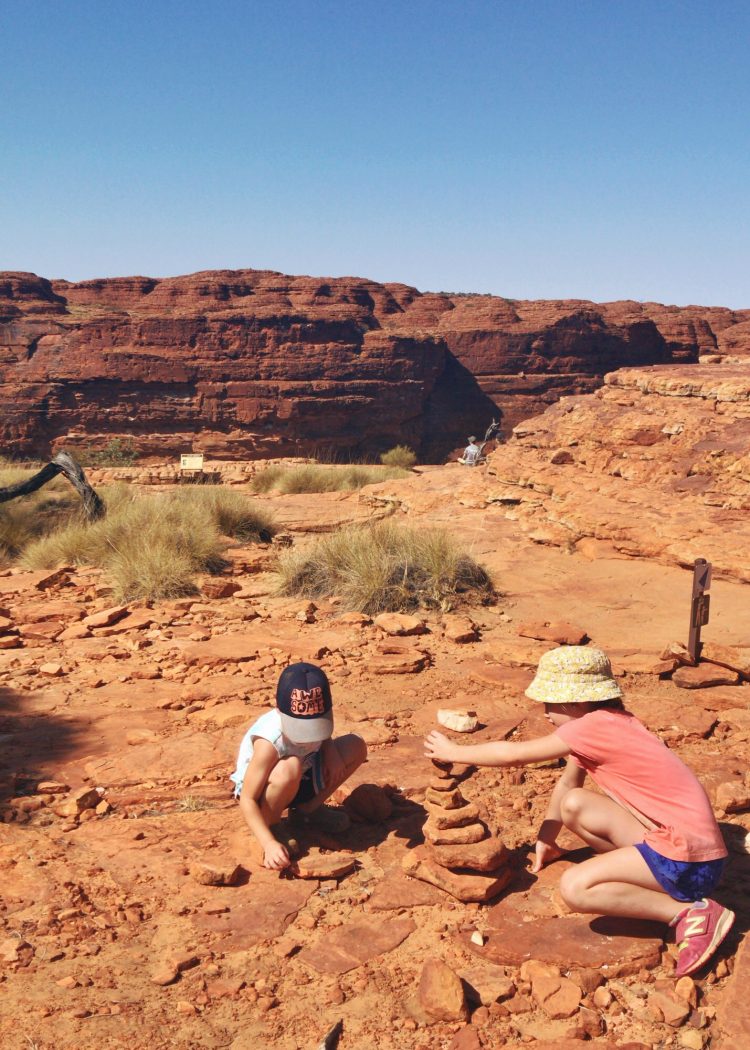 3. Get there early if you plan to do the full Kings Canyon Rim Walk
The rim walk is 6km and takes 3-4 hours…
…depending on how much you stop to rest or admire the awesome rock formations.
The desert mornings can be quite cool (it was actually a little cold when we set off at 9am).
By 11am though, there were families huddled under shade to escape the sun and heat reflecting off the red rocks.
Do the usual hat, water, snacks and sunscreen things, but start early to finish early.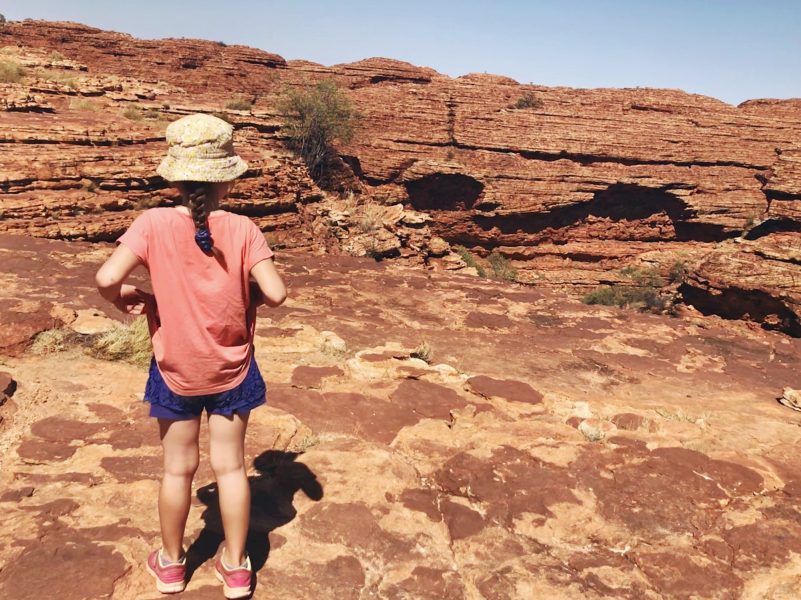 4. Don't be put off by the first section (it isn't actually that hard)
You might read that the first 100m is the hardest part because of how steep it is:
That's only partly true.
You can do this if you can climb flights of stairs interspersed with park benches to sit on.
Even our 4-year old Elliot (who wanted a break after walking from the car park to the toilet block, true story) was able to do this section continuously with no rest.
In the interest of full disclosure though, he was under the impression there was a cafe at the top that sold Bubble O'Bill ice-creams.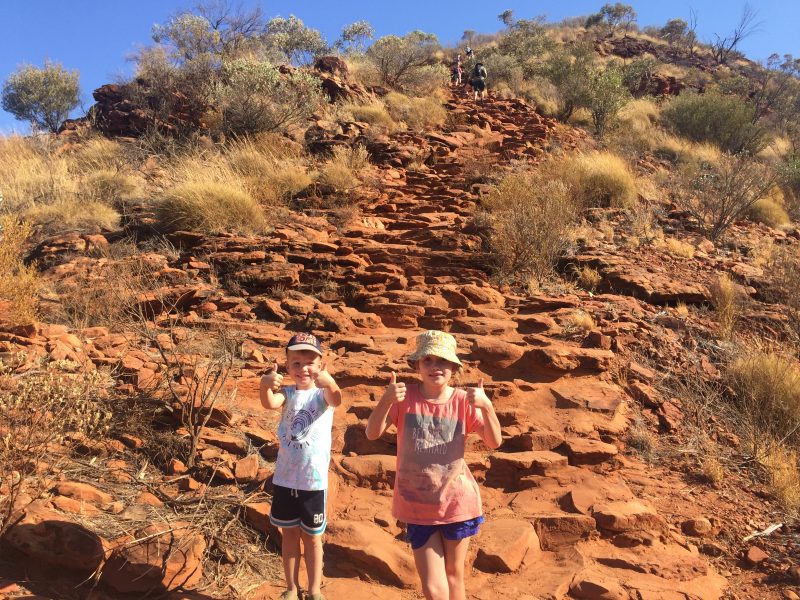 5. Give yourself plenty of time for the Kings Canyon Rim Walk
At the top of the first section is a sign that says you've done the hard part and that the rest is a "leisurely stroll".
[This sign must have been written by someone who hasn't actually done the walk]
There are multiple sections where you have to either climb over large boulders, or crab-walk up and down terraces of rock too narrow to fit your feet on.
Don't be in a rush:
You need to be able to take the time to be sure of your footing, as well as take in the beautiful rockscapes.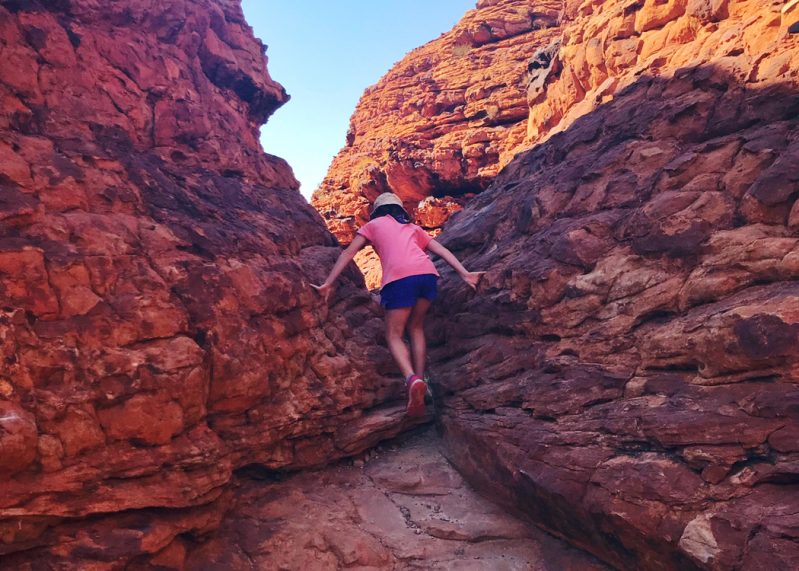 6. If you're after something a little more leisurely do the Kings Creek walk
Don't do the 3km return loop if you're after something easier than the rim walk.
It looks a lot easier to start with.
Really though?
It's just shorter. It has the same features as the longer walk… steep stairs, ravines, rocks to climb, and traversing sandstone domes.
The Kings Creek walk?
A 1 hour return-walk on a relatively flat walkway.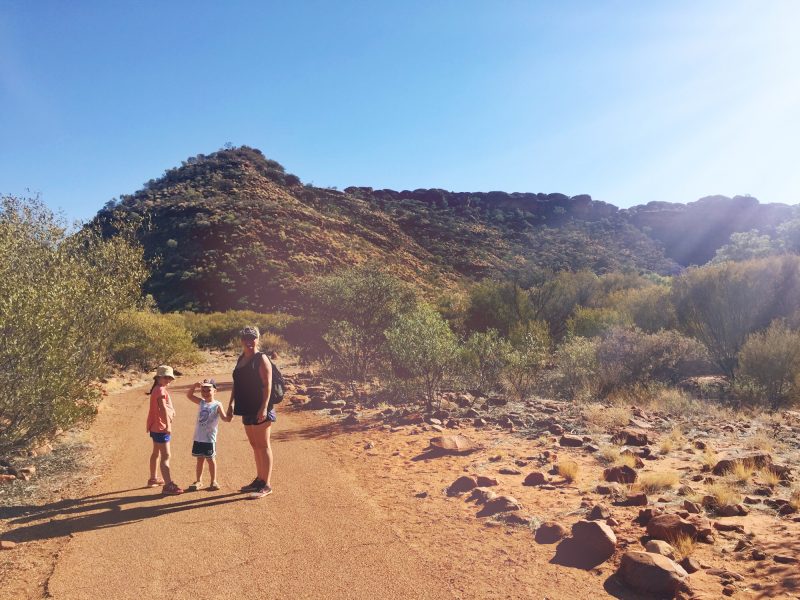 7. Be realistic about your level of fitness
Our 7 and 4 year old kids did the rim walk comfortably, but were trashed by the end. It's not like it's running a marathon.
But…
…when you walk you'll find it pretty clear why there are emergency call boxes and helipads all around the rim of the canyon.
There were some other people doing it who were not having a good time. They were unsafe, needing help from strangers, and really were placing their lives at risk.
Just be realistic… if you can't walk a dog, don't walk the rim.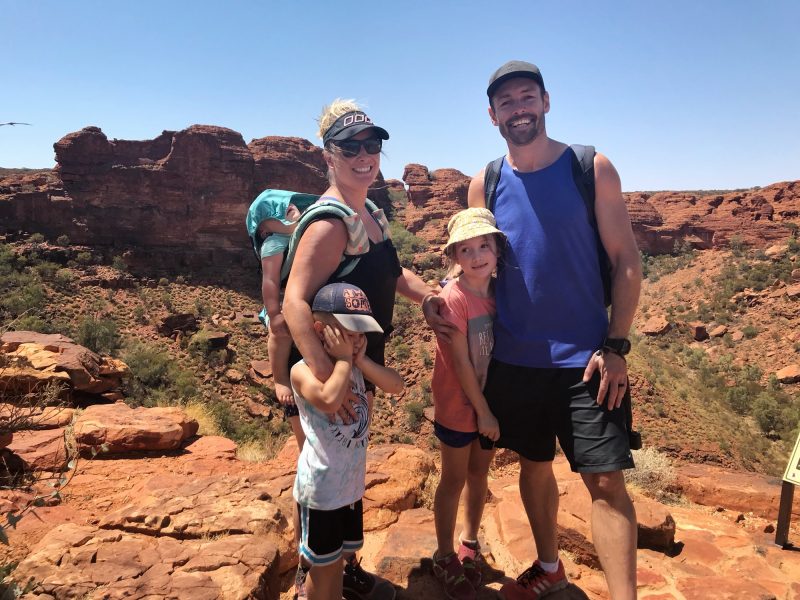 8. Plan your route based on current road conditions
You can comfortably travel between all of the major Red Centre attractions on sealed roads.
Or you could do the Mereenie Loop to get to and from Alice Springs.
You will lose 140km off your trip, but you might also lose your caravan door. It can be pretty rough!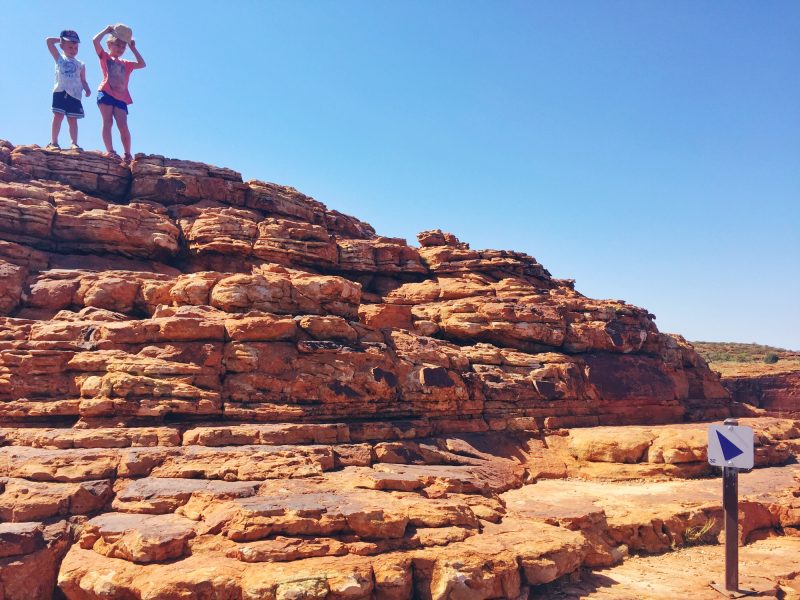 When you go to the Red Centre, you need AT LEAST four days.
Uluru sunset, Uluru sunrise and walk, the Olgas… and then Kings Canyon.
Each are beautiful in their own way. Each have their own challenges to get to and then enjoy.
It's part of what makes them so special. 
Know anyone who is planning a trip to the Red Centre? Share this with them!
Read: 20 Caravan Gadgets Under $20 [That Make Travelling Australia Easier]