Disclosure: When you click on links to various merchants on this site and make a purchase, this can result in this site earning a commission. Affiliate programs and affiliations include, but are not limited to, the eBay Partner Network
WE CAMPED AT KIDDY PARADISE, AND OUR KID'S STAYED FREE!
Thank you Discovery Emerald Beach, and Travel Australia With Kids (TAWK) for 5 amazing and affordable nights so close to Coffs Harbour. Discovery Emerald Beach ticked pretty much every box for us, and Chloe said it was her favourite park since Marion (40 stops ago!)
There isn't really anything that we can fault with this park… except for maybe the bush turkeys that nipped Eddie's toes while he was minding his own business in his high chair! Oh, and the waterpark/pool/weather could've been ever so slightly warmer.
THE PARK -SIZE OF PARK & SITES
The park is beautiful. You enter across a bridge and down a palm lined drive that makes you feel like you are entering a private tropical hideaway. It is completely set back from any roads or other public area, so you feel safe and tucked away from the rest of the world. The grounds are quite large and the sites are all of a decent size. We were lucky enough to be able to choose a site, being there in low season, so Papa Peachey chose one that was nice and easy to reverse into after our experience at South West Rocks.
KIDS ENTERTAINMENT
Okay, so you're probably wondering why Chloe rated it her fave park since leaving Adelaide? BEcause… bouncy pillows, waterpark, swimming pool, indoor soft play area, movie nights, pancake breakfasts and full bathtub!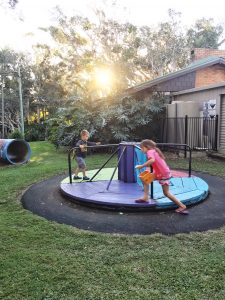 OTHER FEATURES
As parents, we loved all that too, but we also loved the great hot, high pressure and clean showers and the free, unlimited wifi! PARADISE I TELL YA!
LOCATION
The location was also mint. Metres from the beach, a bottle shop, best pizza place and coffee shops also just around the corner , stunning scenic walks and a great relaxed vibe to the whole place. We all loved it and extended our stay.
INTERNET
Well, the internet here was pretty much across the whole park, and unlimited. It was the best internet we'd come across since… Discovery Park Braybrook in Melbourne!
VALUE FOR MONEY
We arrived without a booking, and when I went to the office I presented my G'DAY membership card, TAWK card… and asked what would work out best for us. The manager was lovely, and also threw a 'stay at 3 nights, get 4th free option into the mix then did the math. TAWK wins yet again, providing us with the best savings at $60.00, bringing our nightly fee to around $48/night. Good deal, we say!
We had thought that we wanted to stay in Coffs, and were a little worried at how far out it was (about 15 minute drive) but this didn't end up being an issue at all. It was an easy drive along A1 back into Coffs, and also a short drive to bigger supermarkets.
We recommend this park to anyone looking for a family friendly park, near the beach, a little away from the hustle and bustle of a touristy area. Avoid it if you don't like bush turkeys, or you're a turkey yourself who doesn't like the sound of kids having FUN.