Disclosure: When you click on links to various merchants on this site and make a purchase, this can result in this site earning a commission. Affiliate programs and affiliations include, but are not limited to, the eBay Partner Network
We have been to Bali many times, and stayed in many places but the Movenpick Resort & Spa Jimbaran Bali is our top hotel pick for those travelling to Bali with toddlers. When we stayed here, Chloe was 5, Elliot just 3 and I heavily pregnant with Edward.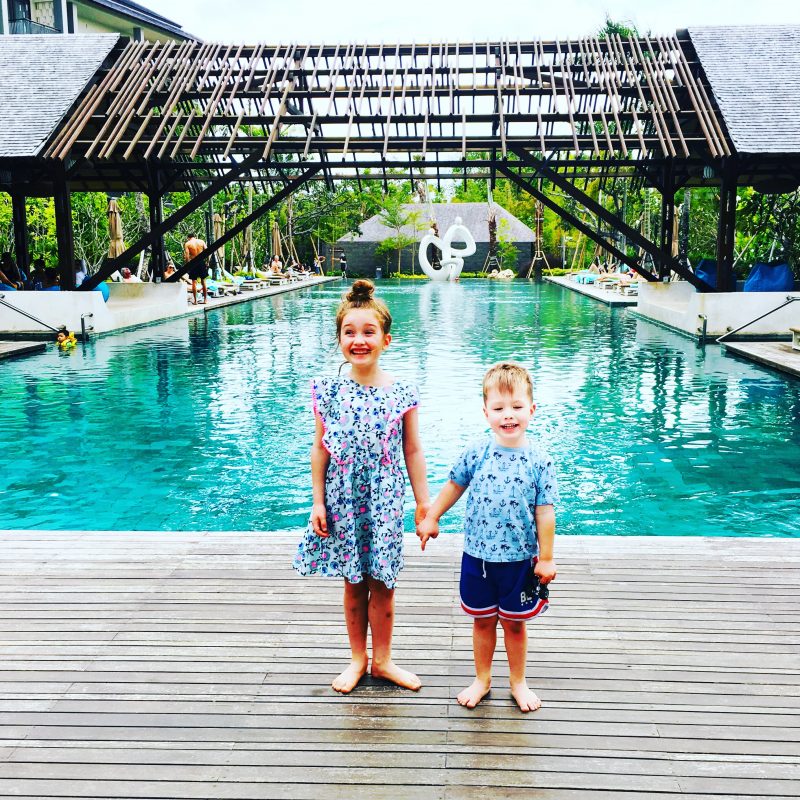 We had such a great relaxing week there that none of us wanted to leave! When we did, Elliot cried every day for about two months as he missed it so much! He still talks about the breakfast buffet over 12 months later. They rate it as their favourite hotel, and for good reason.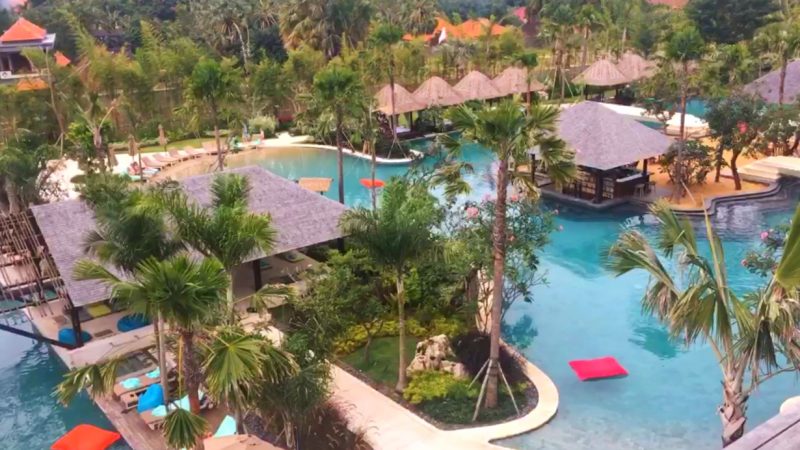 If you are travelling to Bali with toddlers or preschoolers and wondering where to stay, then you should definitely consider the Movenpick! Here are the reasons why it rates for us as our Number 1 pick for those travelling to Bali with toddlers or preschoolers!
Kids are treated like Royalty from the moment you check in.
There is a check-in counter especially for the smallest people in your party. Here, they find out about Kid's Club and are presented with a soft toy. The special treatment doesn't stop there, with a designated kid's section at the breakfast buffet too. Our two loved the independence this gave them, being able to help themselves to alllll the donuts!
Which leads us onto …
The breakfast buffet is phenomonal!
Since this is a Movenpick Resort, you'd expect nothing less! There is such a huge assortment of food to choose from.
As mentioned, our kids loved the mini buffet, I loved the fresh juice bar and assortment of fruits, Michael loved the choice in hot foods. Being pregnant *may* have used that as a good excuse to have ice-cream for breakfast also!
The pirate-themed Kids Club is great fun for all ages!
Included in your accommodation package is four hours of Meera Kids Club each day. Our kids had the best time climbing through the ball pit, sliding down the slides, watching movies, crafting, attending the pool party and more! The staff were excellent and we were so sad to say goodbye!
If you're travelling to Bali with toddlers, you should note that children do have to be over 4 to be left there without a parent or nanny. We had no problems organising a sitter for Elliot through the hotel for a small hourly fee. Just make sure you let them know 24hrs in advance.
The swimming pools are the shining jewel of the hotel.
We pretty much spent all our days lazing by the pool. There are plenty of beanbags should you not score a coveted bale or sunchair.
The pool areas is huge and fun to explore. There are two areas for children to play – one a small waterpark with waterslides and the other a waterplay area near the kid's club.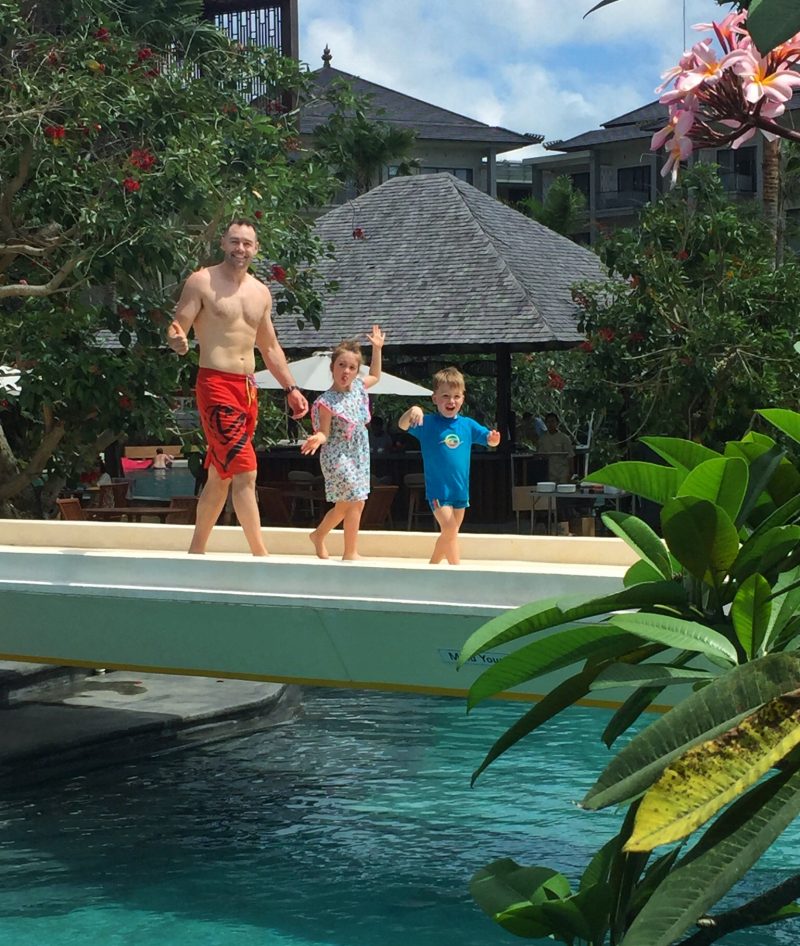 You don't have to go far for a meal outside the hotel.
Walking and travelling in Bali with toddlers anywhere outside the hotel can be painful. It's hot, you have to keep an eye out for hazards, and the pavements can be tricky to negotiate with a pram. What's great about Movenpick is that attached to the hotel is Samasta Lifestyle Village. There you will find a variety of restaurants that is sure to have something to please even the fussiest of eaters. Many offer discounts for Movenpick guests, so be sure to mention that when settling the bill.
The famous Jimbaran Beach is close by, which is perfect for little legs.
Our favourite thing to do outside the hotel was to sink our toes in the sand and enjoy a cool drink and Nasi Goreng on Jimbaran Beach. Lucky for us from the hotel, it's easy to access.
Either walk the short back alley from the rear of the hotel or jump in the golf caddy from reception to get there. Our kids loved looking at all the live sea creatures in tanks outside each restaurant, unknowingly waiting their fate!
Jimbaran is much quieter than Kuta, Legian and Seminyak… so perfect if you want a chilled out holiday.
If you want to stay somewhere away from the hustle and bustle of these areas, then Jimbaran may be perfect for you. Cabs are easy to come by, and Kuta is a 20(ish) minute fare away.
Did we mention the baby-sitters? If you're travelling to Bali with toddlers, YOU WILL NEED A KID FREE NIGHT!
Speak to the front desk about a nanny, you deserve some you time! So you don't have to stray too far from your precious little one's, there is a rooftop bar which is just perfect at sunset.
Unfortunately, we only got to experience this with kids which wasn't at all relaxing… but still lovely.
If your children are older (over 8) I would say that unless they are happy swimming all day, then they may find other hotels like Grand Mirage or Dynasty Resort more suitable. We met some older kids by the pool who said that they found it all 'a little boring' as the kids club is geared for younger kids, and the waterslides aren't that thrilling. Our mini-Peachey's however rate it at their favourite hotel ever!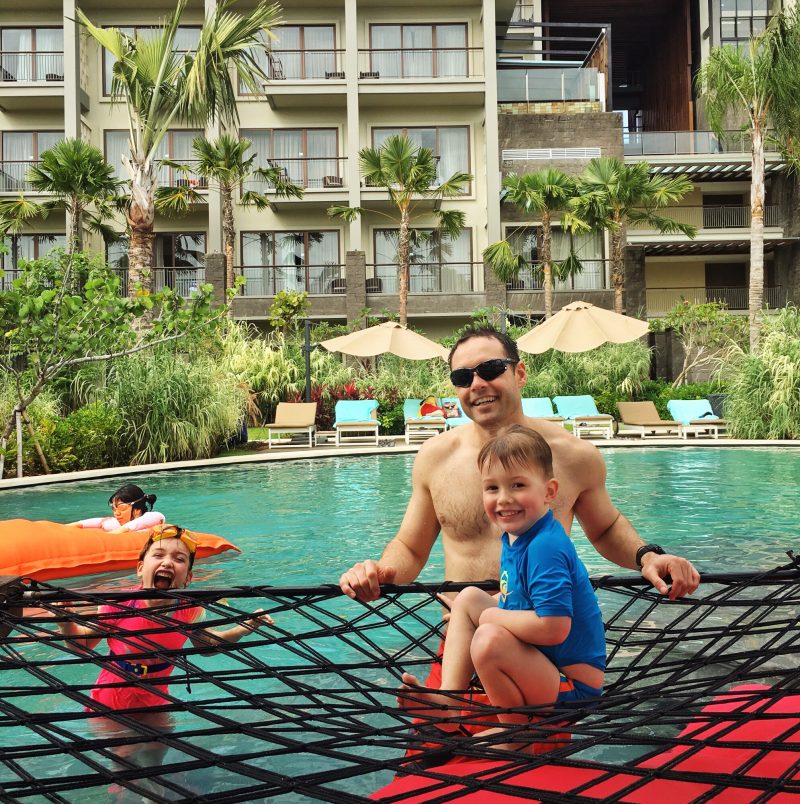 With its beautiful swimming pools, water play areas, kids club and child friendly facilities, the Movenpick Resort & Spa at Jimbaran Bay really does provide all that you need for a relaxing  and stress free family holiday.
If you're travelling to Bali with toddlers or young kids,  add it to your short-list today and let us know how you enjoyed it!