Disclosure: When you click on links to various merchants on this site and make a purchase, this can result in this site earning a commission. Affiliate programs and affiliations include, but are not limited to, the eBay Partner Network
In this article I'll review the BougeRV 50L Portable Car Fridge/Freezer that I got here direct from BougeRV 
I have to admit:
When I first came across this car fridge I was skeptical
(it's an imported brand that's pretty much unheard of in Australia)
But to my surprise?
This car fridge exceeded my expectations
(and has even outperformed my current EvaKool fridge)
In this review I'll share my thoughts and experiences with the BougeRV Car Fridge and highlight its key features.
Let's get started:
Arrival and Assembly: Some Assembly Required
The BougeRV 50L Portable Car Fridge/Freezer comes with both a 12V and 240V power cable: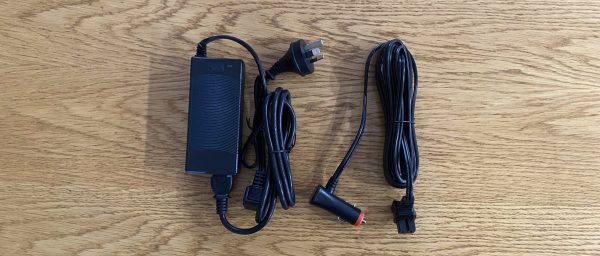 Upon receiving I found that it required some minor assembly.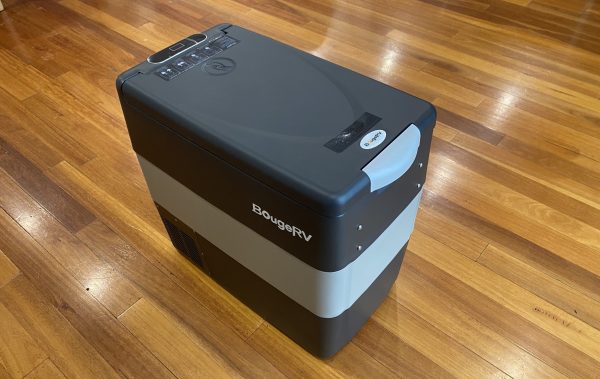 But the process was straightforward.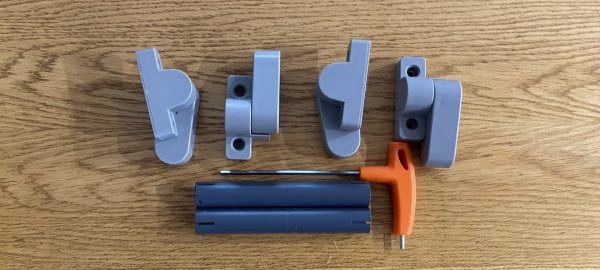 And the included instructions were easy to follow.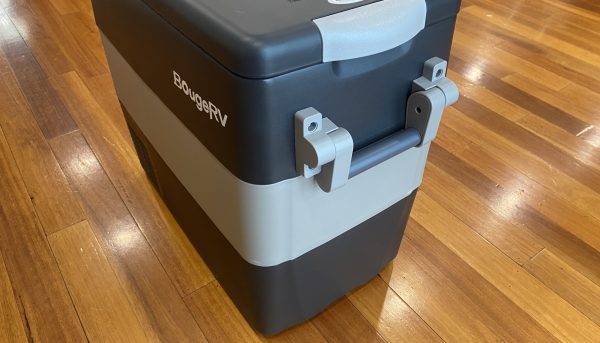 Within minutes the fridge was ready for use.
BougeRV 50L Portable Car Fridge/Freezer Design: Lightweight and Sturdy
One of the standout features of the BougeRV car fridge is its light BUT still feels sturdy.
Despite being lighter than my previous fridge by 1 kg, it feels solid and well-built.
(it doesn't feel like it'll break when having the kids' gear thrown on top of it in the back of the car)
Car Battery Protection: Low Voltage Cut-Out
One of the things that I was most reluctant about with this fridge was that I thought I would need add a low-voltage cut out switch into my tow vehicle
(I'd just got a new car that didn't yet have a dual battery set-up)

The good news is that this fridge has 3 levels low voltage cut-out
(this ensures that my vehicle's battery is not drained excessively)
Impressive Cooling Ability: 20 Minutes to Freezing
The cooling ability of the BougeRV car fridge is pretty good:

It cooled from 20 degrees to 0 degrees in just 20 minutes.
This lets me quickly cool down drinks or freeze perishables for camping without any hassle…

…and means I don't have to change my last-minute approach to everything!
One of the best things I like about it?
The smaller compartment in the dual-zone actually gets cold (unlike my other fridge)

* I also tested the insolation properties by getting both of my fridges to 4 degrees and then turning them off. It took my Evakool fridge just over 3 hrs 45 mins to get to room temperature, while the BougeRV fridge took just over 5 hrs.
*** 6-Month Update: Still Going Strong (With Constant Use)
To put this thing through its paces I thought I'd give it a really good test:
Whenever it's not in the back of my car, I leave it constantly turned on 24/7 as a drinks fridge in my office…
It hasn't skipped a beat!
Since then I've also discovered that it's now been featured in some outdoor magazines such as RV Life and RVBusiness
(it's reassuring to know that others have also been happy with its performance)
Conclusion: Very Happy With My BougeRV Car Fridge
Overall, I'm very happy with my BougeRV 50L Portable Car Fridge/Freezer
It cools quickly, has good battery protection features, and holds its temperature well
(which means it needs to draw less power)
If you'd like to get one then check them out here
Otherwise, you might be interested in this article: 33 Most Popular Caravan Accessories for Travelling Australia [2021]