Disclosure: When you click on links to various merchants on this site and make a purchase, this can result in this site earning a commission. Affiliate programs and affiliations include, but are not limited to, the eBay Partner Network
This article is about how to fix a T-spirit level to the drawbar on your caravan (or camper trailer).
It's the best $5 you'll ever spend because it makes setting up so much easier
(it's on our list of the 35 Most Popular Jayco Camper Trailer Modifications)
Sounds like a pretty simple thing to do, right?
But here's a fun fact:
2 out of 3 of our caravans have had a situation where the level of the drawbar didn't quite match the level of the bench and sink
That is:
When we used a spirit level on the drawbar, the internals of the caravan were off so that water wouldn't drain from the sink
(or cupboards would work their way closed or open when you wouldn't want them to)
Here's how to fix it:
1. Buy a T-spirit level
I bought my first one from the hardware store (it was about $10)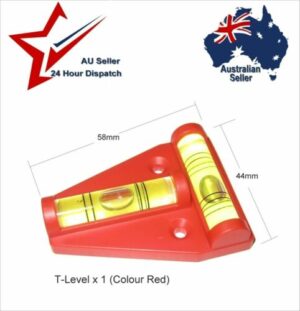 The next one?
About $4 here on eBay (that's including postage).
2. Put a full sized spirit level East-West on your kitchen sink (not the drawbar)
The priority is getting the kitchen sink levelled so that way the water drains properly.
If the drawbar isn't 100% perfect it doesn't matter…
…but it makes a BIG DIFFERENCE if the sink is out by even a few degrees
3. Make sure your van is level side-to-side first
If it's a normal caravan it's easy to just slowly move your car
But it's harder to move a Jayco camper trailer once it's already set up…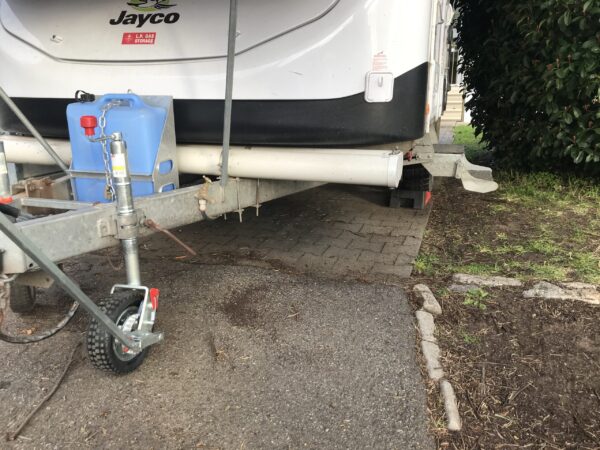 …so I used a ratchet jockey wheel to move our Swan up onto the levelling ramp
(we bought an Alko Power Mover off eBay for about $130 to help get into our tight driveway)
4. Wind the jockey wheel up or down to get your van level North-South
Turn the spirit level so it's running north-south…
…then use the jockey wheel to raise or lower the front of the van
HINT: Pour a little water onto the sink to do a confirmatory check that it drains properly
5. Put a thick layer of silicon on the drawbar (so you can adjust the T-spirit level)
If you just fixed the T-spirit level to your drawbar with screws or superglue it may not be level.
This is how much it was out on our Jayco Swan: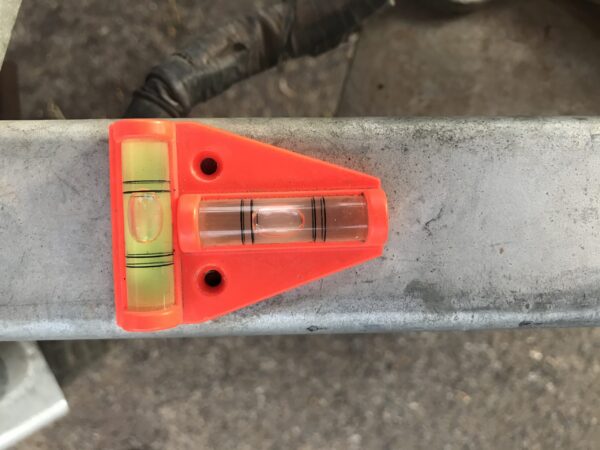 So I put a thick layer of silicon on the drawbar and then adjusted the T-spirit level until it was perfect: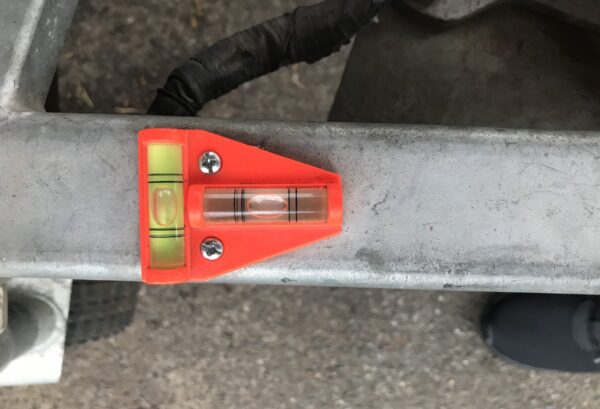 Once it had dried I used a couple of screws too
(I'm a belt-and-braces sort of guy)
Summary: Fixing a T-spirit level to the drawbar on our Jayco Swan camper trailer
Fixing the T-spirit level to the drawbar of our Jayco Swan was a simple job that makes a big difference.
It makes setting up quicker and easier (no need to get any tools out)
Levelling a caravan is a good thing because it:
Makes your doors open/close properly
Allows the water to drain, and
Helps a 3-way fridge run better when it's on gas
On a Jayco camper trailer it's even more important because it takes the strain off the door and the telescopic lifting arms