Disclosure: When you click on links to various merchants on this site and make a purchase, this can result in this site earning a commission. Affiliate programs and affiliations include, but are not limited to, the eBay Partner Network
Here you'll find a summary of the differences between a Fiamma vs bag awning for a Jayco camper trailer.
It's important to note that one isn't better than the other…
…they just have very different pros and cons
(so it all comes down to what type of camping you prefer)
Let's get started:
Bag awning: Slow and steady
These awnings live zipped-up in a bag that's attached to the roof.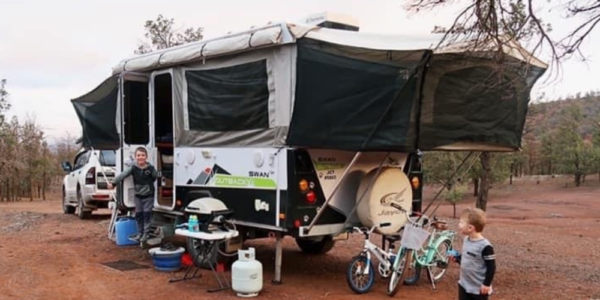 So to set up it's a case of:
Unzip the bag to let the awning out
Then wind up the roof
Insert several poles, and
Peg down some guy ropes.
Pretty simple, right?
Pros:
Strong. If you set up a bag awning it's unlikely it'll move unless there's some really strong winds.
Slightly cheaper. A 12 ft bag awning for a Jayco Swan is around $850, while a 3.5 m Fiamma F45 is about $1,050. But…
You've probably already got one. If you've already got a bag awning then it can be hard to justify spending $1,000 to replace something that's not broken.
Cons:
You need to decide if you want it out before setting-up. If you've already set-up your camper, forget putting out your awning. And the opposite…
If it's up you're stuck with it. If your roof's up and you decide you want to put your awning away? Not a chance. This means…
No quick get-away. My preference is to pack away anything that's not going to be used the night before. Not happening with the bag awning. This also means…
More to set up when you get home. Because you can't put it away the night before you travel then you'll have condensation to deal with. So even if it doesn't rain the awning needs to be set-up again at home.
Increases set-up time. If you do decide you want it out, then it adds to your set up time (even if you don't end up using it).
Bag of poles. If you don't put out the awning, you've got a bag of poles you'll need to get out during set-up. That's another thing laying around in the dirt or mud.
Summary: Bag awning for Jayco camper trailer
If your style of camping is to go away for a week or two and stay in one spot then a bag awning is a good option.
But if you like to go away for short trips (or do short stays on extended trips) and convenience is more your thing?
Then that's why we switched to a Fiamma awning….
… and we immediately understood why replacing the bag awning with a roll out awning ranked 8th on this list of the 35 Most Popular Jayco Camper Trailer Modifications
Fiamma Roll Out Awning: Quick and easy
The Fiamma F45 S awning lives rolled up in a cassette.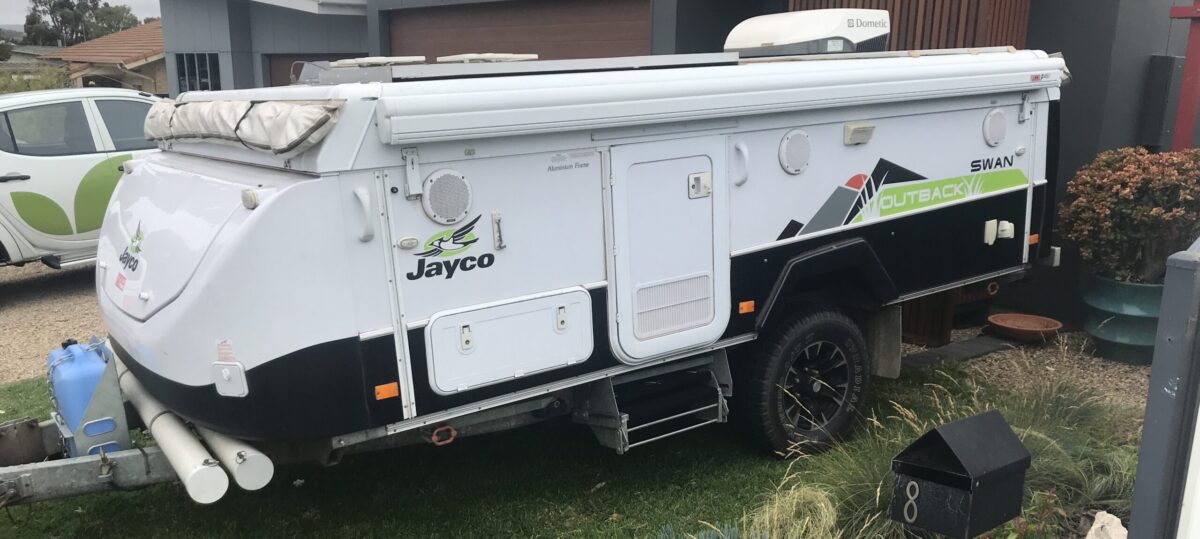 When it's time to set-up it's a case of:
Getting out the winder handle
Winding it out
Dropping the legs, and
Peg down with some guy ropes.
The whole process takes about a minute.
Pros:
You can put it out as you need it. Not sure if you need your awning out? With the Fiamma you can decide to put it out whenever you like.
It's quick and easy. When you do decide to put it out, it's a minute or two (including pegging it down).
Easy to put away. If bad weather is coming (or you just want to pack up) it's even quicker to put away.
Pack away the day before pack-up. Packing up camp is the worst. At least with the Fiamma you have the option of putting it away the night before (which stops it getting condensation on it too).
Compact. There's no bag of poles to cart around (the legs are self-contained in the cassette).
Can set up in stages. Depending on the weather it can be just pegged down, or add guy ropes, or add anti-flap kit.
It's an easy one person job. There's no need to have one person at the either end… the winding mechanism does that for you
Cons:
Flimsy until set-up. The biggest risk of damage is from setting it up while it's windy; it's not strong until pegged down with guy ropes.
Costly if you already have a bag awning. If you need to buy an awning, then the price difference isn't much between these choices. But if you already have a bag awning, it can be tough to justify spending a grand just for extra convenience (the cheapest place we found ours was here from RV Parts Express via eBay)
Tendency to skip complete set-up. Unlike the bag awning, when it's a nice day you can be tempted to skip using the pegs and guy ropes. Then all it takes is one big gust of wind…
Summary: Fiamma F45 s awning for Jayco camper trailer
If your style of camping is to mix up long and short stays then the Fiamma can be quite convenient:
Less messing around, quick to set-up, and you can roll it out/in whenever you like
(my favourite benefit is the quicker set-up and being able to pack up the night before)
If you end up going down this path then the Fiamma isn't that hard to self-install
Read: Jayco Swan Fiamma Awning Installation [Step-By-Step With Pictures]
Summary: Bag awning vs Fiamma awning for Jayco camper trailer
When you're comparing the differences between a bag awning vs Fiamma awning for your Jayco camper trailer the most important thing to consider is that one isn't better than the other:
They're just different.
Some people love their bag awning…
…while others (like me) are glad that they replaced their's with a Fiamma roll out awning.
NOTE: When I was looking to replace our bag awning I narrowed it down to the 3 most popular options:
The Fiamma, the Aussie Traveller, and the Kakadu Ezi Arm.
Each have very different pros and cons

Read about them here: The Best Roll Out Awning for Jayco Camper Trailers [3 Options]
Interested in other modifications for your Jayco camper trailer?