Disclosure: When you click on links to various merchants on this site and make a purchase, this can result in this site earning a commission. Affiliate programs and affiliations include, but are not limited to, the eBay Partner Network
Here I'll answer the most frequently asked questions about running a 3-way fridge in a Jayco camper trailer.
These are the things that always come up related to:
Powering your fridge.
Cooling it down.
And:
Helping it run more efficiently.
Let's get started:
1. Tips for cooling down your 3-way fridge
3-way fridges can take a day or two to get down to temperature. Also, they're affected by the ambient temperature.
So your best option is to:
Plug your camper into a 240V power supply a couple of days before you go camping.
Help things along by putting bottles of frozen water in your fridge
Keep the side of your camper out of direct sun in summer
To plug your camper into 240V you'll need a 15A extension cord and an Ampfibian adaptor
(you can get an Ampfibian from Bunnings, but we got ours here off eBay)
If you don't have an Ampfibian, a workaround is to unplug your fridge from the Setec unit and plug it directly into a standard 10A extension cord
(although that does mean you aren't giving your battery a final top-up charge)
Something else that can help to cool down your 3-way fridge more quickly is to install a caravan fridge fan kit.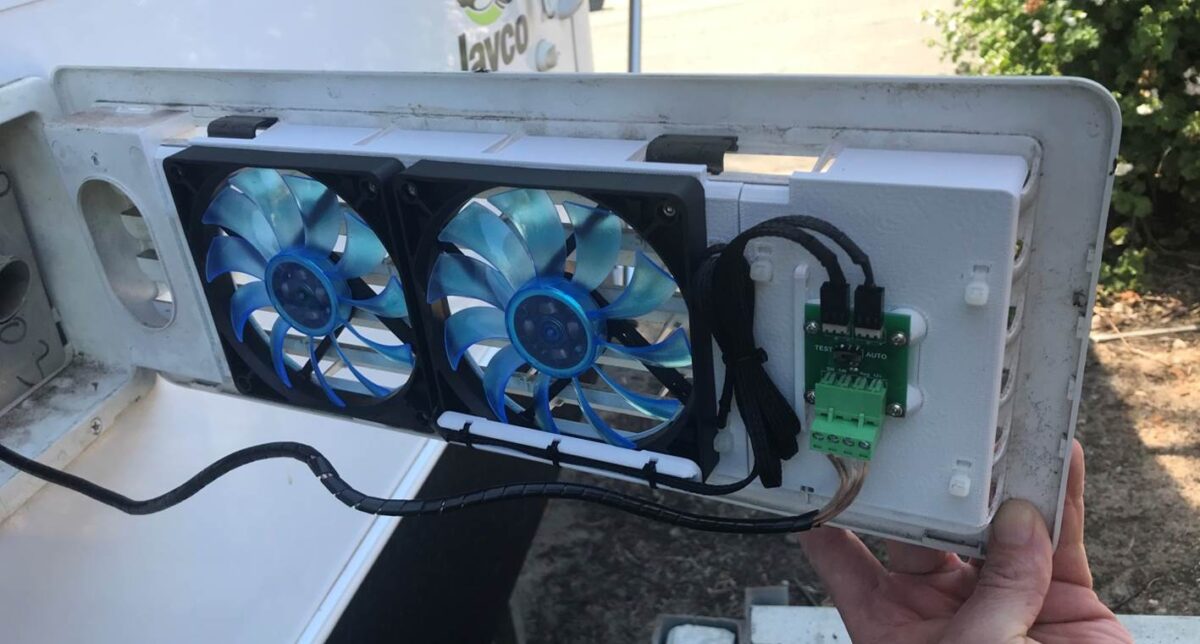 These are ranked 3rd on the list of the 35 Most Popular Jayco Camper Trailer Modifications because they help address a design flaw:
Heat can't escape from the cavity behind the fridge which effectively makes it stop cooling.
Installing a 12V fan helps to remove the trapped heat so the fridge can work more efficiently.
I bought my Klevakool fan kit here from 3DprintCQ via eBay, and it was pretty simple to install.
Read: Fridge Fan Mod Kit Installation: Jayco Swan [Step-By-Step With Pictures]
2. Can you run the fridge on 240V with the roof of a Jayco camper trailer wound down?
Lots of people run their 3-way fridge with the roof of their camper wound down with no problems.
The consensus amongst most Jayco camper trailer owners is that it depends on the camper:
If it's an older model that has venting in the top of the bench then 'no'
If it's vented outside then it's fine
But… even our 2014 Jayco Swan OB (vented outside) still has this warning sticker: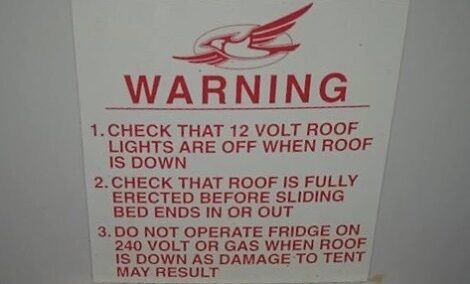 So some options to cool down your 3-way fridge before you go camping:
Ignore the warning sticker
Set up your camper and run the fridge for a day or two before you travel
Put some frozen bottles of water in the fridge to cool it down while you're travelling (and take things in an esky)
If we can't set up our Jayco Swan before travelling, our choice is the last option.
3. Why isn't my 3-way fridge working on 240V?
3-way fridges often give the false impression that they aren't working when they're plugged into 240V.
This is for 2 main reasons:
Unlike a compressor fridge, a 3-way fridge is silent when you run it on 240V
Depending on ambient temperature, they can take hours to start to feel cold.
TIP: To check if it's working, after about half an hour you should be able to feel some mild heat coming from the top vent.
Then, it's the freezer that will start to cool down first.
This is another benefit of caravan fridge fan mod: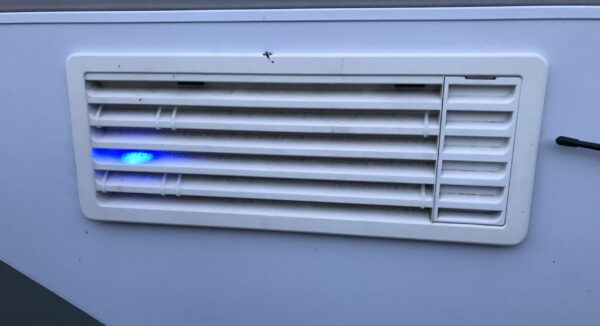 Once the thermostat detects that the back of the fridge is warming up, the fan kit will be turned on and you'll see the blue light.
Still not working?
Before jumping to the conclusion that the 240V element isn't working, it's worth checking the power supply via the Setec
4. Why isn't my 3-way fridge working off the 12V battery?
3-way fridges in Jayco camper trailers are wired directly to the tow vehicle:
They get their power through the bottom row of the 12 pin plug or Anderson plug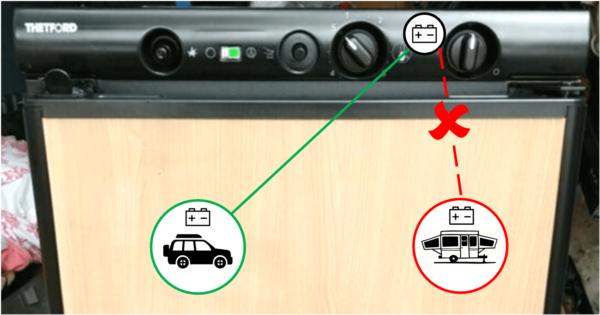 (3-way fridges aren't wired to the camper's battery unless it's been modified)
This is because a 3-way fridge can draw 10-15A of power when running on 12V
[this would drain a standard 100Ah deep cycle battery within a few hours]
HINT: Unless you have an motion detection isolation switch installed, you need to remember to unplug your camper from your tow vehicle if you stop for more than a few minutes (otherwise you'll flatten your car battery)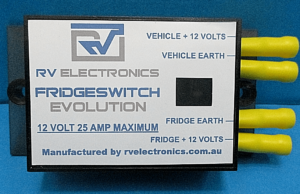 (these are about $65-$70 here on eBay)
So as you can see, don't expect to run your 3-way fridge on 12V off your battery. When you're free camping, the idea is to run your fridge on gas…
5. Can't get your 3-way fridge to run on gas?
It's pretty common for air to get caught in the lines which stops a 3-way fridge from starting on gas.
So if you can't get the gas to light, sometimes it's just a case of waiting for 30 seconds, and then trying again. And again. And again.
After several goes, the line purges.
A tip that's saved us a lot of time (and frustration) while trying to get the gas tolight is to run the gas cooktop for about a minute
[it helps pull the gas through the lines which makes the fridge easier to light]
6. Tips to help your 3-way fridge run more efficiently in hot weather
The main benefit of a 3-way fridge is the flexibility you get in how you power it. But this comes at the cost of efficiency.
3-way fridges use a gas flow heat exchange system in the back of the fridge; in simple terms, they remove heat rather than create cold.
So if you're operating a 3-way fridge in cooler months they are great… but when it comes to operating them in temperatures above 30 degrees they can struggle.
Here's some things you can do to help make your way fridge run more efficiently:
1. Use a privacy screen to create shade over the fridge cavity
Because 3-way fridges remove heat rather than create cold, direct heat on the back of the fridge cavity creates a dilemma.
We have one of these kitchen awning privacy sunscreens to use on the off-side of our Jayco Swan on a hot day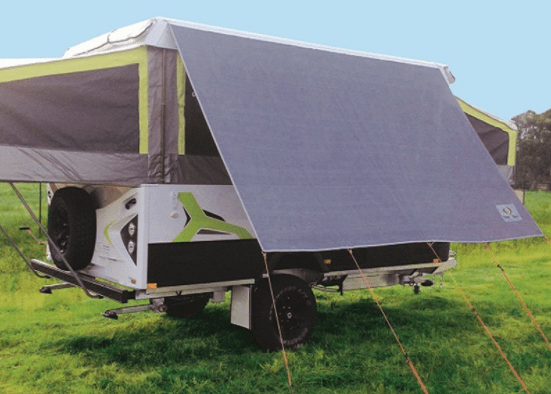 2. Improve ventilation with a caravan fridge external fan kit
If heat can't escape from the cavity behind the fridge, then heat exchange across the condenser fins can't occur.
We installed one of these 12V caravan fridge fan kits which removes the trapped heat so the fridge can work more efficiently.
3. Improve the circulation of cold air inside of the fridge
There's really 2 ways you can do this: pack less so you can create more air gaps, or install a fan inside the fridge.
Our fridge is already small enough (and we have 3 kids) so we opted for a Klevakool internal fan.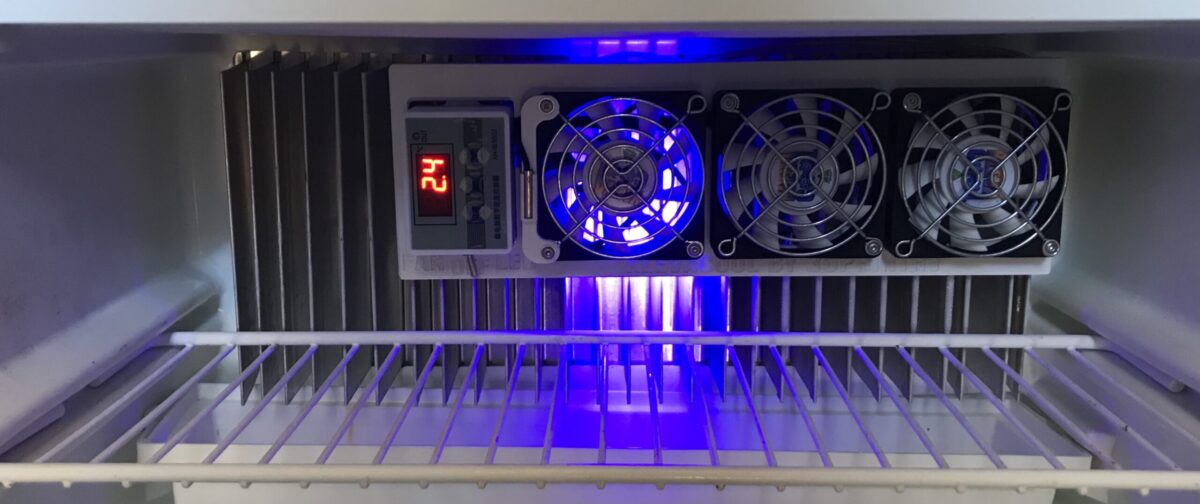 Read: Caravan Fridge Internal Fan Installation: Jayco Swan [Thetford 3-Way]
4. Make sure your fridge is level
The less level your 3-way fridge is, the less efficient it is.
In cooler times, if the van is level enough for sleeping, then it's good enough for the fridge.
But the warmer it gets, every degree counts… and the older the model of fridge, the more important it is that it's kept level.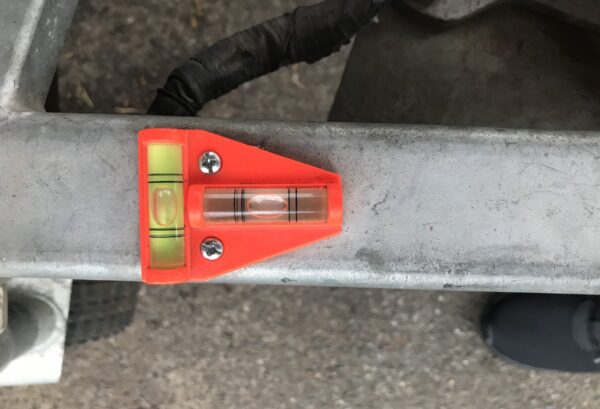 [mounting one of these T sprit levels on your drawbar is the best $5 you'll ever spend]
HINT: Don't just use a spirit level on your drawbar… because the drawbar and internals aren't always parallel.
Read: How To Fix A T-Spirit Level To Your Caravan or Camper Drawbar [5 Steps]
5. Use a wireless thermometer to tell if you're on the right setting
Unfortunately it's not as simple as "use setting 2 if you're on gas".
We've had the fridge both freeze and struggle on the exact same setting depending on what's happening with the weather.
Frustrating.
From all accounts the best way to make sure you're on the right setting is to use a wireless fridge thermometer:
That way you can check and adjust the temperature without needing to open the door.
On my shopping list from eBay: Companion Digital Wireless Fridge Thermometer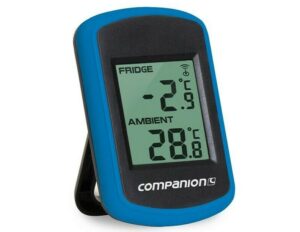 Summary: Running your 3-way fridge in a Jayco camper trailer
3-way fridges are silent, take a while to cool down, and can struggle if it's hot.

But, there's some things you can do to help them run more efficiently… and they give options.
3-way fridges are designed to run on:
240V if you have access to mains power
12V when you are driving, and
Gas when you are free camping.
Interested in more tips for your Jayco camper trailer?